Weekend Reader: Only In Chicago: How The Rod Blagojevich Scandal Engulfed Illinois And Enthralled The Nation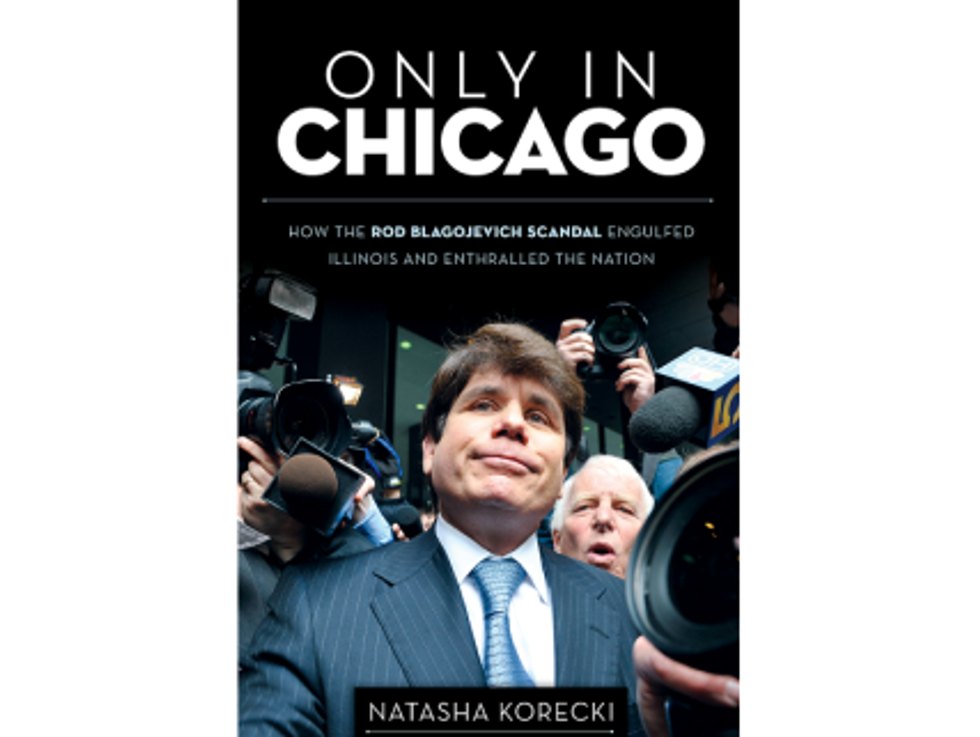 Today, the Weekend Reader brings you Only in Chicago: How the Rod Blagojevich Scandal Engulfed Illinois and Enthralled the Nationby Natasha Korecki, a political reporter for the Chicago-Sun Times. The excerpt below focuses on the former governor's trial after he was indicted for soliciting bribes in exchange for political appointments, including the vacant Senate seat once held by Barack Obama. Blagojevich was convicted on corruption charges in 2012 and is now serving a 14-year sentence in federal prison.
You can purchase the book here.
Blagojevich testified at one point that former Speaker of the House Dennis Hastert told him to get something for himself in exchange for the Senate seat.
"Get your quid pro quo and make it a twofer," Blagojevich alleged
Hastert said to him. What Hastert meant, Blagojevich continued, was that he should appoint someone like Illinois Secretary of State Jesse White or Lisa Madigan—a state official—so he could also appoint a replacement for their positions, thus getting a "two-for-one" appointment. Blagojevich said he had a "very close relationship" with Hastert, whom he saw as a "seasoned veteran" and "the coach you wanted to always impress."
While discussing his November 2008 meeting with Tom Balanoff, Blagojevich explained that appointing Obama's apparent choice, Valerie Jarrett, seemed like a giveaway. Meanwhile, he said, he would be stuck back in Illinois with legislative leader Michael Madigan blocking his every move in the legislature. He felt this would only get worse if he didn't name Madigan's daughter to the seat.
"I'd be worse than a lame duck, because in addition to the existing gridlock, I wouldn't have made his daughter a senator" when he had the chance to, he said.
Eventually, Blagojevich got around to what he called the "phrase heard 'round the world": "I've got this thing and it's fucking golden, and I'm just not giving it up for fucking nothing."
What did he mean by this?
Many observers might have expected Blagojevich's reply to be practiced. But he tripped over his words.
"Well, that's the, that's, uh, the Senate seat," Blagojevich stumbled. "I was saying that this opportunity is effin' golden and that's what I was saying, and I don't want to give it up for nothing, so we had these discussions."
Goldstein pressed: what did he mean?
"I'm afraid to answer this," Blagojevich responded. "I'd like to answer it. I'm not sure how to answer it.…In my mind, I didn't know," Blagojevich said. "I had no idea, other than all these different ideas that we were throwing around, and I was trying to figure out what, if anything, could possibly be part of a deal for the Senate seat. And I didn't know and that's why I was talking about it."
Blagojevich tried to persuade the jury that in his taped conversation with Balanoff, he was not demanding one thing for another, but that he had "floated the idea" of getting a cabinet post as they discussed Jarrett's appointment.
Balanoff was, after all, the same man Obama had called and given the green light to talk to Blagojevich about appointing Jarrett to the U.S. Senate.
Blagojevich said that while talking to Balanoff, he hesitated and explained his own personal and political predicament if he appointed Jarrett and he got nothing.
"You all go to Washington, D.C., doing all this historic, beautiful stuff on healthcare and I'm left behind. I gotta consider those dynamics, too," Blagojevich said he told Balanoff, referring to the prospect of remaining in gridlocked Illinois politics while so many other leading figures in Illinois Democratic politics went to Washington.
"He said he understood."
Then Blagojevich made the ask: Could he possibly get a cabinet position; specifically, could he be named to head up Health and Human Services?
"You could just see the embarrassment in his face," Blagojevich said of Balanoff. "'You have no chance at that. It's not going to happen for you.' I felt so uncomfortable for how he looked."
Blagojevich described the conversation as "a bad try." He denied ever pushing it further or saying he'd only appoint Jarrett if he got something in return.
"I did not want to convey a promise to Tom Balanoff…I floated the idea," Blagojevich said. "He was quick to honestly reject it as being unrealistic."
As the direct questioning wore on, it seemed Goldstein was trying to waste time in hopes that Blagojevich would have a three-day weekend to recuperate and prep for what promised to be a scathing attack by prosecutors. It was Wednesday, and the judge had announced a day off for that Friday. The ex-governor was clearly growing fatigued on the stand.
"I don't know what I'm saying. What am I talking about here?" Blagojevich asked Goldstein at one point. "Can you help me?"
At least half a dozen times that afternoon, Blagojevich asked Goldstein things like "Where are you?" or "Do you have a question for me?" or seemed to lose his train of thought.
On a break, Zagel scolded Goldstein.
"I do believe now…that you are trying to run the clock," he said after having dismissed the jurors. There was still one day left in the week.
The next morning, on Thursday, June 2, 2011, the prosecution was clearly growing antsy. Schar asked Zagel if the trial could be held the following Monday after all, instead of having the day off.
Zagel told Schar no, but suggested this instead: no matter what time the defense finished that day, the prosecution would have the option to begin its cross-examination.
The testimony went on. Blagojevich said he had talked to Rahm Emanuel about appointing Lisa Madigan and Emanuel seemed "pleasantly surprised" that he'd really consider her. Blagojevich continued that Doug Scofield and his other advisers were pushing him to exchange something for the Senate seat.
"[Scofield] was advising me to leverage it for whatever was most helpful to me," Blagojevich testified. "He was giving me his view on what my friends thought I should do with this, that I should leverage the Senate seat. Any decision I would ultimately make on the Senate seat had to be legal, obviously," Blagojevich said clearly and slowly into the microphone, leaning in. He glanced at the jury. The prosecution objected. Blagojevich wasn't allowed to bring up legality, and the judge upheld the prosecution's objection.
As Blagojevich ticked through his meandering thoughts regarding a series of recorded phone calls, Osama bin Laden's name came up. The courtroom visibly perked up. Blagojevich said that in 2008 he'd had discussions with advisers about appointing himself senator, then heading to Afghanistan and hunting down Osama bin Laden. The idea was so far-fetched that likely he mentioned it in an attempt to demonstrate the absurdity of the recorded discussions at the time. At this point, it seemed the defense had definitively jumped the shark.
It was the afternoon of June 2 when Blagojevich finally faced the most challenging allegation against him: that he planned to make a deal to get campaign donations in exchange for appointing Jesse Jackson Jr. He had to explain what seemed like damning tapes in which he was heard having his brother set up a meeting with Nayak.
He was not referring to the secret FBI wiretaps, he said, when he told his brother to assume "the whole world is listening."
"'The whole world is listening' is a phrase I use all the time," Blagojevich testified. "When you talk to someone…in politics…you assume everybody's listening." Blagojevich said he wanted Raghu Nayak to help broker a deal in which Jackson would agree to back a "mortgage foreclosure bill" that Blagojevich supported. The explanation quickly raised eyebrows. There was no mention anywhere on the recordings about a mortgage bill, making it seem as if this was a cover story the defense had concocted.
"In my mind, that day and the day before, we were working on a mortgage foreclosure bill that passed the Senate. In my mind that day was a desire to pass a mortgage foreclosure bill," Blagojevich said. "This wasn't even said because my words were outpacing my ideas."
Even after all these phone calls and arrangements to meet with a Jackson donor, Blagojevich testified, "I was never going to appoint Congressman Jackson."
Goldstein and Blagojevich then steered toward a recording made on December 8, 2008, the day before Blagojevich was arrested.
"Right now if I had to pick I'd say Gery Chico [the former Daley aide]. And we'd call him an Hispanic, right?" he says to his chief of staff John Harris. In the call, Blagojevich brings up the Lisa Madigan deal, saying he would like to tap Emanuel to construct such a deal.
"If you're picking today, who you picking?" Blagojevich asks Harris. "Do we ever make the move with Madigan, or do we forget the whole thing? The question is how do you do it? Get Rahm to go in."
Next, the defense played a different December 8 call. It happened at 8:43 p.m. Blagojevich was talking to Greenlee about how Emanuel had agreed to be a go-between and broker a deal with the Madigans to get the Illinois attorney general appointed to the Senate seat in exchange for support of a Blagojevich legislative package.
The last question from the defense was "Rod, were you arrested the next day?"
Blagojevich answered, "Yes."
If you enjoyed this excerpt, purchase the full book here.
Reprinted with permission from Only in Chicago: How the Rod Blagojevich Scandal Engulfed Illinois and Enthralled the Nation by Natasha Korecki, Agate Midway, 2013.