Weekend Reader: <i>The Astronaut Wives Club</i>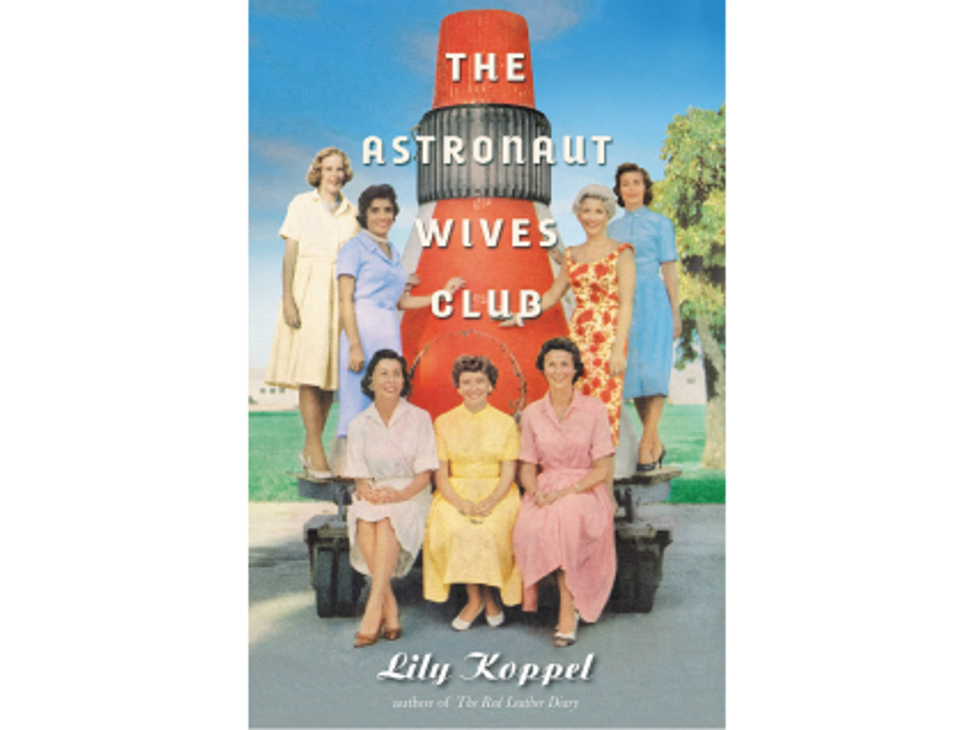 This week, Weekend Reader brings you an excerpt from Lily Koppel's new book, The Astronaut Wives Club. Koppel, a former writer for The New York Times, describes what it was like to be the women behind the heroic American astronauts in the 1960s. The Astronaut Wives Clubfollows these military wives who were launched into fame — forced to balance their private lives as wives and mothers, and their very public lives as American icons. Koppel delves into the experiences of these women, detailing their friendships, marriages, and the expectations placed on them by society.
You can purchase the book here.
Introducing the Wives
They had endured years of waking up alone, making their kids breakfast, taking them to school and picking them up, fixing dinner and kissing them good night, promising that Daddy was thinking of them all the time. There had been lonely nights when they fell asleep wondering how they were going to get by on their husbands' measly pay for another month. During tours of duty in World War II or Korea or both, their husbands had nearly become mirages. Navy deployments had taken their men away on six- to nine-month cruises to the far corners of the Earth. They'd each wait for half a year imagining their man, trying not to forget what he looked like, only to have him come home hungry and tired. They'd miss him even before he left.
Things were no easier in peacetime when he was back home on base serving as a test pilot. There were times when squadrons would lose as many as two men in a week. The wives couldn't do a thing about it but pray for their prowess over the 5 a.m. skillet, hoping they'd cooked their husbands a good breakfast of steak and eggs before they left to go fly, so they'd be alert up in the air. They went to friends' funerals, sang the Navy hymn, and wore white gloves and clutched a handkerchief to catch the tears. They'd become conditioned to living with the daily fear that their men might not be back for dinner, or ever.
For Marge Slayton, whose wide, pale Irish face and expressive eyes made you want to hug her, it was the sound of a helicopter that sent her into a tailspin of fear and nausea. Hearing the blades of a chopper whirring overhead almost always meant that the men were searching for a plane that had gone down. Long after she stopped living on remote air bases, such as Edwards in the Mojave Desert, the sound of a helicopter still struck fear in her heart.
If a husband was out testing a new experimental plane and didn't come home by five o'clock, almost all of the wives experienced the same waking nightmare, imagining the dark figure of the base chaplain ringing the doorbell, telling her she was now a widow. They had rehearsed that awful scene in their minds, over and over. Such was the life of a test pilot wife. They could not possibly have imagined all that would be in store for them as astronauts' wives.
The United States was well behind in the space race. Soon after launching Sputnik in 1957, the Russians launched Sputnik II with its passenger Laika ("Barker," also knows as Little Curly), the Soviet space dog. She was a female stray found on the streets of Moscow (and those godless Soviets let her die in orbit). The United States had responded by trying to send up its own satellite on a Vanguard rocket from Cape Canaveral, Florida, but it disastrously exploded on the launch pad, leading the press to call it "Kaputnik." In the following months and years the United States tried to send up bigger rockets, such as the Atlas, but nearly every one of them had exploded before reaching outer space. Now the United States was determined not only to catch up but to pull ahead. It was a national priority in those fervent days of the Cold War.
America's space age was officially announced on April 9, 1959. In Washington, D.C., at the buttercup-yellow Dolley Madison House, across Lafayette Square from the White House, the seven men who'd been chosen to be the nations' first astronauts were officially presented to the world. They sat onstage at a blue felt-draped banquet table under NASA's round red-and-blue logo of a planet and stars, nicknamed the Meatball. Onstage with them was a model of the tiny Mercury capsule on top of an Atlas rocket, which would fall off once the capsule had passed through the Earth's atmosphere and entered outer space. At promptly 10 a.m., the press conference began. T. Keith Glennan took the podium. A natural-born showman who had previously worked at Paramount and Samuel Goldwyn, he was now the administrator of the National Aeronautics and Space Administration.

"Ladies and gentlemen," he announced, "today we are introducing to you and to the world these seven men who have been selected to begin training for orbital spaceflight. These men, the nation's Mercury astronauts, are here after a long and perhaps unprecedented series of evaluations which told our medical consultants and scientists of their superb adaptability to their upcoming flight. It is my pleasure to introduce to you—and I consider it a very real honor, gentlemen—Malcom S. Carpenter, Leroy G. Cooper, John H. Glenn Jr., Virgil I. Grissom ,Walter M. Schirra Jr., Alan B. Shepard Jr., and Donald K. Slayton…the nation's Mercury astronauts!"
The ballroom burst into applause. The Mercury Seven astronauts were instantly beloved, embodying the country's optimism and excitement. Space capsules and rocket launchers and men in silver suits in outer space; it was a brave new world. The stuff of science-fiction novels was now coming true. These seven young flyboy test pilots, with their strong jaws and military buzz-cuts, were the best America had to offer. Glennan explained how the seven were chosen out of 110 test pilots considered for the job. Most of all they were healthy small-town Americans. None was older than forty.
Glennan touched on how fierce the competition had been, The Mercury Seven had been exhaustively tested and checked out down to their innermost orifices at the famed Lovelace Clinic in Albuquerque, selected for its secluded location. There were all kinds of "wild theories" about zero gravity, as one NASA doctor later put it. "Some people said the astronauts' hearts would explode, or that their blood pressure would fall to nothing. Some said they would never be able to urinate, and others said they'd never be able to stop urinating." Physicians did a complete medical, psychological, and social evaluation of the astronauts. NASA looked into the backgrounds of not only the men but also their wives.
Since all of America's new astronauts were drawn from the test pilot world, they were military men who would retain their rank while on loan to the new civilian space agency. They would work together now, so rank would no longer be important. They wouldn't wear uniforms besides their silver space suits. And they wouldn't only be pilots. Each would be in charge of a particular ingredient of spaceflight, such as the capsule, communications, recovery, or navigation.
When it was question time, the reporters shot up their hands and leaped out of their seats. It turned out they were mostly interested in what the astronauts' wives had to say about their men being blasted into space. It was insanity, wasn't it? Or was it the American dream? Didn't their wives want to bring the country down to earth, say there had been some mistake? No, you cannot send my husband to the Moon. What kind of woman would actually let her husband be blasted into space on a rocket? The newly christened astronauts were in the process of formulating answers when John Glenn piped up.
"I don't think any of us could really go on with something like this if we didn't have pretty good backing at home, really," he said, speaking of his Annie. "My wife's attitude toward this has been the same as it has been all along through my flying. If it is what I want to do, she is behind it, and the kids are, too, a hundred percent."
Excerpt fromThe Astronaut Wives Clubby Lily Koppel.  Copyright © 2013 by Red Leather Diary Inc.  Used by arrangement with Grand Central Publishing.  All rights reserved.