Weekend Reader:<i>I Am Malala: The Girl Who Stood Up For Education And Was Shot By The Taliban</i>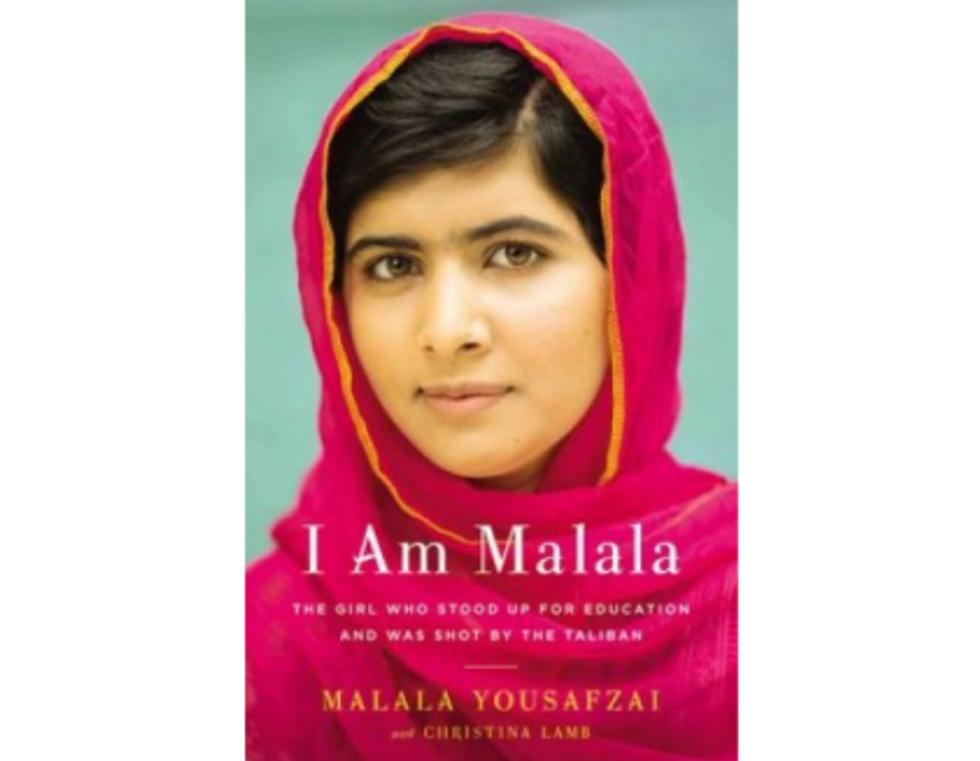 Today the Weekend Reader brings you I Am Malala: The Girl Who Stood Up For Education And Was Shot By The Taliban by 16-year-old Malala Yousafzai. Malala, a young activist from the Swat district of Pakistan, has become an international inspiration after being targeted by the Taliban for standing up and speaking out for women's right to an education. 
Malala has since received numerous awards: She was featured in Time magazine's 100 Most Influential People in 2013, nominated for the 2013 Nobel Peace Prize (making her the youngest person ever to be nominated), awarded the EU's Sakharov human rights prize in October, and presented with the 2013 Ambassador of Conscience Award. Her story has inspired many, including President Obama, who invited her to the White House in October — where she cautioned against his use of drones in Pakistan. 
The excerpt below is only a snapshot of her courage under the oppressive Taliban and her dedication to promoting peace. 
You can purchase the book here.
It was school that kept me going in those dark days. When I was in the street it felt as though every man I passed might be a Talib. We hid our school bags and our books in our shawls. My father always said that the most beautiful thing in a village in the morning is the sight of a child in a school uniform, but now we were afraid to wear them.
We had moved up to high school. Madam Maryam said no one wanted to teach our class, as we asked so many questions. We liked to be known as the clever girls. When we decorated our hands with henna for holidays and weddings, we drew calculus and chemical formulae instead of flowers and butterflies. My rivalry with Malka-e-Noor continued, but after the shock of being beaten by her when she first joined our school, I worked hard and had managed to regain my position on the school honors board for first in class. She usually came second and Moniba third. The teachers told us examiners first looked at how much we had written, then presentation. Moniba had the most beautiful writing and presentation of the three of us, but I always told her she did not trust herself enough. She worked hard, as she worried that if she got low marks her male relatives might use it as an excuse to stop her education. I was weakest in math—once I got zero in a test—but I worked hard at it. My chemistry teacher, Sir Obaidullah (we called all our teachers Sir or Miss), said I was a born politician because, at the start of oral exams, I would always say, "Sir, can I just say you are the best teacher and yours is my favorite class."
Some parents complained that I was being favored because my father owned the school, but people were always surprised that despite our rivalry we were all good friends and not jealous of each other. We also competed in what we call board exams. These would select the best students from private schools in the district, and one year Malka-e-Noor and I got exactly the same marks. We did another paper at school to see who would get the prize and again we got equal marks. So people wouldn't think I was getting special treatment, my father arranged for us to do papers at another school, that of his friend Ahmad Shah. Again we got the same, so we both got the prize.
There was more to school than work. We liked performing plays. I wrote a sketch based on Romeo and Juliet about corruption. I played Romeo as a civil servant interviewing people for a job. The first candidate is a beautiful girl, and he asks her very easy questions such as "How many wheels does a bicycle have?" When she replies, "Two," he says, "You are so brilliant." The next candidate is a man, so Romeo asks him impossible things like "Without leaving your chair tell me the make of the fan in the room above us." "How could I possibly know?" asks the candidate. "You're telling me you have a PhD and you don't know!" replies Romeo. He decides to give the job to the girl.
The girl was played by Moniba, of course, and another classmate, Attiya, played the part of my assistant to add some salt, pepper and masala with her witty asides. Everyone laughed a lot. I like to mimic people, and in breaks my friends used to beg me to impersonate our teachers, particularly Sir Obaidullah. With all the bad stuff going on in those days, we needed small, small reasons to laugh.

The army action at the end of 2007 had not got rid of the Taliban. The army had stayed in Swat and were everywhere in the town, yet Fazlullah still broadcast every day on the radio, and throughout 2008 the situation was even worse than before with bomb blasts and killings. All we talked about in those days was the army and the Taliban and the feeling that we were caught between the two. Attiya used to tease me by saying, "Taliban is good, army not good." I replied, "If there is a snake and a lion coming to attack us, what would we say is good, the snake or lion?"
Our school was a haven from the horrors outside. All the other girls in my class wanted to be doctors, but I decided I wanted to be an inventor and make an anti-Taliban machine which would sniff them out and destroy their guns. But of course at school we were under threat too, and some of my friends dropped out. Fazlullah kept broadcasting that girls should stay at home, and his men had started blowing up schools, usually during nighttime curfew when the children were not there.
The first school to be blown up was Shawar Zangay, a government girls' primary school in Matta. We couldn't believe anyone would do such a thing. Then many more bombings followed, almost every day. Even in Mingora, there were explosions. Twice bombs went off when I was in the kitchen, so close by that the whole house rattled and the fan above the window fell down. I became very scared of going into the kitchen and would only run in and out.
On the last day of February 2008 I was in the kitchen when we heard an enormous blast. It was ear-shatteringly loud and obviously close by. As we always did, we called to each other to make sure we were all safe. "Khaista, pisho, bhabi, Khushal, Atal!" Then we heard sirens, one after another, as if all the ambulances of Mingora were passing. A suicide bomber had struck in the basketball court at Haji Baba High School. Funeral prayers had been under way for a popular local police officer, Javid Iqbal, who had been killed by a suicide bomber in a remote area while trying to escape from the Taliban. He was from Mingora, and his body had been brought back for the funeral and a police salute. Now the Taliban had bombed the mourners. More than fifty-five people were killed, including Javid Iqbal's young son and many people we knew. Ten members of Moniba's family were there and were either killed or injured. Moniba was devastated and the whole town was in shock. There were condolences in every mosque.
"Are you scared now?" I asked my father.
"At night our fear is strong, Jani," he told me, "but in the morning, in the light, we find our courage again." And this is true for my family. We were scared, but our fear was not as strong as our courage. "We must rid our valley of the Taliban, and then no one has to feel this fear," he said.
In times of crisis we Pashtuns resort to the old trusted ways, so in 2008 elders in Swat created an assembly called the Qaumi Jirga to challenge Fazlullah. Three local men, Mukhtar Khan Yousafzai, Khurshid Kakajee and Zahid Khan, went from hujra to hujra persuading elders to join together. The senior elder was a whitebearded man of seventy-four called Abdul Khan Khaliq who had been one of the queen's bodyguards when she had visited Swat to stay with our wali. Even though my father was not an elder or a khan, he was chosen as spokesperson, as he was not afraid to speak out. Though he was more poetic in Pashto, he could speak our national language, Urdu, and English fluently, which meant he was an effective communicator outside Swat as well as inside.
Every day, on behalf of the Swat Council of Elders, he was at seminars or on the media challenging Fazlullah. "What are you doing?" he would ask. "You are playing havoc with our lives and our culture."
My father would say to me, "Any organization which works for peace, I will join. If you want to resolve a dispute or come out from conflict, the very first thing is to speak the truth. If you have a headache and tell the doctor you have a stomachache, how can the doctor help? You must speak the truth. The truth will abolish fear."
When he met his fellow activists, particularly his old friends Ahmad Shah, Mohammad Farooq and Zahid Khan, I often went with him. Ahmad Shah also had a school, where Mohammad Farooq worked, and they would sometimes gather on his lawn. Zahid Khan was a hotel owner and had a big hujra. When they came to our house I would bring them tea, then sit quietly listening as they discussed what to do. "Malala is not just the daughter of Ziauddin," they would say; "she is the daughter of all of us."
If you enjoyed this excerpt, you can purchase the full book here.
Excerpted from the book I Am Malala by Malala Yousafzai with Christina Lamb.  Copyright © 2013 by Salarzai Limited.  Reprinted with permission of Little, Brown and Company.  All rights reserved.