Welcome To Humankind's Twilight Years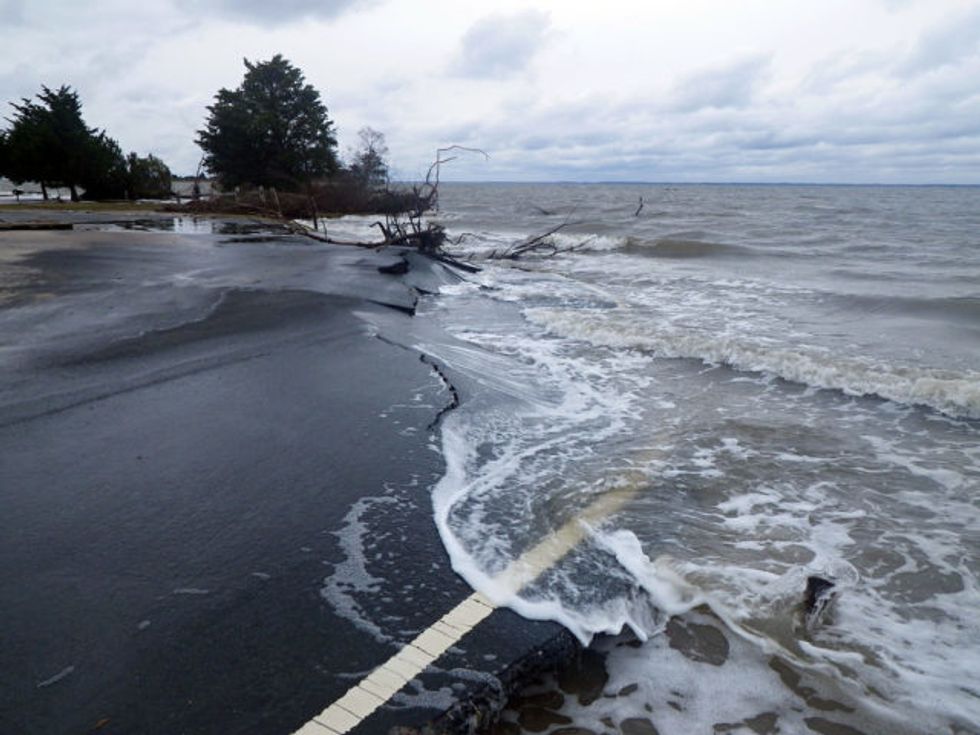 Reprinted with permission from Uexpress.
Meanwhile, in other disasters, Planet Earth is doomed.
Or so says writer Roy Scranton in an essay published this week (July 16) in The New York Times. Scranton is no climatologist — in fact, he is a college English professor — but he has immersed himself in the science of climate change, writing a book of essays called "We're Doomed. Now What? Essays on War and Climate Change."
And this is his conclusion: "Anyone who pays much attention to climate change knows the outlook is grim. … The middle and later decades of the 21st century — my daughter's adult life — promise a global catastrophe whose full implications any reasonable person must turn away from in horror."
As a journalist, I have spent my adult life poring over (and writing a few) news articles and feature stories about natural disasters, wartime atrocities and all sorts of mayhem and madness. And this piece would easily have been the most depressing thing I'd ever read if I hadn't already digested Scranton's 2013 essay, "Learning to Die in the Anthropocene," in which he suggests that the best we can do at this point is adapt to the death of human civilization as we know it.
Yes, President Donald J. Trump is behaving toward Russia in a manner that can only be described as treasonous. Yes, the U.S. Supreme Court is lost to progressive causes for the rest of my life. Yes, the Republican Party, in thrall to Trump, has clearly chosen partisanship over patriotism. And, yes, Trump will go down in history as one of the nation's worst presidents (if not the worst).
But that assumes a history to judge him. Scranton says there might not be one. And he is not alone. In 2017, the late and legendary physicist Stephen Hawking was featured in a BBC documentary, "Stephen Hawking: Expedition New Earth," in which he predicted that humanity has only 100 years to find a new planet to colonize — or face extinction.
Among the people paying attention to these grim predictions are men and women of childbearing age. Some, according to news reports, are reconsidering parenthood because of the disastrous ecological effects of climate change. Not only are they afraid of the desperate lives their children may inherit, but they are also heeding the warnings of some environmentalists, who argue that the best thing anyone can do for the planet is refuse to reproduce.
They represent the opposite end of the ideological spectrum from the doubters, the skeptics, the deniers who compose much of Trump's base. With the encouragement of leading Republicans, those conservative voters dismiss the science of climate change as "fake news." Trump has led the leap down the rabbit hole, infamously insisting during the presidential campaign that climate change is a "hoax."
How could anyone deny the evidence all around us?
Nine all-time temperature records have been broken this summer; 2018 is on track to be the fifth-hottest year on record. The hottest years, by the way, are all in the 2010s. New England, where vacationers from other regions frequently go to cool off, suffered through a searing heat wave in late June. Public health officials linked 53 deaths to a heat wave in Montreal.
Global warming doesn't just produce higher temperatures; it fuels all sorts of extreme weather events, including more droughts, which will lead to more wildfires, more rainfall (that's counterintuitive, but warmer air holds more moisture) and, because of rising ocean levels, more flooding. Japan is enduring two of those extremes: Just after hundreds were killed when torrential rainfall provoked flooding and mudslides, a scalding heat wave struck, adding to the death toll.
It's hard to know how to prepare a child for the future we will bequeath to them, but I can teach my 9-year-old not only responsible stewardship of the environment, but also resilience and resourcefulness. I will try to pass on to her some of her grandmother's old-school habits, such as gardening and canning.
And I will hope and pray that her generation inherits a bit of luck along with the catastrophe that we are leaving to them.