At West Point, Obama Argues For Restraint In Use Of Military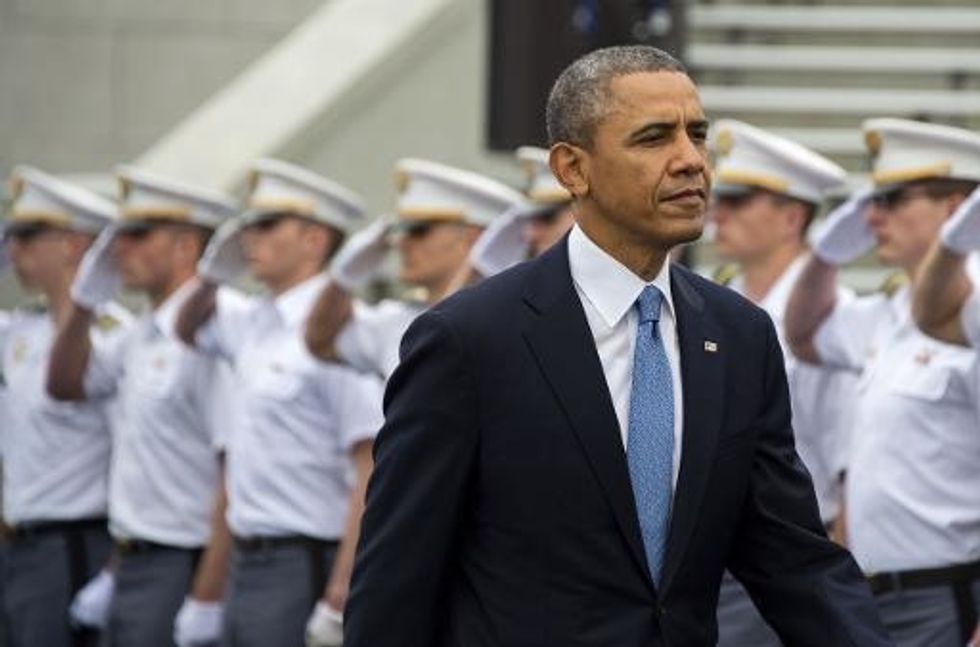 By Lesley Clark, McClatchy Washington Bureau
WASHINGTON — President Barack Obama called Wednesday for a foreign policy that downplays military intervention in favor of diplomacy and international partnerships, defending his approach as better suited to a world grappling with global threats of terror.
"This is American leadership. This is American strength," Obama said of efforts to work with Europe to isolate Russia for its intervention in Ukraine and to persuade Iran to abandon its nuclear pursuit. He acknowledged that neither crisis has yet been resolved, but argued there's an opportunity to resolve them peacefully.
In a speech before graduating cadets at the U.S. Military Academy at West Point, the president sought to rebut criticism that his foreign policy has been one of retrenchment, even as he declared that the U.S. remains indispensable and will strike if its interests are threatened.
"America must always lead on the world stage. If we don't, no one else will," he said, telling the cadets that the U.S. military "is and always will be the backbone of that leadership."
The speech comes amid criticism that Obama's cautious approach to conflict has emboldened U.S. adversaries such as Russian President Vladimir Putin, who annexed Ukraine's Crimea region earlier this year despite the threat of sanctions.
But Obama argued that a military response "cannot be the only or even primary" solution to every conflict.
"Just because we have the best hammer does not mean that every problem is a nail," he said.
Since World War II, he said, "some of our most costly mistakes came not from our restraint, but from our willingness to rush into military adventures — without thinking through the consequences."
The speech came a day after Obama unveiled his plan to end combat operations in Afghanistan by the end of the year. Cadets cheered as the president said they would be the first graduating class since Sept. 11, 2001, not to be sent into combat in Iraq or Afghanistan.
The president did pledge to work with Congress to ramp up support for moderate Syrian opposition groups, but he defended his decision not to send U.S. troops, saying there's "no military solution that can eliminate the terrible suffering anytime soon."
A senior White House official said the administration wanted to discuss with Congress the "potential" for a U.S. military role in helping Syrian rebels.
Obama said the U.S.'s biggest threat was no longer a centralized al-Qaida capable of a large-scale attack on the U.S., but decentralized affiliates and extremists. Many have agendas focused in countries where they operate, the president said, but they can target U.S. personnel overseas, "as we saw in Benghazi."
Obama, who was elected in 2008 in part because of his opposition to the war in Iraq, called it "naive and unsustainable" to invade every country that harbors terrorist networks, instead arguing that the U.S. should partner with countries fighting insurgents.
To that end, he called on Congress to support a proposed $5 billion counterterrorism fund to help countries in the Middle East and North Africa that are fighting extremists, including Yemen, which is battling al-Qaida.
Republicans said U.S. allies were already concerned with what they said were Obama's failures to live up to his threats.
"Too often, strong words have been followed by weak actions or no actions," said Rep. Ed Royce (R-CA) who chairs the House Foreign Affairs Committee. "President Obama's diplomatic efforts cannot work if our allies lack confidence in U.S. commitments, and our opponents do not fear U.S. warnings."
AFP Photo/Jim Watson
Want more foreign policy news? Sign up for our daily email newsletter.