What A Gay Day For Christians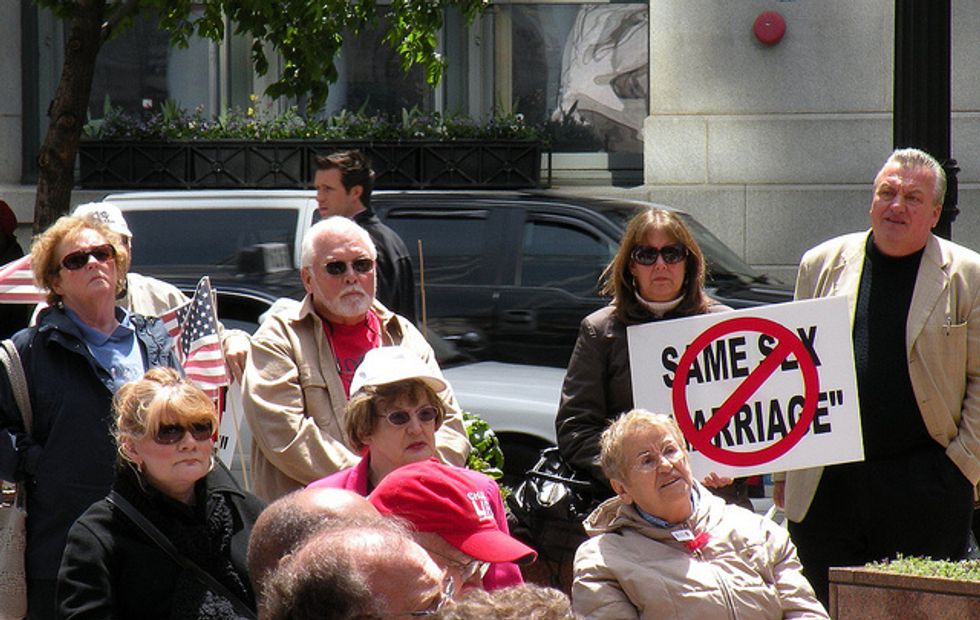 This column is in response to my fellow Christians who insist they're not bigots just because they oppose marriage equality. I've been hearing from them a lot after writing a short essay and posting it on Facebook in the wake of the U.S. Supreme Court's decision to legalize same-sex marriage.
I don't usually quote from my own Facebook posts, but plenty of newspaper readers aren't on social media. Even if you are, I don't assume you're hanging on my every word there.
First, a little background: I wrote the essay the day after the Supreme Court ruling, on Saturday, June 27. I posted it less than an hour before my husband and I, now 11 years into our second marriages, drove to a friend's wedding, which was not the first for either the bride or the groom. How easily each of us was allowed to try again in this country.
My Facebook post:
I've seen quite the flurry of social media posts suggesting those of us who are celebrating the U.S. Supreme Court's marriage equality decision are not behaving as gracious winners. We should show more understanding toward those who are disappointed, the critics say. We should not "rub it in." Other commonly spotted criticisms of our joy: We are gloating. We are insensitive. We are being poor sports.

For decades, I have seen the bigotry of homophobia break up families, ruin careers and destroy lives. I've read — and written — too many stories about gay teens who chose suicide over another day of bullying — from classmates and strangers, and sometimes from their own family members. Children. Killing themselves because they felt unlovable as the human beings they were born to be.

Over the years, I hosted so many gay friends for holiday celebrations because their own families made clear they were not welcome to come home. I have sat and cried with too many gay friends whose hearts were broken after their fellow citizens passed one hateful piece of anti-gay legislation after another. I have watched so-called Christians pray publicly for the death of people I love. I have seen them do this outside of funerals, their young children holding signs that say, "GOD HATES FAGS."


This is not a sports championship we're celebrating. We are not victors in a political campaign.


We are cheering for something that will not harm the lives or the marriages of anyone like me, a heterosexual who got not one, but two government-sanctioned tries to form a more perfect union. We are overjoyed, and we are relieved. America really is better than our worst behavior.


As a straight ally, this has been our shame to bear, this government endorsement of second-class citizenship to people we know, people we love. How many times have I tried to assure my friends and loved ones that most of us don't feel this way about them? How many times have I fallen silent to their rebuttals, their ability to point to what sometimes seemed to be overwhelming evidence to the contrary?


All of that is now history.


I don't want to harness my joy to make the bigots feel more comfortable. I will not temper my celebration to make those who oppose same-sex marriage feel better about their self-righteousness. I am not celebrating their misery. They didn't lose anything.


I am rejoicing for my gay brothers and sisters. I am welcoming them home.
Tens of thousands of readers have responded positively to the post, but a significant minority who identify as Christian objected. Some posted the vile sort of stuff that always prompts the happy exercise of my index finger over the "delete" button. Others offered the usual rant of God hating the sin but loving the sinner, often ending with a string of Old Testament citations.
Many were particularly defensive about my use of the word "bigots." How dare I disparage all Christians, they said. They were following God's word, they insisted.
This was a fascinating sub-thread of commentary, for its assumptions as much as its assertions. I never said all Christians are bigots. I'm a Christian, flawed and forever practicing. I know so many other Christians who, like me, have long supported same-sex marriage.
My objection is to those Christians who wield their Bible as a weapon to oppress others. When we talk about marriage equality, the difference between "I don't approve" and "it ought to be illegal" is the difference between intolerance and bigotry.
I am embarrassed to hear narrow minds masquerading as God's spokespeople. I am outraged to see them co-opt my religion to rain down harm on innocent people. And let's be clear: If you feel free to say to others that God doesn't approve of who they were born to be, you are inflicting nothing but pain.
You can say it's just your opinion, just you being Christian, but I suggest you take a look around. Love is bursting out all around you. With or without you, justice is marching on.
Connie Schultz is a Pulitzer Prize-winning columnist and an essayist for Parade magazine. She is the author of two books, including …and His Lovely Wife, which chronicled the successful race of her husband, Sherrod Brown, for the U.S. Senate. To find out more about Connie Schultz (con.schultz@yahoo.com) and read her past columns, please visit the Creators Syndicate Web page at www.creators.com.
Photo: John W. Iwanski via Flickr