What A Narrow GOP Win In North Carolina Means For 2020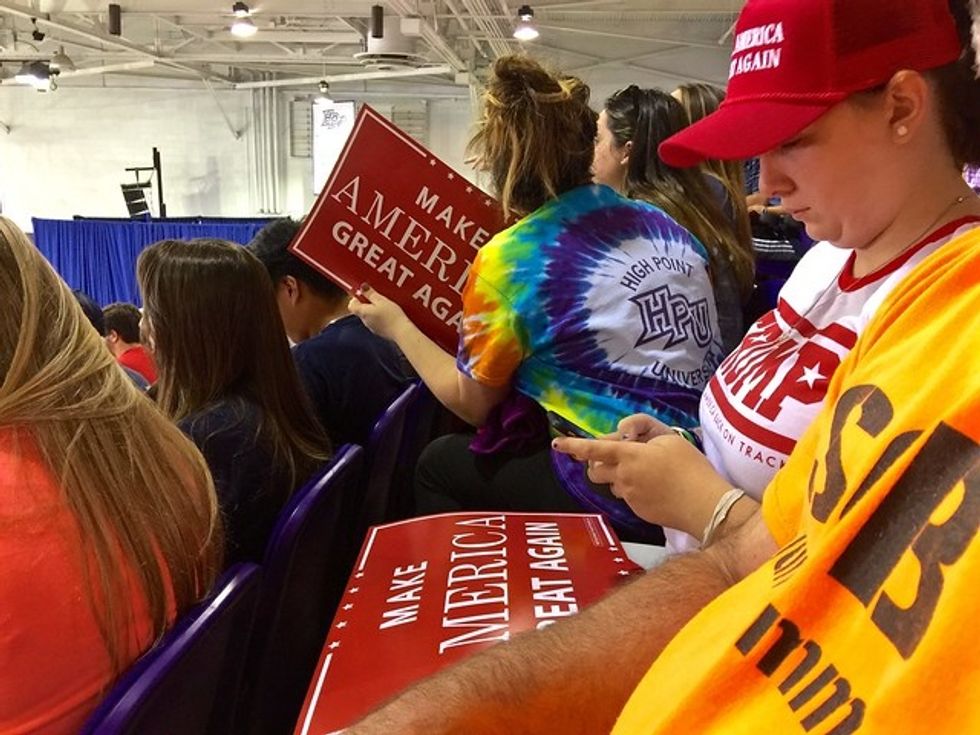 CHARLOTTE, North Carolina — Though Republicans tried to downplay the importance of an off-year special House election in North Carolina, President Donald Trump certainly thought differently. Why else would he have held an election eve rally alongside Dan Bishop, the GOP nominee in the state's 9th District? And if that was not enough to belie the seeming lack of official party interest, Vice President Mike Pence also managed a North Carolina campaign trip the same day.
It paid off Tuesday, as Election Day turnout gave Bishop a 2-point win over Democrat Dan McCready. Bishop certainly credited Trump — the president, of course, took all of it — who helped the candidate overcome scandal over the race and his own controversial support of a "bathroom bill" that hurt business in the state. The newly elected congressman portrayed himself as Trump's "mini-me" on every issue, from guns to abortion rights to immigration.
True, it was only one seat and one election, albeit one that has been going on for what seems like decades, and it was in a district Trump won by 12 points in 2016 and where Democrats have not had success since the early 1960s. So you could characterize Trump's visit as a rescue mission. But a win is a win. On second thought, though, is it?
Expect pundits and prognosticators (including me) to be looking at the results under a microscope and gleaning all sorts of messages — sometimes conflicting ones, to be sure. Also, consider that in about three months, filing begins for candidates wanting to run in 2020 for the same seat. (When I asked an exhausted McCready at his postelection gathering if he would be giving it another try, he gave me an incredulous look and said he thought his next step might be "goat herder.")
A race that shouldn't have been
There was plenty strange about this race, North Carolina-style, starting with why it had to happen at all. In the 2018 midterms, McCready seemingly lost by an even closer margin to Republican Mark Harris before credible charges of election fraud ensnared a GOP operative; the results were tossed and a new election ordered. Harris bowed out, replaced by Bishop. Cue national money and attention flowing into the state. Residents had about had it with the negative attacks, particularly many judged questionable about McCready's businesses.
While House GOP whip Steve Scalise may have tried to cast the 9th as a swing district, it most definitely is not. Besides Trump's big 2016 win here, Mitt Romney in 2012 (when President Barack Obama narrowly lost the state) and John McCain in 2008 (when Obama narrowly won the state) had managed similar winning margins. North Carolina can certainly be characterized as a purple state, with competitive Senate and gubernatorial races on the docket in 2020. But the winding 9th District was tailor-made, or gerrymandered, for Republicans.
That the win was so close is a sign that suburban voters may be tiring of Trumpian antics. McCready won the predominantly white, suburban Charlotte portions of the district pretty handily. But conservative rural voters stayed firmly with Republicans. It was particularly disappointing for Democrats that the African American, Native American, elderly and poor voters most affected by 2018 shenanigans did not show up in large numbers.
Cynthia L. Wallace, chair of the North Carolina Democratic Party 9th Congressional District, told me Tuesday that while the 2018 scandal could have made those voters "feel better" about making their voices heard this time, it instead made many "feel worse." It made them think, "They cheat, they always cheat," Wallace said, leading many to wonder if their vote really mattered. It was a challenge, she admitted, the party would have to respond to in 2020 if it wanted their enthusiastic support.
McCready, a Marine veteran and businessman, ran as a moderate, with a "country over party" slogan. He distanced himself from "Medicare for All" and other more progressive stands, focusing instead on the health care message that worked for Democrats in 2018. That did not stop the GOP from aligning him with the House's progressive "squad," a tactic that did not seem to stick.
"Victory postponed is not defeat," McCready told disappointed supporters at a Charlotte hotel Tuesday night. "We may not have won this campaign, but that does not mean we were wrong."
"As long as there are people who thrive off our division, there is still work to be done," he said, adding that the campaign "faced down the full force of election fraud and voter suppression."
Election aftereffects
Tuesday's result probably won't stop or hasten the spate of retirement announcements coming from House Republicans. And with the current configuration of North Carolina's congressional districts, Democratic inroads will be tough. (Though in state courts, the parties are battling over orders to redraw state General Assembly lines to give Democrats a fairer shot.)
You might, however, see some of the campaign strategies replicated. Trump's Monday speech in Fayetteville did not reach the frenzied heights of his July appearance in Greenville when chants of "Send her back," directed at Minnesota Democrat Ilhan Omar, rang out unchallenged. But Trump still managed to attack Democrats as the "America-hating left," warn of dangerous immigrants, bash the media and ramp up rhetoric that he hopes will turn out his base even as it turns off more moderate suburban voters who took a chance on him the first time around.
That rhetoric was on the mind of many Tuesday at the subdued McCready watch party, where many supporters looked with dread toward the Republican National Convention, coming to Charlotte next year.
Charlotte Mayor Vi Lyles, a Democrat who easily won her own primary race  Tuesday night and looks set to win a second term in November, also stopped by. She told me she was "honored" that voters supported her vision for the city, a "pragmatic" one that includes an emphasis on public transportation as well as support for bringing the Republican convention to a solidly Democratic city.
Lyles said she realized many are wary, but she has an idea to "show who we are as a city, a way to showcase our values," with a celebration, concerts and spoken-word competitions — counter-programming during the RNC. "Charlotte is not about what Republicans are saying," she said.
North Carolina Rep. Alma Adams, who had been hoping for another Democrat in the state's House delegation, described the president's "M.O." as "trying to appeal to fear in the minds of people." But she told me she was optimistic another kind of fear — "of what's he's doing to the country" — would prevail.
A "heartbroken" Liz Pratt, a retired teacher from Charlotte, was there for McCready, whom she has known since he and her son were in eighth grade together. But she was also influenced by the president, and the "horrible mistakes" she said he makes every day.
No matter how candidates carefully calibrate their own campaigns, it looks as though Trump, as he likes it, will remain the center of attention as 2020 looms.