What Has Happened To Our Election?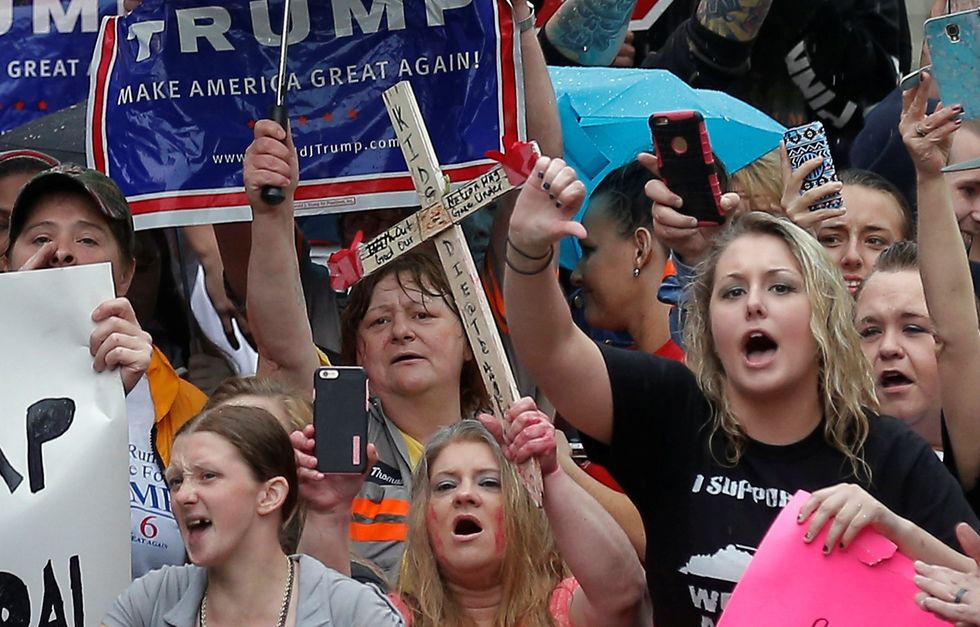 "When a man's fancy gets astride on his reason,
        imagination is at cuffs with the senses,
        and common understanding as well as common
        sense is kicked out of doors, the first proselyte he
                makes is himself."
                                –Jonathan Swift, "A Tale of a Tub," 1704
For a man with a satirical turn of mind, presidential election years can be trying. Apparently your humble, obedient servant here isn't angry enough to participate fully in the festivities. This is interesting, because I've rarely been mistaken for Mr. Sunshine. I'd be a total failure as a game show host.
Everywhere you turn, people are shaking their fists in each other's faces. On television and online, that is. Most days, it'd be a good idea to don a crash helmet before opening Facebook. And the summer bickering season has hardly begun. These are mostly Republicans and Democrats fighting among themselves. The main event has yet to come.
Elsewhere, people go about their normal daily activities with seeming equanimity — although there's been a marked increase in convenience store parking space shootings, actually. Maybe an armed society's not such a polite society after all. How surprising would it be to see gunfire erupt at a presidential campaign event?
But I digress, and ominously.
Chez Pazienza recently described a mob of Bernie Sanders backers who disrupted a recent Clinton campaign event in Los Angeles. According to one witness, "[t]hey were cussing at people, calling women whores, and telling people to kill themselves. They were shouting in children's faces, blowing sirens in their ears, and making them cry."
Such antics would be hard to believe, had Pazienza not posted video clips. Asked by Rachel Maddow to disavow such behavior, Sanders basically ducked the question. And this is the Hippie Party. On college campuses, Clinton supporters complain they're called "evil," poor things.
Do you suppose they require "trigger warnings"?
At such times I'm reminded of Jonathan Swift's timeless satire of the root causes of political fanaticism. Writing roughly 300 years ago in the wake of the English Civil War, Swift concocted an imaginary religious sect called "Aeolists." (Aeolus was the Roman god of wind.) His target was anybody who claimed to be "inspired," or as he saw it, filled with hot air.
"Words are but wind," Aeolists believed, "and learning is nothing but words; ergo, learning is nothing but wind." Swift depicted true believers "linked together in a circular chain, with every man a pair of bellows applied to his neighbour, by which they blew up each other to the shape and size of a [barrel]…. When, by these and the like performances, they were grown sufficiently replete, they would immediately depart, and disembogue for the public good a plentiful share of their acquirements into their disciples' chaps."
Has a more apt description of candidate Trump's cult of personality ever appeared? Is there nothing the man could say that would give his enraptured supporters pause? As Paul Waldman notes in the American Prospect, he's a one man tidal wave of disinformation.
"First, there's the sheer breadth and character of his falsehoods. Absurd exaggerations, mischaracterizations of his own past, distortions about his opponents, descriptions of events that never occurred, inventions personal and political, foreign and domestic, Trump does it all…There has simply never been a candidate who has lied as frequently, as blatantly, and as blithely as Trump."
Trump outdid even himself on Meet the Press last Sunday, disemboguing a couple of thunderous falsehoods in our collective faces. First he allowed as how he means to stop undocumented immigrants from voting in U.S. elections.
Informed by Chuck Todd that they're already prevented by law from doing so, Trump allowed as how "You have places where people just walk in and vote."
If he could document even one such polling place, that would be newsworthy. But of course Trump cannot, so instead he doubled down.
"We're the highest-taxed nation in the world," he claimed. That one the interviewer unaccountably let go.
Actually, U.S. tax revenue ranks near the bottom of the developed world as a percentage of GDP — just above Korea, Chile and Mexico. Corporate tax rates are theoretically high, but as most people know, loopholes are so plentiful that few companies pay them.
U.S. tax revenue per capita ranks nearer the middle of industrialized nations. As conservatives never tire of pointing out in other contexts, most countries in the European Union pay twice as much as Americans.
But then why bother? One could devote whole columns as Washington Post fact-checker Glenn Kessler recently did, to debunking Trump's epic falsehoods. Some of them are downright funny.
No, Vladimir Putin never called Trump a "genius." He called him "flamboyant." Only Trump, of course, would seek the Russian strongman's approval.
But do such considerations matter to the man's encircled supporters, each with a bellows discreetly inserted?
I don't believe that they do.
Photo: Supporters of U.S. Republican presidential candidate Donald Trump protest outside a campaign event for Democratic presidential candidate Hillary Clinton in Williamson, West Virginia, United States, May 2, 2016.     REUTERS/Jim Young