White House Hopeful Christie 'Humiliated' By Bridge Scandal
@AFP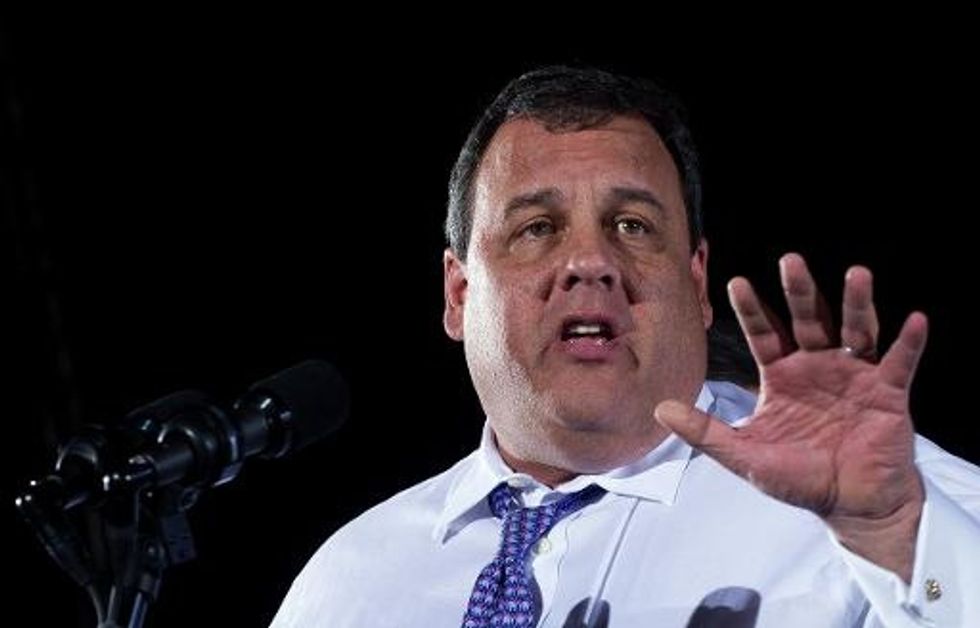 New York (AFP) – New Jersey Governor Chris Christie's U.S. presidential ambitions ran into a jam when he was forced to admit his staff lied to him about their role in blocking commuter traffic onto a major bridge.
Christie, a larger-than-life Republican seen as a frontrunner for his party's 2016 presidential nomination, said he had been "embarrassed and humiliated" by the alleged dirty tricks.
In a marathon news conference, Christie repeatedly apologized for his office's connection to the shutting down in September of local access lanes onto the heavily-traveled George Washington Bridge, which links New Jersey to New York.
The lane closures caused massive traffic disruption for four days in the New Jersey town of Fort Lee, allegedly to punish the local mayor, who did not endorse Christie's successful re-election bid.
Christie insisted he had been unaware of any political motive behind the action until the release of emails from his aides on Wednesday and moved quickly to sack a senior assistant.
"I had no knowledge or involvement in this issue, in its planning or its execution," a chastened Christie told reporters. "I am embarrassed and humiliated by the conduct of some of the people on my team.
"I've terminated the employment of Bridget Kelly, effective immediately. I terminated her employment because she lied to me," he added, referring to his deputy chief of staff.
At times humbled and somber, at times showing signs of his usual bombastic style, Christie branded Kelly "stupid" and "deceitful" for her role in an apparent act of petty political retribution.
With his office bracing for an inquiry into the scandal by federal prosecutors, Christie fell back on the blunt stance that has won him admirers in U.S. politics beyond his regional fiefdom.
"I have absolutely nothing to hide," he said, adding that he will instruct staff to "cooperate and answer questions."
Christie then went to Fort Lee to apologize "face to face" to its Democratic mayor Mark Sokolich, who apparently drew the wrath of Christie aides over his refusal to back the governor last year.
The governor called the meeting "very good and productive," while Sokolich told CNN he felt Christie had given him a "sincere apology."
Christie said he felt "blindsided" Wednesday when he learned of the communications between Kelly and a top Christie appointee to the Port Authority of New York and New Jersey, David Wildstein.
"Time for some traffic problems in Fort Lee," Kelly wrote to Wildstein, a high school acquaintance of Christie, on August 13.
"Got it," Wildstein replied.
The Fort Lee mayor was not advised the lanes would be closed for what was said to be a traffic study. The resulting chaos ensnared millions of commuters as well as some emergency responders.

On September 10, Wildstein texted Kelly that he was "smiling" about the incident but "I feel badly about the kids," referring to students stuck for hours on buses.
"They are the children of Buono voters," Kelly texted back, referring to Christie's Democratic rival in the governor's race, Barbara Buono.
Wildstein resigned from the Port Authority in December.
Under subpoena, Wildstein appeared at a New Jersey inquiry Thursday but refused to answer questions, leading lawmakers to hold him in contempt.
Christie also ordered his two-time campaign manager, Bill Stepien, to step down from running to lead New Jersey's Republican Party.
He slammed Stepien's "callous indifference" for his tone in communications regarding the scandal that has already come to be known as "Bridgegate."
The brouhaha has much of New Jersey fuming, and politics watchers wondering whether the Republican Party has lost a major contender for the White House in the post-Obama era.
Christie's in-your-face, aggressive style has led critics to accuse him of bullying political opponents, reporters, even teachers and bystanders.
But he insisted on Thursday: "I am what I am, but I am not a bully."
"I've been doing a lot of soul-searching," Christie added.
But he refused to say whether the scandal would affect his decision on a presidential run.
U.S. Senator Robert Menendez, a New Jersey Democrat who has clashed with Christie, said the lane closures issue was "troubling and disturbing" and backed a Senate probe into the matter.
Some Republican lawmakers dismissed suggestions Christie's political future was finished, saying the governor's crisis management was top-notch.
"He assessed the situation, found out where the problem was, took decisive action and took responsibility for the 65,000 people who work for him," Senator Johnny Isakson told CNN.
Polls have repeatedly shown Christie as the 2016 Republican front-runner, often deadlocked with former secretary of state Hillary Clinton, the leading likely Democratic contender.
AFP Photo/Jim Watson