Why Are Congressional Republicans Taking Dick Cheney's Advice On North Korea?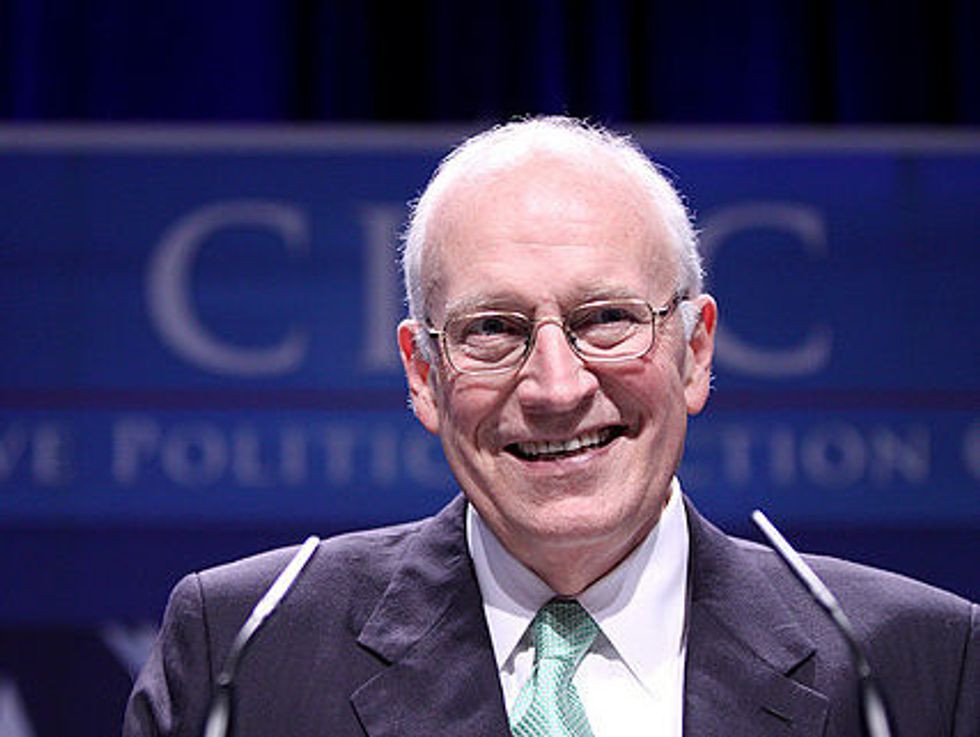 Former vice president Dick Cheney reportedly issued a stern warning on North Korea to Congressional Republicans Tuesday, and in the process raised an important question: Why on Earth would anyone listen to Dick Cheney's foreign policy advice?
According to a CNN report, a cowboy hat-wearing Cheney told the attendees of a GOP leadership meeting that "we're in deep doo doo" with regard to North Korea.
"Here's a young guy we don't know very much about — have very little intel on him, so we just need to make sure that we don't assume why he's doing what he's doing because he could be doing what he's doing for any number of reasons," Cheney told the Republican lawmakers, according to Representative Steve Southerland (R-FL).
Cheney attended the meeting as an invited guest of the third-ranking Republican in the House, majority whip Kevin McCarthy (R-CA).
The notion that House Republicans would seek out Cheney's counsel is rather mind boggling. Should a group with a pathetic 24 percent approval rating really be taking advice from a man who left office at a startling 13 percent?
It's not as if Americans rejected Cheney for no reason. On almost every major foreign policy issue — including Iraq, Afghanistan, torture, climate change, and everything in between — Cheney pushed the Bush administration in often catastrophically wrong directions.
North Korea is no exception. As Fred Kaplan explained in a 2004 piece for Washington Monthly, the Bush administration entered the White House with the stage set for diplomatic progress — only to have the neoconservative foreign policy team shut down all negotiations. Kaplan singled out Cheney for resisting engagement, describing the vice president's general position as "As long as the North Koreans were pursuing nuclear weapons, even to sit down with them would be 'appeasement,' succumbing to 'blackmail,' and 'rewarding bad behavior.'"
As a result, the Bush administration all but ignored North Korea's steady march towards construction of a nuclear weapon — even intentionally covering up information on North Korea's nuclear program to avoid distracting the public from its misguided case for war in Iraq.
By 2002 the administration's approach had proven so ineffective that James Kelly — then the assistant secretary of state for Asian affairs — told Kaplan that then-South Korean President Roh Moo Hyun told him, "'I wake up in a sweat every morning, wondering if Bush has done something unilaterally to affect the [Korean] peninsula."
So if America is now in "deep doo doo" with a nuclear North Korea, Cheney has no one to blame but himself and his former Bush administration colleagues. And if House Republicans insist on trying to bring back the Bush foreign policy team, then they will have no one to blame but themselves when their approval rating plummets all the way down to Cheney territory.
Photo: Gage Skidmore via Flickr.com