Why Economists Blame Trump For Volatile Financial Markets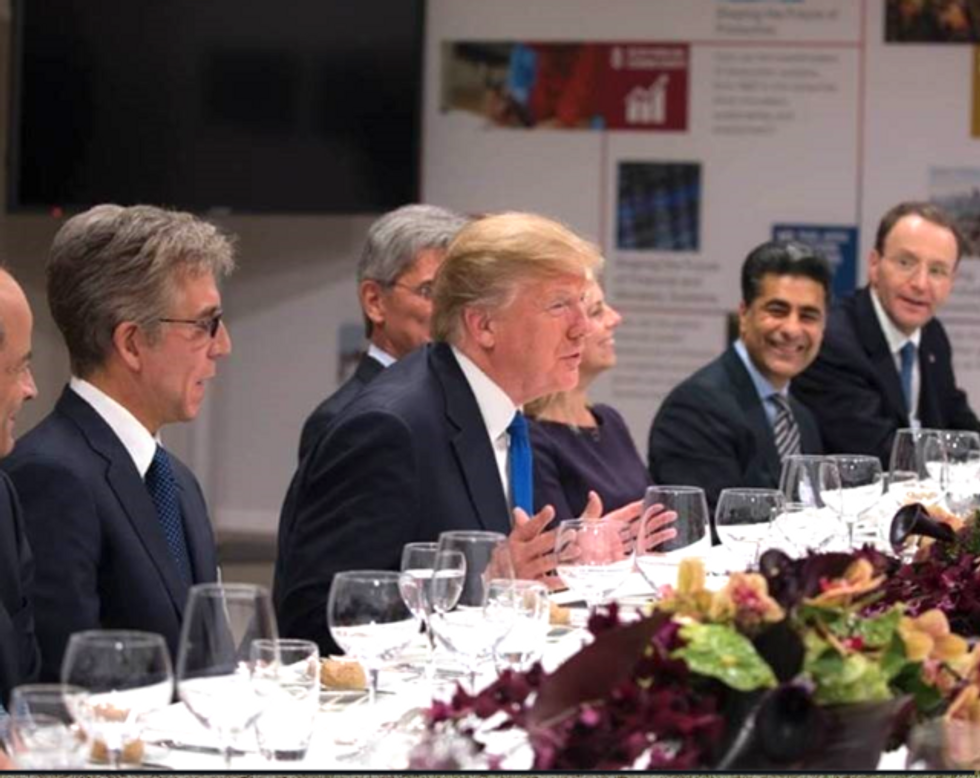 Reprinted with permission from AlterNet.
Republicans' massive tax reform bill — largely a giveaway to corporations and the super wealthy — was supposedly justified by a massive boom in the American economy that would make everyone, not just the most direct beneficiaries of the cut, richer.
It hasn't happened.
In fact, we're not just missing out on a massive economic uptick. The stock market appears to be in absolutely dire straits, boomeranging wildly and hanging on by a thread, since the tax bill was passed.
"All the four major U.S. stock indexes declined at least 4.6% for the year through Friday — and they're poised to all finish with negative annual returns for the first time since 2008. And the poor performance was broad-based: nine of the 11 sectors in the benchmark Standard & Poor's 500 index are in the red for 2018," explained Los Angeles Times reporter Jim Puzzanghera. "Just stuffing cash in the mattress, where its buying power eroded by the approximately 2% annual inflation rate, would have beaten the 7% loss incurred this year from a fund tied to the S&P 500."
Puzzanghera noted several major factors currently spooking investors — the U.S.-China trade war, the administration's "unforced errors," the government shutdown, and coming fights with a divided Congress — that are all directly tied to President Donald Trump.
Experts have concurred that Trump himself is the source of serious economic headwinds.
"While it is almost always a mistake to read too much into the stock market, you do have a sense that there's a new appreciation of political risk. For 2 years markets had a what-me-worry attitude: Trump might be crazy, but hey, he cut taxes," said economist Paul Krugman in a recent series of tweets. "But lately the markets seem nervous. It's not just that stocks are down; they're down despite big increases in after-tax profits."
He continued: "At a guess, it's not just fear of what Trump might do, it's fear of what he might not do: if and when something goes wrong, he's likely to throw a temper tantrum rather than respond sensibly, and his advisors are the gang that couldn't think straight."
Ian Shepherdson, the chief economist at Pantheon Macroeconomics, made a similar point in recent comments, as Puzzanghera noted.
"The biggest single problem for the stock market is the president," Shepherdson said.
Krugman has argued that while there did appear to be a short uptick in the market because of increased deficit spending under the Republican government — a tactic for boosting the economy that they decried when it was really needed after the 2008 financial crisis — those effects vanished quickly
"And the public, which never liked the tax cut, seems to be souring rapidly on the economic outlook — which can be a self-fulfilling prophecy in the short run," he said.
On top of the disappointing and predictable failures of the GOP's tax policy, Trump's erratic governing style increases instability.  The fact that the stock market seemed so strong at the beginning of his term in office may have reflected the general view that, despite his bluster, Trump was prepared to govern as a relatively generic Republican. Now that tax cut euphoria has subsided, and Trump's problems have been revealed to be both of style and of substance, investors are far less confident in the future.
Nothing could confirm that more clearly than the current government shutdown, triggered by an embarrassing dispute over Trump's ridiculous "wall."
"I think that the showdown over funding for the border wall is just an example of what we might expect in 2019 with this Congress as we head into a national election in 2020," said Michael Arone, chief investment strategist at asset manager State Street Global Advisors, according to the Times.