Why Is Pittsburgh Being Called The New Darling Destination?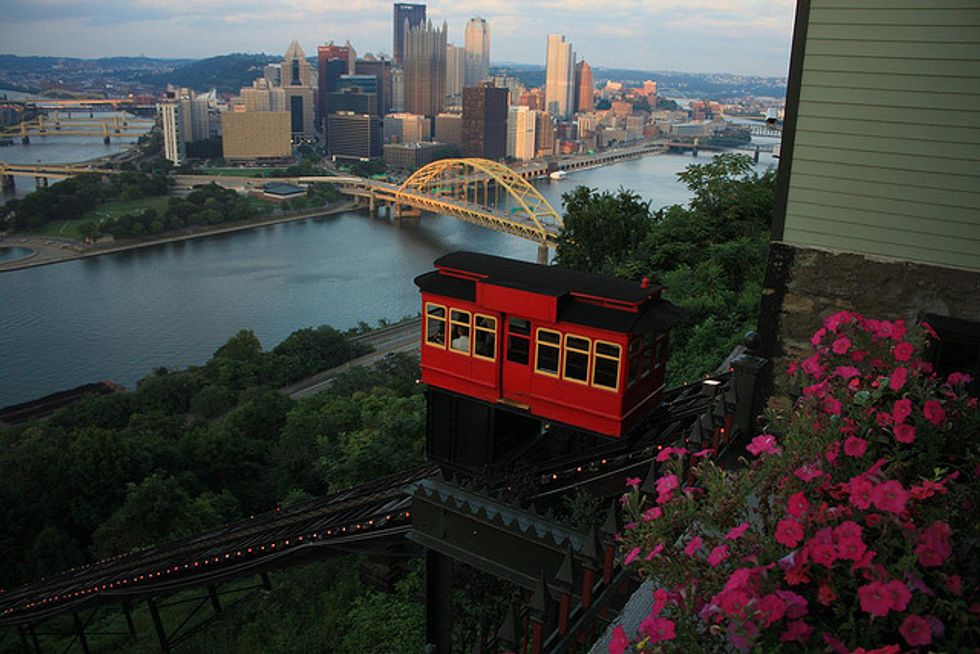 By Gabe Rosenberg, Pittsburgh Post-Gazette (TNS)
PITTSBURGH–If there were a drinking game for every time a media outlet "rediscovered" Pittsburgh, after a recent week, this city would be under the table.
The New York Times' Travel section recently told its readers how to spend 36 dynamic hours here, but The Washington Post took a whole family on a road trip and took some time to explore. In fact, the Post couldn't get enough of Pittsburgh, publishing that with another piece on July 16 on the city's restaurant scene. Eater.com had the same idea, with a piece July 17 asking, "Is Pittsburgh the Country's Next Destination Food Town?"
Eater, which provides food news and dining guides from across the country, didn't think the city was foodie heaven just yet, but that may not matter: The national reconceptualization of Pittsburgh has already taken hold. For locals, while the extra attention is nice, this latest surge of publicity is just business as usual.
"When it first started to really happen, back in the late '90s and early '00s, we started getting a lot of attention, it was really novel," said Craig Davis, president and CEO of VisitPittsburgh. "Now it's getting to the point where there's no surprise anymore. It's like, 'Why wouldn't they feel that way?'"
In 2014, the Travel Channel named Pittsburgh one of the best All-American vacation cities and National Geographic's Traveler included Pittsburgh on its list of Best Trips for 2012.
The latest attention on Pittsburgh's restaurant scene has focused on a few primary spots of culinary interest: namely, Lawrenceville's Cure and the Butcher and the Rye, Downtown (along with its siblings, Tako and Meat & Potatoes). And while they loom large at home, the restaurants have seen their profile around the country improving, if only anecdotally.
"I had one recent experience at Meat & Potatoes; actually, there was a couple that was retired and they planned a whole trip to Pittsburgh and made a weekend out of it," said spokeswoman Tamara Lelli, who also represents Butcher and the Rye and Tako. "They were telling me how it was never a city on their list of places to go, but they'd heard so many good things about it, and they absolutely fell in love with the city."
Cure co-owner Justin Severino had a similar story, meeting tourists last week who came specifically to Pittsburgh to eat at his restaurant based on the recommendation of the Washington Post article.
"The national press has definitely helped our business, but I think it's a collection of all that's happened in Pittsburgh in the last three to four years," he said.
From Cure to Conflict Kitchen in Oakland, Pittsburgh's culinary scene may be a beneficiary and a driver of this media moment, but it's not the only player. As a whole, the big story has been Pittsburgh's much-touted high-tech transformation away from Rust Belt decay: Time magazine just published "Pittsburgh: The Comeback" in early July, and Politico had "The Robots That Saved Pittsburgh" last February.
All that research and tech has been in the works for years, but what really caused the sea change in outside interest–according to Davis and Bill Flanagan, chief corporate relations officer for the Allegheny Conference on Community Development–was the G-20 summit in 2009.
"The G-20 was the turning point in terms of the size of the pipeline, the companies that might be interested in Pittsburgh," Flanagan said. "It definitely was a turning point in terms of interest of national or international media."
Not all of Pittsburgh has received the same amount of coverage, of course. As NEXT Pittsburgh, The New Pittsburgh Courier and other locals have observed, much of the media _ Time and The New York Times especially _ focused almost entirely on Lawrenceville and other "it" areas, on white, male residents and business owners. Neither of the two videos interviewed or highlighted a single person of color, and Time did not interview a single woman.
"I think it is one of the challenges of the region," Flanagan said. "In a region that is one of the least diverse in the U.S., in terms of the makeup of the population, it could benefit by having stories of more diverse people get out, as a way to attract more to the region."
It's a challenge that Mayor Bill Peduto's office has acknowledged as well, and hopes that publicity will beget publicity.
"The mayor has said that while it's great to get the attention, there are bunches of other parts of the city that could use that same," said spokesperson Tim McNulty. "We'd like to see major publications have their focus get a little bit wider."
Photo by Hannaford via Flickr