Why Pelosi Opponents Are So Wrong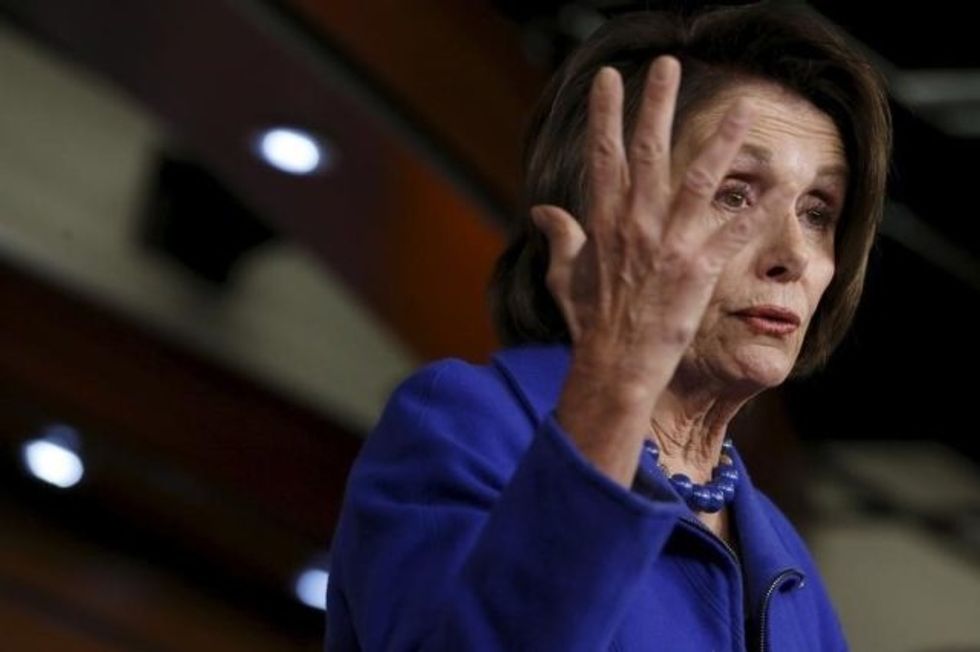 This article originally appeared on Creators.
The tiny faction of Democrats who aim to block Rep. Nancy Pelosi's election as House speaker are only missing two things: a candidate of their own and a rationale that makes sense.
The easier problem is the absence of a candidate, even though the members who have been mentioned so far seem small when measured against Pelosi, who is often described with superlatives such as "formidable" and even "legendary." And most of her declared opponents within the Democratic caucus are white men, so they may have trouble persuading colleagues that ousting history's first female speaker to install one of them would be an uplifting change.
Presumably, that is why they first seized upon Rep. Marcia Fudge, a disgruntled Ohio Democrat who has suggested she might challenge Pelosi. But at age 66, Fudge hardly represents "generational change," as one of her promoters claimed, and she had trouble explaining why, as a former chair of the Congressional Black Caucus, its members have shot down her trial balloon. The heroic Rep. John Lewis, D-Ga., for instance, says that Pelosi is "a great leader" whom he supports "more than 100 percent."
Nor did Fudge articulate an inspiring charter for revolution. She calls Pelosi "an elitist," whatever that may mean, and "a very wealthy person who raises lots of money from other wealthy people." At the same time, she concedes that Pelosi "has been a very good leader," and says, "I just think it's time for a new one."
Or at least she did until Tuesday when, after meeting with Pelosi and accepting a new subcommittee chair on voting rights, the Ohio Democrat announced that she would drop her challenge — and support the once and future Speaker. Which proved Pelosi's leadership skills, if nothing else.
So if Pelosi is a very good leader, then why do they need a new one? The hollow sound of Fudge's critique echoes in the remarks of her fellow complainants. They say that Democratic leadership needs "new blood" or "new leadership." They note their pledges to constituents to oppose Pelosi, although the reason behind those pledges has never been made clear either. Is it because Republicans keep smearing her?
The putative leader of the anti-Pelosi faction, Rep. Seth Moulton, D-Mass., used to say that Pelosi had to go because the Democrats were losing elections. (That was sometime after he wrote a gushing letter in June 2016 thanking her for his appointment to the House Armed Services Committee.) Now he grumbles that she is "arrogant" for thinking "she's the only person who can do this."
She may not be the only one who can do this — lead the House Democrats against a would-be authoritarian president and his senatorial rubber stamps — but there is no evidence that anyone else available can do it nearly as well.
Forget the obvious fact that against the predictions of critics like Moulton, she led the caucus to a smashing midterm victory. Her qualifications are personal. She is seasoned, cool and not intimidated by any of her avowed adversaries in either party. She knows how to craft legislation and count votes, as she has proved repeatedly since President Trump entered the White House — most notably during last year's budget negotiations, when she ate the Republicans' lunch. Any Democrat who thinks replacing Pelosi will advance progressive goals should take a closer look at Moulton and his buddies. Deposing her would most likely deliver the gavel to Rep. Steny Hoyer, D-Md., the resolutely centrist minority whip. (He is a year older than she is and not half the leader.)
It is remarkable that in this hour of constitutional confrontation, fomented by a president who violates his oath and endangers national security every day, a rump group of House Democrats insists its most important mission is to overthrow the woman who returned them to power. It is astonishing that this group plans to carry the grudge onto the House floor come Jan. 3, even knowing that it will lose a vote within the caucus by an overwhelming majority. (So far the group has 16 votes out of roughly 235, depending on how a few lingering races are resolved.) And it is disturbing that they would ignore their duty to hinder Trump's depredations, instead of rupturing the only institution with the will and authority to oppose him.
There is a good reason that Republicans have sought to demonize this highly effective and determined woman. Unlike most Democrats, she has shown the ability to beat them. And that is the best reason to elect her.
To find out more about Joe Conason and read features by other Creators Syndicate writers and cartoonists, visit the Creators Syndicate website at www.creators.com.