Why The Nationals In The World Series Is Good For America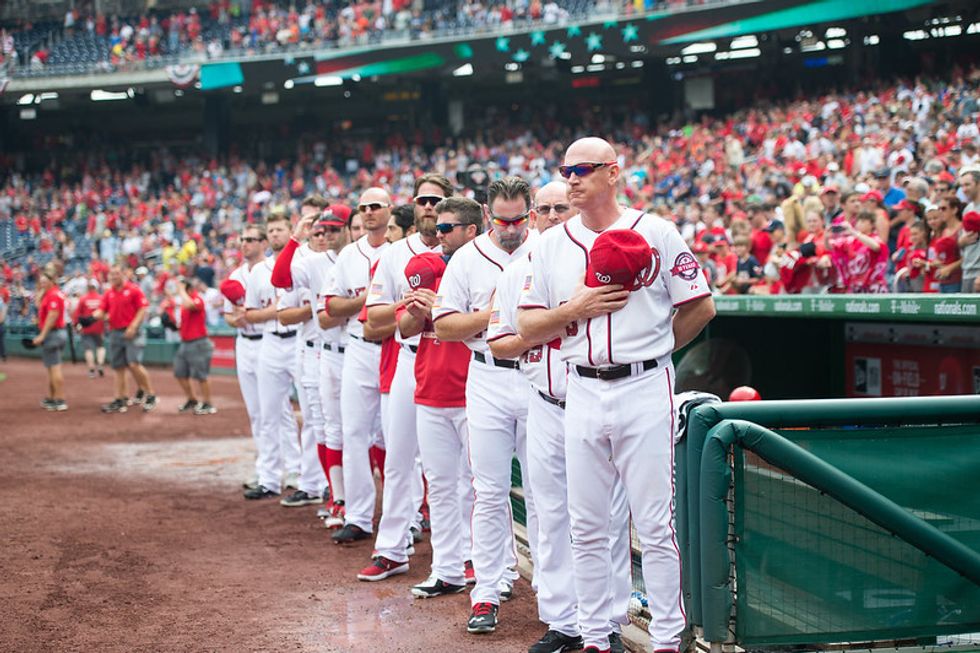 For the first time in 86 years, a baseball team from Washington, D.C., is in the World Series. This is good news — obviously for the long-suffering Nationals fans in and around Washington, but also for every American who cares deeply about the survival of our republic.
In spite of the semiterminal greed of multimillionaire team owners who feel they are divinely entitled to demand that ordinary Americans in the area pay higher taxes in order to build state-of-the-art stadiums, baseball still embodies public virtues in desperately shorty supply in both the capital and the nation.
The importance of baseball to national life was captured by the late Bill Veeck, a singularly admirable baseball team owner who called baseball the one public activity in which there is "a clearly defined area of play, rules and penalties that apply to all. Three strikes and you're out," said Veeck, "even if (legendary criminal attorney) Edward Bennett Williams defends you" — or, we might add, even if Perry Mason or Clarence Darrow were in your corner.
Neither a seven-figure "soft money" donation to a powerful leader's PAC nor the best-connected "K Street" lobbyist who's "wired" to the White House can get you four outs instead of three in one inning. If you can't hit the curveball, having been Jared's roommate or the Senate leader's fraternity brother won't get you to first base. Baseball is relentlessly democratic and egalitarian.
The sport's language is straightforward American — hits, runs, errors. No "mistakes were made." Instead, your shortstop made an error, or our pitcher unleashed a wild pitch. In baseball, we are held accountable; we make a hit or an out. No "motions to recommit" or "interim, temporary regulations."
Maybe baseball's being so quintessentially American explains why every U.S. president — except one — since William Howard Taft first did so in 1910 has made it a point to go to baseball games and throw out the first pitch. Presidents Woodrow Wilson, Calvin Coolidge and Warren Harding went to 30 games. In his one four-year term, Herbert Hoover went to nine games, including the 1931 World Series game where the Prohibition-unhappy crowd filled the ballpark with the chant "We want beer."
Franklin Roosevelt, in spite of his wheelchair, was a regular at Washington games and is remembered by fans for insisting during World War II — when so many public activities were shelved — that baseball continue for the morale of the country and its soldiers in uniform. Harry Truman 16 times went to the ballpark, where he was the first southpaw to throw out a presidential pitch. Dwight "Ike" Eisenhower had been a baseball player in his youth and went to 13 games.
Jack Kennedy threw out the first pitch during each opening day of his shortened presidency. At the 1962 baseball All-Star game, the then-45-year-old chief executive spoke to the great Stan Musial of the St. Louis Cardinals, then 42: "A couple of years ago, they told me I was too young to be president and you were too old to be playing ball. But we fooled them." Lyndon Johnson, Richard Nixon (a genuine fan), Gerald Ford, and Jimmy Carter all went to the ballpark.
Both presidents Bush played and loved baseball. Bill Clinton was the first president to go onto the field to throw out the first pitch from the pitcher's mound. Barack Obama followed suit.
Only one president in 109 years has declined the privilege of going to a stadium full of fans to enjoy America's game. That would be Donald Trump, who had been a much-better-than-average high school player. There is, Republicans will tell you privately, just one reason that a man who loves crowds and sports will not show up at the 2019 World Series: He knows that, by any crowd, he would — on national television — be loudly booed. Sad but true.