Will Run For Speaker Bury Jordan's Sex Abuse Scandal?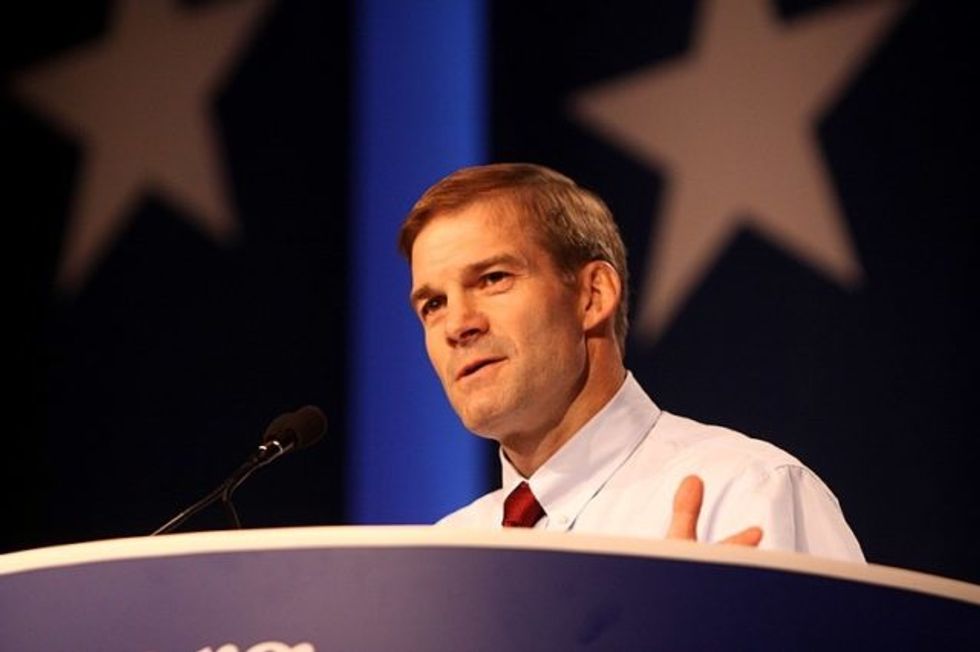 Reprinted with permission from Shareblue.
Despite being embroiled in a growing sexual abuse scandal, Rep. Jim Jordan (R-OH) is running for Speaker of the House.
At least 9 people say that when he worked as a wrestling coach at Ohio State University, Jordan helped to cover up predatory sexual behavior by the team doctor, Dr. Richard Strauss.
The top position in the House will be open after the retirement of Paul Ryan, the current speaker who, like Jordan, is a serial Trump enabler. If successful, Jordan would be the second of the last three GOP speakers connected to abuse.
Former Speaker of the House Dennis Hastert is now a convicted child molester. He was also a wrestling coach.
Other Republicans closer to the party establishment and who already serve in House leadership, like Reps. Kevin McCarthy (R-CA) and Steve Scalise (R-LA), are expected to have a much better chance at winning than Jordan.
But with a Republican Party that has gone all in to defend sexual abuse and pedophilia, Jordan's leadership bid cannot be dismissed.
Jordan was an assistant wrestling coach at OSU from 1987 to 1995, the same time period in which Strauss (now deceased) worked for the athletic department.
A class-action lawsuit names Jordan as an example of a school official who turned a blind eye to the abuse. The suit has been filed on the behalf of a former OSU wrestler who said he was groped, assaulted, and molested.
Jordan, who has hired a crisis management firm to handle his response to the story, has denied the allegations in the most disingenuous, Trump-like way possible.
Jordan has called victims of abuse liars, insisted that the scandals are "fake news," and even baselessly claimed that the so-called "deep state" is behind the allegations. Trump has done all of these things, from the victim blaming to the conspiracy mongering.
Republicans have rallied to Jordan's side. Trump has proclaimed, in reference to the former wrestlers who say Jordan ignored their reports of abuse, "I don't believe them at all."
Normally, a politician embroiled in this kind of scandal would probably be hiding in shame. But Jordan apparently thinks he still has a chance to be elected speaker of the House by his fellow Republicans.
The sheer hubris of Jordan's decision to run for speaker at a moment like this shows just how far the modern Republican Party has fallen.
This abdication of moral authority starts from the top with Trump, a self-confessed sexual assaulter who bragged on tape about grabbing women's genitals without their consent. Nineteen women have come forth to say Trump sexually assaulted or harassed them, and others say he preyed on underaged girls as well.
Trump led the Republican charge to elect Roy Moore to the Senate in Alabama, dismissing multiple credible allegations that Moore molested young girls. Trump's pursuit of power overwhelmed any possible concerns about child abuse.
And Trump wasn't alone. Senate Majority Leader Mitch McConnell often deflected questions about Moore, and only reluctantly admitted that it would be a bad thing for a pedophile to be elected to the Senate. Meanwhile, Alabama Republicans openly embraced Moore with a truly sickening display of victim blaming.
Alabama voters stopped Moore and chose a Democrat for the first time in years — even though the Republican Party would have gladly let Moore get elected.
With a track record like that, it is no wonder Jordan thinks he has a chance. He has the pro-Trump record and rhetoric — which, these days, the Republican Party cares about far more than they care about public safety or decency.
Published with permission of The American Independent.