Will Trump Replace Sessions With Pruitt To Fire Mueller?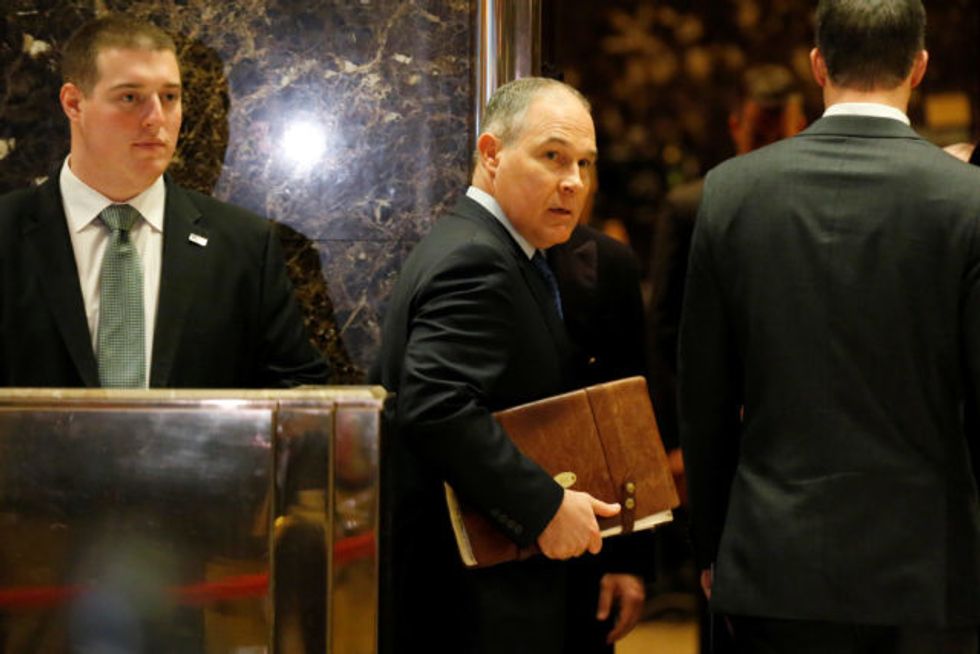 Reprinted with permission from AlterNet.
President Donald Trump has a problem, and EPA chief Scott Pruitt may be the solution.
Trump's problem is, of course, the Russia investigation. A person with less to hide might not think a credible investigation led by one of the most respected prosecutors in the country is a serious problem, but Trump has repeatedly treated it as an existential threat — suggesting that there's something, or many things, that he's trying to hide.
So how can Pruitt help? Even as the administrator is engulfed in more scandals than there's space to list, he has one advantage going for him: He's already been approved by the Senate for a Cabinet position.
That means as long as he doesn't resign, get fired, or get impeached, he's eligible to replace Attorney General Jeff Sessions without a Senate vote for a limited period of time.
And according to a CNN report, Pruitt has proposed doing just that to the president.
"In an Oval Office conversation with Trump, Pruitt offered to temporarily replace Sessions for 210 days under the Vacancies Reform Act, telling the President he would return to Oklahoma afterward to run for office," writes reporter Kaitlan Collins. "Advisers quickly shot down the proposal, but it came at a time when Trump's frustration with Sessions over his decision to recuse himself from overseeing the Russia investigation had resurfaced. Trump has complained loudly and publicly about the recusal for the last 14 months, and floated replacing Sessions with Pruitt as recently as April."
The possibility of the move has circulated previously, but Pruitt's offer has not been reported before.
By replacing Sessions with Pruitt, Trump would have a close ally overseeing special counsel Robert Mueller's Russia investigation. Since Trump clearly views the investigation as a threat, it would be his opportunity to finally fire Mueller.
Collins' reporting doesn't say explicitly that Pruitt made the suggestion for this purpose, but it's hard to think of another reason he would make the suggestion. There seems to be little benefit in being attorney general for less than a year if his goal is to run for statewide Oklahoma office. (Pruitt has officially denied the story, telling Collins: "This report is simply false. General Sessions and I are friends and I have always said I want nothing more than to see him succeed in his role.")
It would also explain why Trump hasn't yet fired Pruitt, despite his mountain of scandals.
It's not clear the gambit would work. While Pruitt would avoid a messy confirmation battle — during which Senators would certainly get him on the record about whether he wanted to fire Mueller — by using the Vacancies Reform Act, Sessions would have to first leave his post.
Removing Sessions from his position in an obvious attempt to thwart Mueller may be too much even for a permissive Republican Congress to tolerate.
That doesn't mean Trump won't try it, though. He's proven more willing to go against aides' advice in recent months, and he's known for acting impulsively. If he feels cornered by Mueller, all bets are off about what Trump might do.
Cody Fenwick is a reporter and editor. Follow him on Twitter @codytfenwick.