Wisconsin Voters Look Past Primary To Recall Election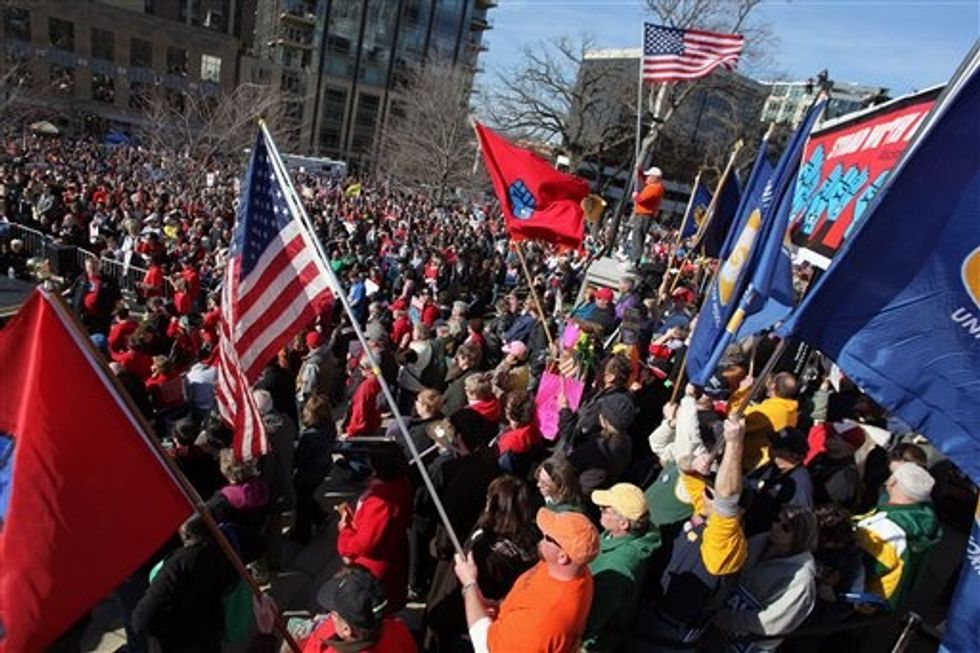 Wisconsin Republicans may be voting in their presidential primary Tuesday, but most voters and activists are looking ahead to Governor Scott Walker's recall election in June, when the Tea Party and labor unions will get their final say on the most polarizing politician in the Midwest.
Presidential frontrunner Mitt Romney leads his chief rival Rick Santorum in the polls, and a victory would help quiet his critics and increase the flood of establishment Republicans and (reluctant) conservative movement leaders rallying to his candidacy, urging others to call it quits for the sake of party unity. The passion on the ground, though, isn't with either presidential candidate, but rather with Walker, who won the governor's race in 2010 and quickly launched an all-out assault on labor unions.
The governor's "budget repair bill," which eliminated collective bargaining rights for most public employees, set off a wave of populist demonstrations in Madison that presaged the Occupy Wall Street protests. Conservatives adore Walker, Romney and Santorum both taking time to laud his courage in taking on a perennial GOP punching bag: public workers.
The recall campaign, unprecedented in its intensity and the massive amount of early outside political spending on television ads, went forward Friday when state officials certified that well more than the required number of signatures to trigger an election had been reached. Walker has been on the air for months, running TV ads to defend his record. And he's had help, the billionaire oil baron Koch brothers dumping $700,000 as of February into a race they have made clear is a personal priority.
Though Walker backers and opponents are about even in the polls, the numbers show some movement toward the Democratic challengers in recent weeks. There are several announced candidates, the most noteworthy being Milwaukee Mayor Tom Barrett, who lost to Walker two years ago, and Kathleen Falk, a former Dane County executive with union backing.
Romney, for his part, has been careful not to appear in public with Walker, perhaps wary of his national image as hostile to labor. There's also the steady drip of revelations about former Walker aides being indicted for the misuse of public funds while he was Milwaukee County executive; state Democrats hope the corruption probe will sway independent voters in a contest polarized sharply along party lines.
"Scott Walker is at the center of a criminal conspiracy that has touched every member of his political inner circle," said Democratic Party of Wisconsin Chair Mike Tate.
Romney's interest in Walker, however, is not one of management style so much as ideology. He is walking a tightrope, struggling to show support for a Tea Party firebrand while keeping in mind the swing voters key to winning the Midwest in November.
Last time he faced a similar dynamic in Ohio (where a bill similar to Walker's was rejected by referendum), Romney fumbled badly, changing his position in less than 24 hours.

He's avoided such trouble (so far) this time around.
"I support the governor in his effort to reign in the excesses that have permeated the public sector union and government negotiations over the years," Romney said of Walker Wednesday.
A rather tepid show of support, all things considered, and coupled with a poll showing Wisconsin Republicans (by a margin of 51 to 37 percent) are more interested in defending Scott Walker than voting for one of their party's presidential nominees, another sign Romney has work to do shoring up the ever-restive conservative base before November.
Follow Political Correspondent Matt Taylor on Twitter @matthewt_ny