With Government Frozen By Shutdown, Treasury Warns Of 'Catastrophic' Default
@AFP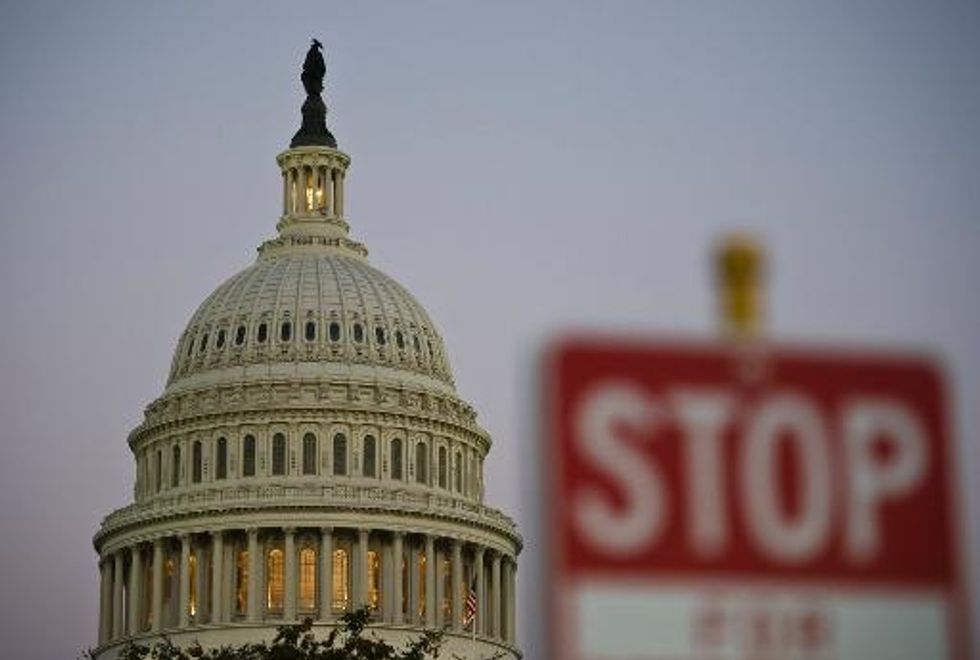 Washington (AFP) – The political crisis gripping Washington could trigger a "catastrophic" U.S. debt default, the Treasury warned Thursday, as America limped into day three of a government shutdown.
Despite the looming danger to the U.S. and world economies, there was no sign that either President Barack Obama or his Republican foes were ready to give ground.
"There's one way out of this reckless and damaging Republican shutdown. Congress has to pass a budget that funds our government with no partisan strings attached," Obama declared.
"Take a vote, stop this farce and end this shutdown right now," Obama said, in a fiery speech in the Washington DC suburbs.
At midnight on Monday the U.S. federal government ran out of funding after Congress, divided between a Republican-led lower House and Democratic Senate, failed to pass a stop gap budget measure.
Hundreds of thousands of government workers have been sent home, federal agencies have halted all but the most critical operations, parks and monuments have closed and scientific research is on hold.
Now, another threat looms, after Republicans warned that they would not approve an increase in the federal government's debt cap without receiving concessions in the budget debate.
With the government likely to exhaust its cash reserves around October 17, the Treasury said being forced into non-payment of any of its obligations — and in particular its debt — would spark turmoil.
World financial markets would be rocked and the crisis could plunge the United States into deep recession, a Treasury report said.
"In the event that a debt limit impasse were to lead to a default, it could have a catastrophic effect on not just financial markets but also on job creation, consumer spending and economic growth," it said.
"Credit markets could freeze, the value of the dollar could plummet, US interest rates could skyrocket, the negative spillovers could reverberate around the world, and there might be a financial crisis and recession that could echo the events of 2008 or worse."
The government is operating just barely below the $16.7 trillion debt ceiling, using what it calls "extraordinary measures" since May to meet a chronic deficit of about $60 billion a month.
Those measures will be exhausted by October 17.
Conservative Republicans want to dismantle or amend Obama's health care law as a condition for approving interim funding for the new fiscal year, which began Tuesday.
The president is refusing to tinker with the law, his signature health care reform widely known as "Obamacare" and there is no end to the crisis in sight.
The prospect of feuding lawmakers remaining deadlocked over whether to raise U.S. borrowing authority has international markets and groups like the International Monetary Fund fretting.
"It is 'mission-critical' that this be resolved as soon as possible," IMF Managing Director Christine Lagarde said Thursday in a speech in Washington.
But when Obama met with House Speaker John Boehner and Senate minority leader Mitch McConnell, the top Republicans in Congress on Wednesday, there was no breakthrough.
"The president reiterated one more time that he will not negotiate," Boehner said, emerging empty-handed into a warm Washington night to address reporters after the West Wing talks.
On that point at least, the two sides agreed.
Obama said in an interview with CNBC that he would not negotiate on budget matters until Republicans had passed a bill to reopen the government and raise the U.S. debt ceiling.
After the talks, Obama's spokesman Jay Carney issued a statement saying that his boss still hoped "common sense" will prevail.
Senate Majority Leader Harry Reid emerged from the meeting complaining of Boehner's attitude, and vowed never to allow Republicans to overturn the health care law.
"We are locked in tight on Obamacare," Reid said.
A previous period of brinkmanship on the issue badly hurt the U.S. credit rating.
"There's a precedent for a government shutdown, there's no precedent for a default," Goldman Sachs boss Lloyd Blankfein warned after meeting with Obama on Wednesday.
The fallout has already caused Obama to shorten his long-planned Asia trip, scrapping stops in Malaysia and the Philippines that were due to begin this weekend.
AFP Photo/Mladen Antonov