Woods Upset At Phone And Camera Nuisances
@AFP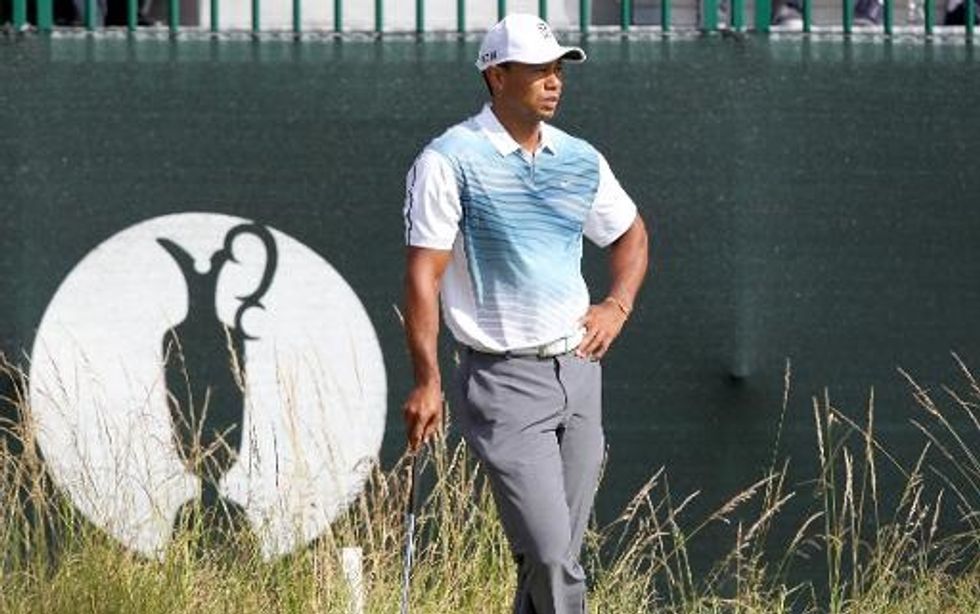 Hoylake (United Kingdom) (AFP) — Tiger Woods showed glimpses of his former greatness during a crafted opening three-under 69 at the British Open Thursday, but said it could have been lower if not for cameras clicking and mobile phones going off during his round.
The American 14-time major winner pulled back from several shots to regain concentration and compose himself, and was evidently annoyed at the end of a day, he thought could have been more prosperous.
"People were taking a lot of pictures and we had it all day long today, there were a lot of cameras out there," Woods said at the end of his first round on the sunbaked par-72 Hoylake layout.
"We were backing out of shots and a lot of people moving around, it was tough," added the 38-year-old Californian who was followed by throngs of enthusiastic fans.
"Unfortunately, people don't just put their phones on silent or some of the professional guys (photographers) were getting on their trigger a little early."
Woods remarks and annoyance, especially at the par five 18th when he planted his second shot in a greenside pot bunker after he was forced to pull out of his swing when distracted, even forced course officials to issue a statement.
"I've had numerous years of dealing with this. There's a lot of moving parts out there and you've just got to stay focused and plod your way around, continued Woods.
Mobile phones were banned after 2006, when Woods won his 12th major at Hoylake, but reintroduced in 2012 at Royal Lytham.
The Executive Director of the Championships Johnnie Cole-Hamilton issued a statment shortly after Woods' remarks.
"We are delighted to have big crowds here enjoying the golf and I know there are a lot of fans here who are experiencing the Open for the first time this week.
"We urge them and all our spectators to keep their phones on silent and remind them that taking photographs on Championship days is not permitted." said Cole-Hamilton.
Despite the controversy, the former world number one shook off a rocky start to his round with consecutive bogeys, by bouncing back with five birdies in six holes on the back nine.
His three-under score keeps him within touching distance of clubhouse leader Rory McIlroy after the Northern Irishman took sole possession atop the leaderboard with a 66.
Defending champion Phil Mickelson, world number one Adam Scott, Masters' winner Bubba Watson and in-form Englishman Justin Rose were still out on the course.
"I'm getting stronger, I'm getting faster and I'm getting more explosive. The ball is starting to travel again and these are all positive things," continued Woods.
The Florida resident, who is playing only his second competitive tournament since much needed back surgery, says his comeback at the Congressional last month where he missed the cut, was crucial to the way he played on Thursday.
"I think Congressional was a big stepping stone for me. If this was my first tournament back, not really knowing how explosive I could be, how hard I could go at it, the shots I could play, all those were variables I took care of at Congressional.
"Today was totally different and consequently I shot a better score. I felt good about a lot of things I did out there today, especially after the start I had, to fight myself back into the championship so I feel pretty good about it."
AFP Photo / Peter Muhly
Interested in sports news? Sign up for our daily email newsletter!