3 Killed, 4 Wounded In Shootings Across LA's San Fernando Valley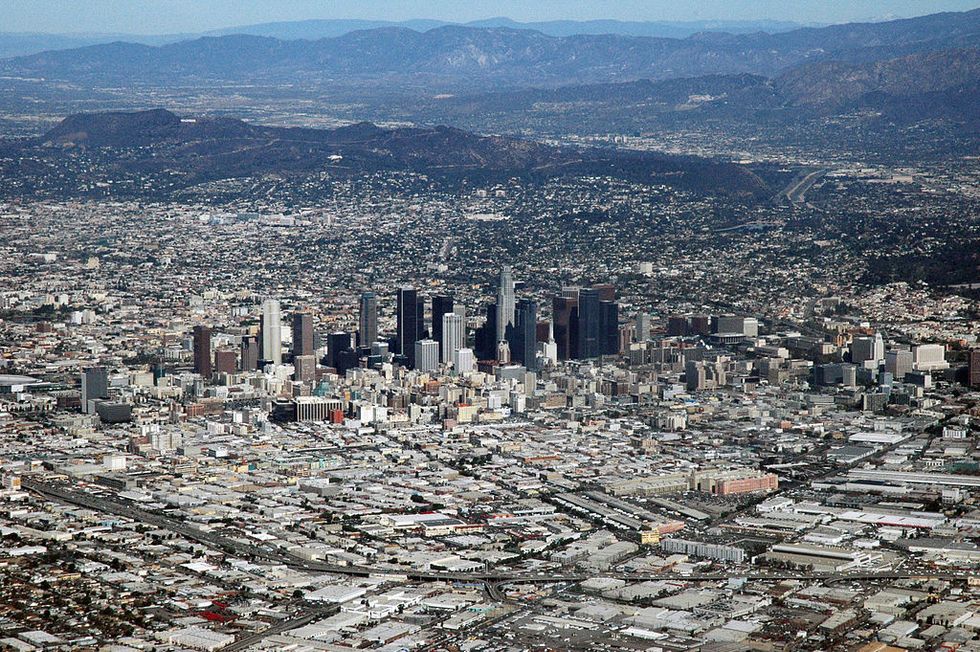 By Amina Khan, Cindy Chang, and Joel Rubin, Los Angeles Times
LOS ANGELES — The first gunshots on a San Fernando street jolted people awake inside their homes.
Police came upon a family of five in a car. A young woman was dead, her parents badly wounded.
It was only the start.
Forty-five minutes later and a few miles away at a Sylmar park, a man collecting recyclables was gunned down in a parking lot. Ten more minutes passed and a woman was shot dead as she sat in her car outside a church.
It didn't take long for detectives to connect the killings. Witnesses to the first two described seeing two men in a brown or tan SUV, and the shotgun wounds of all the dead and injured pointed to a similar weapon.
The shootings appeared to be random, with no obvious links between the victims. Throughout the day, investigators remained tight-lipped about the case.
Two gunmen who had already killed at large on the streets posed "a major public threat," said Sgt. Frank Preciado, but the Los Angeles Police Department and the county Sheriff's Department had deployed "a lot of resources" to identify and track down the killers.
Late Sunday evening, they appeared to have a suspect in custody.
About 8:30 p.m., a man wanted in connection with the killings had barricaded himself inside a house in the 13700 block of Kismet Avenue in Sylmar, according to radio communications between police. The man also was wanted on a warrant for animal cruelty, one officer said.
After officers discussed efforts to contact the suspect by cellphone, they reported seeing him trying to flee the house. He was quickly taken into custody. Officers reported over the radio that he had been found with a shotgun. It was not immediately clear what led police to the arrest.
The early morning shootings appeared to have unfolded in similar, chilling fashion, with one or both gunmen opening fire from inside the SUV.
"They never got out of the vehicle," Preciado said.
The first 911 calls came in at 5:50 a.m., when the family came under fire in the 1400 block of Celis Street in the northeast corner of the San Fernando Valley. The eldest child, in her early 20s, was killed. Her teenage twin siblings were injured, apparently by shards of flying glass, police said. The family had been on their way to an early morning Mass at Santa Rosa de Lima, a Catholic church a few blocks away.
Blood covered the sidewalk where the victims had lain. In the afternoon, after the crime scene tape had come down and detectives had departed, neighborhood residents were left to wash it away. One of them, a man who did not want to be identified, said the family had lived next door to him until they moved away a few years ago. After they left, he said, they still regularly attended services at Santa Rosa and often passed down the street waving to their old neighbors. The shooting took place almost in front of their old house.
"They were a beautiful Catholic family, all the time in church," he said.
At the church, officials deferred questions to a spokeswoman for the Catholic archdiocese, who would not identify the family, but said those who knew them were grieving.
"I can tell you it's a very difficult time for the parish community. They were very active and well-loved in the church," said Monica Valencia, the spokeswoman.
The second shooting occurred about 6:35 a.m. A man, who police described as being in his 20s or 30s, had been hunting for cans and bottles at the Sylmar Recreation Center and was walking through a parking lot when the gunmen drove up and opened fire, police sources said.
The shooters then appear to have driven three miles south, passing by the scene of the first killing, to the 12900 block of Filmore Street in Pacoima. There they encountered a woman, who family members identified as Gloria Esperanza Tobar. Tobar, 59, was waiting in her late model Toyota Camry to pick up a friend, said her daughter Lucia Montano.
As she had each Sunday for several years, Tobar was planning to attend services at nearby Guardian Angel Catholic Church and then visit the homes of elderly and disabled people to help let them take communion at home.
"That was her life, church, and her family," Montano said in tears on the street where her mother was killed, while other family and friends prayed behind her. "It just feels surreal. You can't imagine it can happen to you, to your relative — especially her. She's just such a devoted mother and grandmother, and so devoted to the church."
Tobar and her husband had three children and seven grandchildren.
None of the names of the victims was released by authorities, who were notifying next of kin. Police did not respond to questions about whether another early morning killing, in Pacoima on Aug. 21, could be connected to Sunday's rampage. In that unsolved shooting, a man was found dead in his vehicle with the engine still running.
Times staff writer Richard Winton contributed to this report.
Photo via WikiCommons
Interested in national news? Sign up for our daily email newsletter!