5 Reasons The GOP's Latino Problem Is Even Worse Now Than In 2012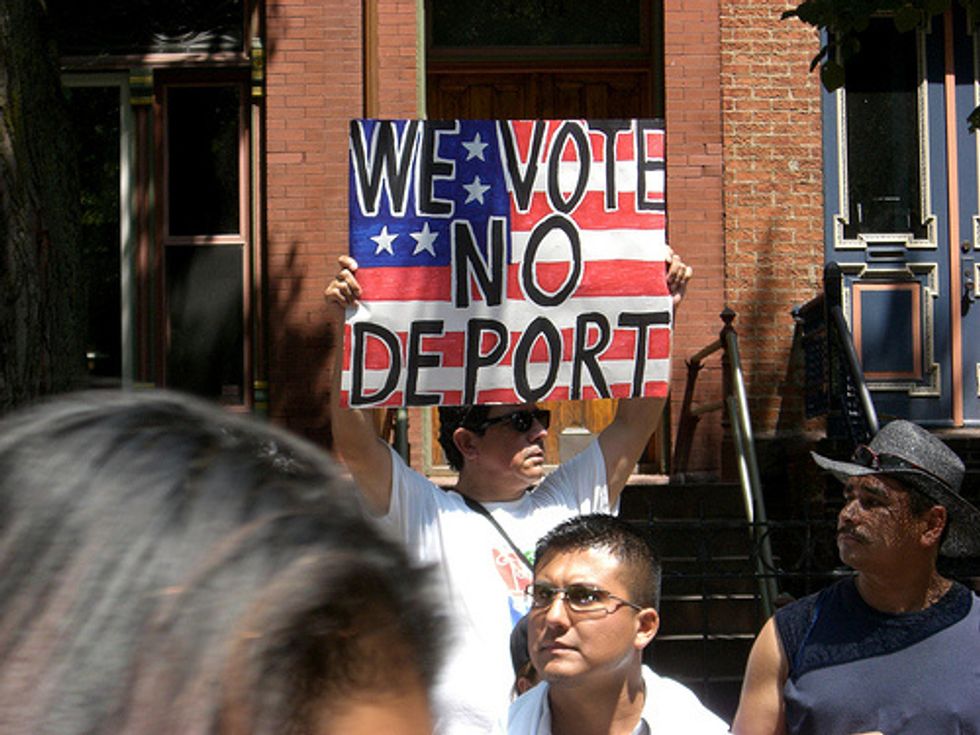 Mitt Romney got a smaller share of the Latino vote than John McCain, who got a smaller share than George W. Bush.
McCain was a champion of immigration reform before he won his presidential primary by shouting, "Build the dang fence!" at any cloud that confronted him — a jingoistic idea so useless that even Rick Perry opposes it.
Immigration was one area in which Romney had never been a moderate, having opposed Massachusetts' DREAM Act for in-state tuition, along with other retrograde ideas. So he used that issue to bash Perry senseless (a condition Perry was already dangerously close to).
When Mitt suggested a hostility to the undocumented so severe that they would "self-deport," John McCain reportedly called him to suggest he chill on the immigrant bashing. Mitt did say he'd veto a nationwide DREAM Act, but he tried to soften his stance as he picked up the nomination.
After he lost the election, and the Senate began debating comprehensive immigration reform in 2013, Romney went from opposing a path to citizenship for the undocumented to embracing comprehensive reform, as part of his now-failed attempt to win the party's nomination again.
Why did Mitt suddenly grasp the importance of immigration reform?
Donors.
In a conference call last week, Mitt's wunderkind fundraiser Spencer Zwick, along with two other millionaire donors, gave Republican candidates a warning: Support reform or forget our big bucks.
Their model for reform? Jeb Bush, who recently endorsed a "kinder, gentler" form of self-deportation. But the "smart brother" has been pro-reform in the past. He also speaks Spanish and has a Mexican-American wife, which makes him seem positively multicultural in today's GOP. The fact that he is the walking personification of the failed policies that wrecked our economy and set the Middle East on fire is a pre-existing condition the party's big-dollar donors are willing to put up with. That's how important solving this problem is to the guys who want the chance to control the Supreme Court for another generation.
Why do donors feel obligated to issue this warning before Hillary Clinton has even declared her candidacy?
They see the train wreck their party has become on immigration since their own post-2012 autopsy report suggested passing a reform bill ASAP and moving on. The national Republican Party is echoing what the California GOP did in 1994, when it used anti-immigrant sentiment stirred up by Proposition 187 to handily re-elect then-governor Pete Wilson, then carried on with more ballot propositions pretty much designed to piss Latinos off. It worked, for a while. And then it didn't.
Today California's GOP is a large third party, and Democrats' share of the Latino vote keeps growing.
Here's why GOP donors are freaking out about the GOP's Latino problem.
1. Democrats have gone above and beyond to get reform done.
In 2011, President Obama had failed to get the DREAM Act passed and Democrats hadn't even attempted comprehensive reform. Univison's Jorge Ramos — the Walter Cronkite of Hispanic news — repeatedly blasted the president for broken promises, which encouraged Obama to grant a reprieve for millions of immigrants who were brought here as children. That was enough to temporarily satiate a group of voters that is very tuned in to politics, since their fate and the fate of their families depends on it.
After winning re-election with more than 70 percent of the Latino vote, Obama pushed reform, which handily passed the Senate. He then spent a year waiting for the House to act, conceding to Republican wishes to break the bill up and remove any special path to citizenship. As he waited, activists put the pressure on him to take executive action to delay deportations of undocumented family members of citizens, which he refused to do until after the 2014 elections. Ramos called this step an "important victory" for Latino voters.
2. Republicans have moved from self-deportation to cheering for grandmas to be deported.
Why did activists target the president rather than the House Republicans, who let reform die without even taking a vote? Republicans made it perfectly clear that they were listening to Steve King and not the immigrant community. While the Senate bill languished, the House voted to deport more immigrants again and again. A recent, extremely flawed decision by an anti-immigrant federal judge in Texas halted the president's executive action, and Republicans cheered. And the Republican-led Congress is refusing to fund the Department of Homeland Security unless Democrats defund the president's action — a move that even Republicans know they will be blamed for.
Latino voters get what the underlying demand is here: get rid of the temporary security their families have enjoyed.
Republicans want to scare the immigrant community away from signing up for the president's reprieve. They fear no consequences for doing so because for most of them, there will be no consequences.
3. Republicans didn't need a single Latino vote to win in 2014. The same is true for the Republican who wins their 2016 presidential primary and nearly every Republican member of Congress.
Most Republicans are completely insulated from the desires of the Latino community because they don't need Latino votes to win. This is why the 2014 campaign was run with a thumb to the eye of the undocumented. This is why the thumb remains there today. The greatest fear of a Republican politician is a primary challenge. And there just aren't enough Latino primary voters to have to worry about what this community thinks.
The problem for Republicans is that to win the White House in 2016 — the election donors care about most — they need to do better with Latino voters than they did in 2012. And the only way to do this is to at least pretend they are for reform.
4. There's a huge opening for an anti-immigrant candidate.
Jeb Bush's only serious rival for the GOP presidential nomination is Scott Walker. If anything, the donor call last week was a warning to him not to backtrack from his previous support of reform. Both Walker and Bush have been trying to frame themselves as being open to fixing the immigration system, but really mad at Obama for actually doing something about it. Romney — the closest thing this party has to a moderate — was able to gut Rick Perry, with the help of Rick Perry's mouth, by going nativist on him. Imagine what Walker could do to Bush. And if Romney's donors don't like it, there's a Kochworld of donors who love Walker.
But even if Walker wants to keep his big money and veep options open, that leaves a huge gap for a candidate like Ted Cruz to scar the party's image by rising up and presenting a serious challenge based entirely on a call for mass deportations. That would allow the Democratic nominee to make a serious case that "it doesn't matter what Jeb Bush says he's for. His party will make him cancel the president's executive actions and do nothing on reform, as they have for the last two years." A simple slogan could be, "If the GOP wouldn't pass reform under George W. Bush, why would they do it under Jeb?"
The party's donors also face a huge credibility problem. They came out for immigration reform big time — and then punished the House GOP that choked it by continuing to fund them as usual.
5. Each month for the next two decades, 50,000 Latinos will become eligible to vote.
And there's no judge in the U.S. who can stop that.