And Another Anti-Obamacare Talking Point Is Destroyed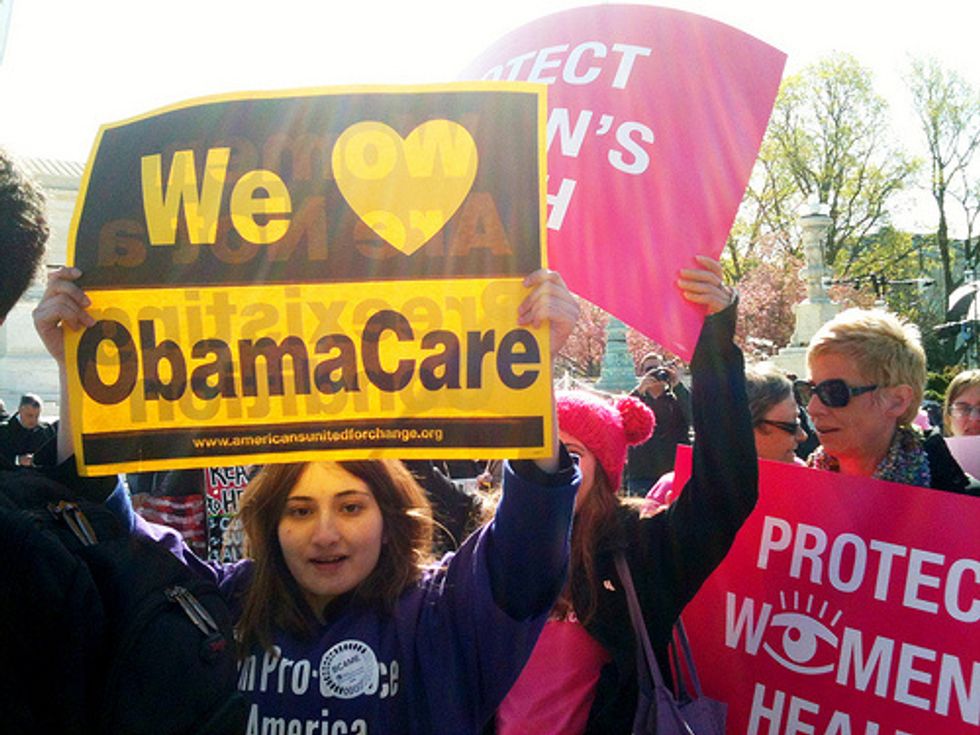 A new survey from Gallup shows that the percentage of uninsured Americans dropped to 16.1 percent as Obamacare first took effect, down 1.2 percent from the month before. Among the unemployed, the drop was most significant — 6.7 percent.
This modest indication that the law may be working as intended follows a government report that announced more than 6 million people had enrolled in Medicaid since October, in addition to the 2.2 million who have picked a private plan through the Obamacare insurance exchanges.
If you add in the more than 3 million young people who were able to remain on their parents' plans, that means 10 million Americans now have coverage thanks to Obamacare, though it's unclear how many of the Medicaid enrollees are renewals or previously eligible beneficiaries drawn in by the publicity surrounding the law. We won't know for sure until spring.
Obamacare Whisperer Jonathan Cohn points out that "nobody really knows for sure" if the health law triggered the decline, which would suggest that 2-3 million people gained coverage.
Gallup interviewed 9,000 people for the survey and historically its number for the share of the population that's uninsured tends to be higher than the Kaiser Family Foundation's annual study of Census data, which will be released later this summer.

Last year Kaiser found that 15.4 percent of the non-elderly population lacked insurance. That was down from a peak of 16.1 percent in 2009, just before Obamacare became law. (George W. Bush inherited a 13.1 percent uninsured rate, according to Kaiser. It was 14.9 percent the last full year of his presidency.)
The Gallup number is a huge relief for Democrats, as an increase in the uninsured would have validated a favorite talking point of Obamacare detractors — that more people lost coverage because of the law than gained.
Republicans owned the month of November with sensational stories about the millions of cancelation letters insurers sent out because of Obamacare. Though many of those stories resulted in affected consumers ending up with much better coverage for about what they were paying before, Republicans headed into the New Year ready to brand the law as failing to reduce the uninsured. They'll continue to make that point using a study with a tiny sample size that suggests that at least two-thirds of those who have picked a private plan previously had coverage.
A White House report threw water on the claim that millions of cancelations meant that millions had lost their plans. Most were simply shifted into another Obamacare-compliant policy from their previous insurer. For the 500,000 or so people left without plans, the White House carved out an exception allowing them to purchase bare-bones catastrophic plans.
But a slight reduction of the uninsured population isn't the goal of health care reform. Now that the websites are working and enrollment patterns are resembling Massachusetts' reform — where the healthy largely waited to the end of the enrollment period to sign up — the president's State of the Union address gives him a chance to help drive millions of Americans to HealthCare.gov to see how much or how little they'd pay for coverage.
Photo: LeDawna's Pics via Flickr