Ann Coulter Goes Anti-Catholic For Pope Francis Visit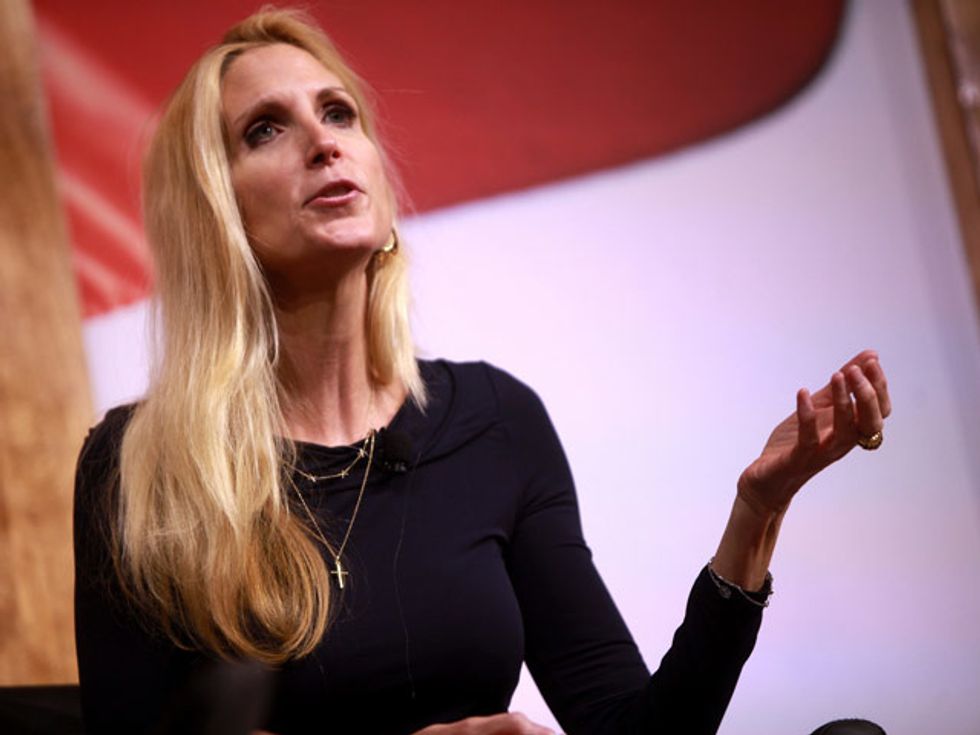 Just wait until Ann Coulter finds out that Christians have all been worshiping a working-class Middle Easterner who didn't even speak English.
It's not just politicians pandering to "f—ing Jews" that's getting Ann Coulter angry. She's now turned her eye on Catholics and their pernicious influence on American culture — and she seems to be opening with a question of whether or not they should even be admitted as citizens.
Coulter started it up Wednesday morning, with this tweet in response to conservative pundit David Limbaugh (who is not Catholic, as he noted) picking and choosing the political topics in which Pope Francis has a relevant role to play.
This might have something to do with Coulter's obsessive campaigning against immigrants from Latin America — as exemplified by her new book, ¡Adios, America! The Left's Plan to Turn Our Country Into a Third World Hellhole. Those immigrants are of course largely Catholic — and the presence now of a pope from Argentina might just be throwing some more grease on the fire for her!
Regarding this notion that the Founding Fathers would not actually allow Catholics to be American citizens, it's unclear where in the world Coulter even gets this idea. As a statistical matter, there simply were not many Catholics in the early United States — their first great immigration wave came in the mid-1800s. (It was this event that set off a wave of anti-immigrant/anti-Catholic sentiment in politics, commonly referred to as the Know-Nothing Party.)
But before that, Catholics in the New World had easily become Americans following the Louisiana Purchase from France in 1803, and the acquisition of Florida from Spain in 1819. And Catholics did indeed play a role in the early polity of the U.S. This included one signer of the Declaration of Independence, Charles Carroll of Maryland, and two delegates to the Constitutional Convention of 1787, Daniel Carroll of Maryland (and cousin of Charles), plus Thomas Fitzsimmons of Pennsylvania.
Now back to Coulter's craziness. She went on about how Catholics in the U.S. must cease to be Roman Catholics — and become American Catholics instead.  
Coulter further laid out her philosophical objections to the current pope, and tied it in with the rich, proud Protestant tradition of attacking the pontiff.
All we can say is: Jesus Shrugged!
Photo: Ann Coulter speaking at the 2014 Conservative Political Action Conference (CPAC) in National Harbor, Maryland. Gage Skidmore via Flickr.