Christian Nationalist Instantly Leads In North Carolina GOP Governor's Primary
@DarthJeff90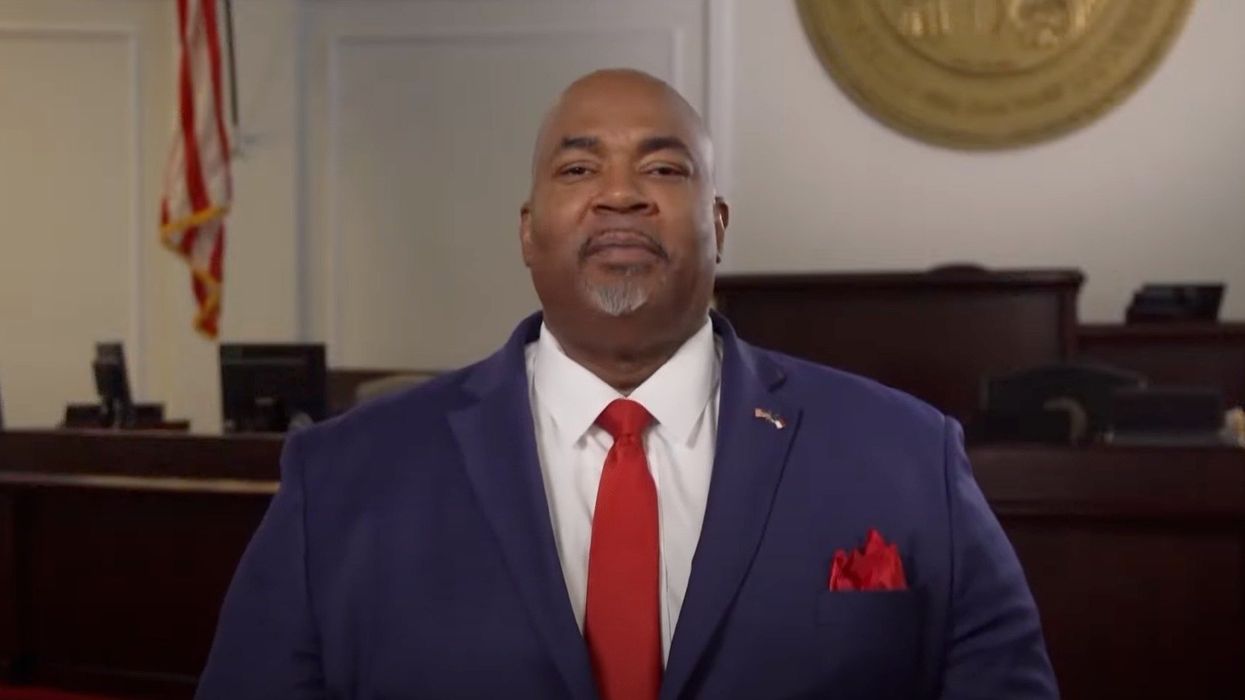 North Carolina Lt. Gov. Mark Robinson announced Saturday that he would seek the Republican nomination for governor next year, a declaration that came a month after he told a church service that "God formed" him to fight against LGBTQ rights. His entry, however, had been anticipated for years, so much so that Democratic Attorney General Josh Stein preemptively attacked his likely opponent during his own campaign kickoff in January, warning in a video, "Robinson wants to tell you who you can marry, when you'll be pregnant, and who you should hate."
But while Stein has no intra-party opposition in his quest to succeed termed-out Gov. Roy Cooper, a fellow Democrat, Robinson will have some company in his primary. State Treasurer Dale Folwell announced a bid last month, while an advisor for former Rep. Mark Walker tells the News & Observer that he'll also join the race in May. Folwell, who has trailed Robinson by 50 points or more in the few polls we've seen, acknowledged he's the "underdog" while still arguing, "What I am going to talk about is how do we talk about problems without attacking people." Walker also seems undeterred, despite his own weak third-place finish in last year's Senate primary.
Robinson, who would be the Tar Heel State's first Black chief executive, was a political unknown until 2018, when he became a conservative celebrity after giving a speech protesting the cancellation of a gun show in Greensboro. The former furniture factory worker went on to take the GOP nomination for lieutenant governor in his first bid for office two years later. He beat state Rep. Yvonne Lewis Holley 52-48 in the general election despite standing by his past litany of antisemitic, Islamophobic, and transphobic screeds.
Robinson went on to make news over the following years with more bigoted comments. His most infamous remarks may have been those he offered in a 2021 address to a Baptist church. "There is no reason anybody anywhere in America should be telling any child about transgenderism, homosexuality—any of that filth," he said. "And yes, I called it filth." Robinson refused to apologize and has continued to spout hateful rhetoric in the years since. "We are called to be led by men," he told congregants at another church just last year. "God sent women out … when they had to do their thing, but when it was time to face down Goliath, [He] sent David. Not Davita, David."
The Republican frontrunner showed absolutely no interest in changing in the lead-up to his new campaign, declaring in January that "abortion is not compatible with this nation, the same way slavery was not compatible with this nation." This statement came just months after Robinson confirmed that his wife had an abortion in 1989, just prior to their marriage, saying, "It's because of this experience and our spiritual journey that we are so adamantly pro-life."
Reprinted with permission from Daily Kos.