Dropping Into The Chasm Between American Reality And Right-Wing Politics
@LucianKTruscott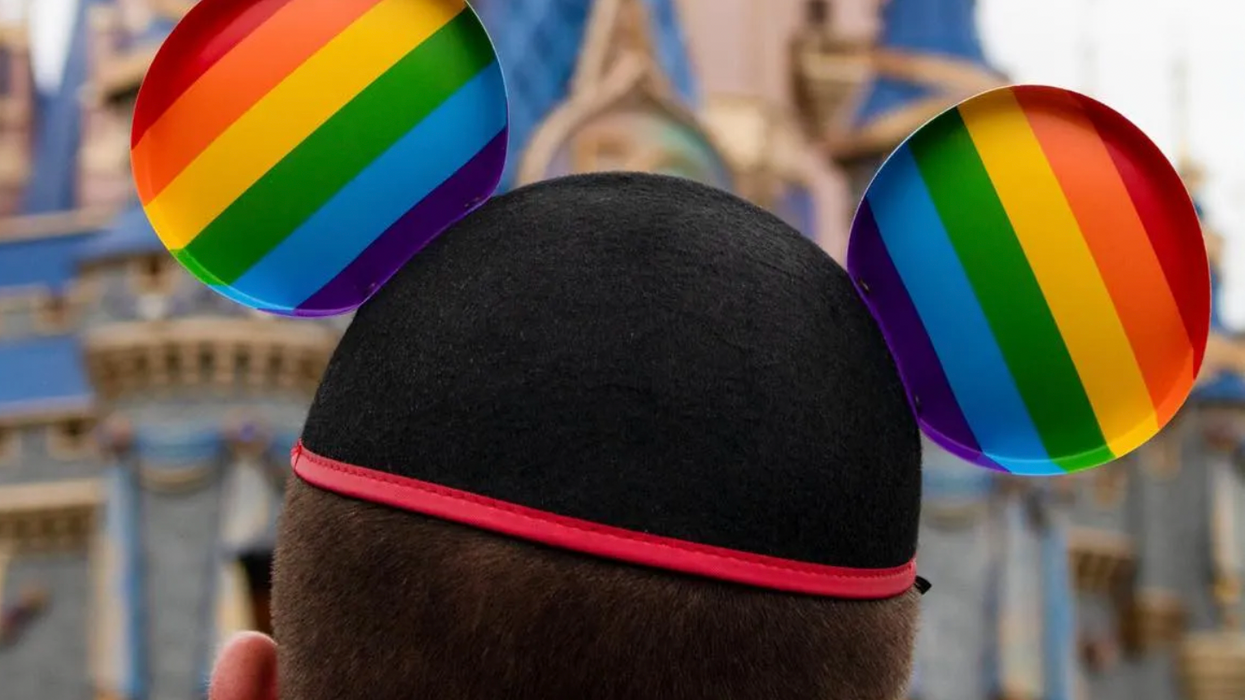 You knew this was going to be about Florida, didn't you? Of course it is. Gov. Ron DeSantis' Florida Board of Education yesterday extended the state's don't-say-gay law to cover grades 4 through 12. The law, passed last year and called The Parental Rights Act, had outlawed teaching anything about gender or sexual identity in grades kindergarten through 3, and required any teaching of those subjects in other grades be "developmentally appropriate."
It was already highly unlikely that any classes taught in any grades in Florida schools would mention anything about gender or sexual identity since "abstinence is the required expectation of what we teach in our schools," according to Florida Chancellor for K-12 Public Schools Paul Burns. Okaaaaay…
So, what's the new DeSantis policy really about, if it's not about what children are actually taught in Florida schools? It's about two things: denying the obvious and groveling for votes, that's what. DeSantis, who is expected to announce his run for the presidency after the upcoming close of the Florida legislative session, is attempting to appeal to MAGA voters whose loyalty is still with Trump, in polls anyway, by outflanking the Liar-in-Chief on the right.
DeSantis is doing it by trying to wish-away aspects of human life that are innate: sexual and gender identity, traits that science has established are present even in children. There is no longer an argument about what "causes" people to be gay or trans. Whether it's more nature or more nurture doesn't matter anymore, if it ever did in the first place. DeSantis can pass any law he wants banning the teaching of gender and sexuality to kids in junior high and high school, because some of the kids being taught are gay or trans, even if their identities are not yet publicly acknowledged. They might stay in the closet longer in Florida, but they're not going away. They are who they are, and no Florida law is going to change them.
That's what I mean about the gulf that has emerged between our politics and reality. A lot of this kind of law-making by the Right is simply wishful thinking. It's what was absurd about the don't-say-gay law from the beginning. What's the theory? That if you don't say the word "gay" in a classroom, "gay" is just going to disappear from the planet – or, as DeSantis seems to hope, from the beaches of Florida, anyway.
It's as if the Republican Party and its politicians have seceded from reality itself. They pass laws lowering taxes, as Nebraska just did, with the hope that paying for things like pothole repairs and healthcare and school lunches and schools themselves won't require any more funding. States like Tennessee and Texas haven't signed onto the Medicaid portion of the Affordable Care Act because they think it's smart politics not to be seen cozying up to something that was created and passed by Barack Obama. Does that mean that the millions of poor people in both states don't need the healthcare that the Medicare extension would provide to them? Of course not. It just means a wider gulf between the haves and the have-nots in both states and more sickness and death.
Same thing with the states that have passed total bans on abortion or extremely restricted it, as DeSantis just did with the six-week abortion ban he tried to hide by signing it into law after 11 o'clock at night. Does that mean women in Florida will stop getting abortions? No, it means they will have to travel out of state to get a medical abortion, or they will have to get the abortion pill mifepristone by mail, assuming the Supreme Court doesn't overturn the ruling by the Texas judge that would ban the pill entirely throughout the country.
DeSantis has said that if he is elected president, he would govern the country the way he has governed Florida. His biggest issue, other than attempting to wish-away-the-gay, is his anti-woke agenda. He has punished Disney, his state's largest employer and a huge generator of tourism in Florida, where tourism is the state's greatest source of income, amounting to more than $40 billion a year, according to the University of South Florida. Disney opposed his original don't-say-gay law, so DeSantis has done what he can to give the company he considers to be too woke an economic spanking.
There is another yawning chasm between politics and reality. What if DeSantis were to become president? If he follows his anti-woke ideology to its logical conclusion, he would have to go after the American military, which the right increasingly has denounced as woke. He would have to carry his war on woke out to California into the widely-woke tech industry, and find ways to punish them, too.
But look at the problems he would create. The military, which depends not on a draft but volunteers, must recruit from all of America, not just a few anti-woke red states, and not just from self-avowed conservatives or individuals who do not identify as either gay or trans. With certain limitations on physical strength and ability, and not having a record as a convicted criminal, the military will take almost anyone who wants to serve.
What does DeSantis think he can do about the decidedly woke companies of Silicon Valley? Treat them like Disney, and make it more difficult and expensive for them to manufacture their chips or invent new technologies? Computer chips made by the woke tech companies don't just stay in California the way Disney World stays in Florida. Their technology goes everywhere – into gasoline autos, electric cars, refrigerators, stoves, home security systems, phones, TV's – you almost can't walk into a store and buy anything but underwear and socks that doesn't have a chip in it. Defense industries don't produce anything military these days that isn't computerized somehow – well, maybe military backpacks, fatigues, gloves, helmets. Ooops! Everything that attaches to a modern helmet has chips in it, including night vision goggles and communications gear.
See what I mean? DeSantis and other Republicans can yap all they want about woke this and woke that, but we need woke stuff, or the stuff the woke produce. Hell, even West Point and the other service academies are being accused of being woke because they teach about diversity and inclusion. What do DeSantis and his fellow anti-wokesters think? The Army, Navy, and Air Force are all completely uniform in terms of gender, sexual identity, race, religious choice, and every other way human beings can be different from one another?
I'd like to see DeSantis or Trump try to lead an Infantry platoon or command an artillery battery in today's army. What would they say? Hey, you! Pick up your gear and fall out. I don't think that five-o'clock shadow you've got is real. And you over there! I don't like the Koran I found in your locker during inspection. You fall out, too. We don't need your kind in our non-woke battalion!
It's beyond absurd. What they envision for this country simply is not there. Appealing to MAGA voters may be a way to win a Republican primary, but the stuff DeSantis and the rest of them are talking about would crash the economy, ruin our military, stifle the creativity necessary for new inventions and technology, and drive citizens out of the country.
Copying what Vladimir Putin has done to Russia is no way to run a democracy, Ron. Why don't you take your anti-wokeism to Hungary where you might get a better reception? Ooops, I forgot. Hungary already has its very own don't-say-gay leader, Victor Orban. Better look somewhere else.
Lucian K. Truscott IV, a graduate of West Point, has had a 50-year career as a journalist, novelist, and screenwriter. He has covered Watergate, the Stonewall riots, and wars in Lebanon, Iraq, and Afghanistan. He is also the author of five bestselling novels. You can subscribe to his daily columns at luciantruscott.substack.com and follow him on Twitter @LucianKTruscott and on Facebook at Lucian K. Truscott IV.
Please consider subscribing to Lucian Truscott Newsletter, from which this is reprinted with permission.