Florida Republicans Are Rejecting DeSantis Presidential Bid To Back Trump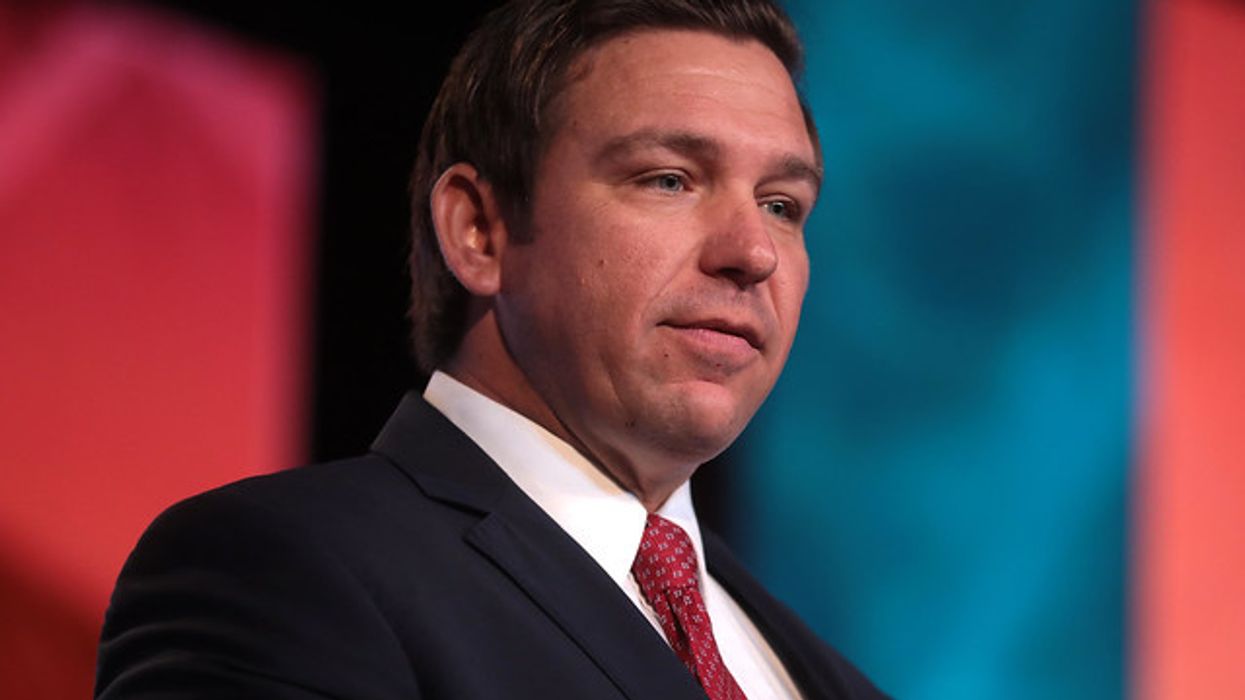 Florida Gov. Ron DeSantis is failing to garner support from Republicans in his own state for his nascent presidential bid, as members of Florida's congressional delegation have come out to endorse former President Donald Trump instead.

To date, nearly half of the Republicans in the delegation have endorsed Trump over DeSantis. And three of those eight endorsements came on Tuesday, the same day DeSantis traveled to Washington, D.C., to meet with Florida's congressional Republicans and seek their support for his yet-to-be announced presidential campaign.
Reps. Lance Gooden, John Rutherford, and Brian Mast all said Tuesday they were backing Trump in the 2024 GOP primary.
Gooden made the announcement after he had just met with DeSantis in Washington.
"Today, after careful consideration and a positive meeting with Governor DeSantis, I have decided to endorse President @realDonaldTrump for 2024," Gooden tweeted. "I look forward to fighting alongside him to reclaim our country from the leftist forces trying to destroy it."
NBC News reported on April 12 that DeSantis' political operation had been calling GOP lawmakers from Florida to ask them not to make any endorsements in the presidential primary.
One of the members DeSantis' team reached out to was Steube, who didn't heed their call and instead endorsed Trump on Monday.
Politico reported Steube said that in the five years he has been in Congress, DeSantis hadn't contacted him once, nor had he responded to Steube's attempts to contact him, until last week, when an aide reached out.
Steube added that DeSantis should be focused on his job as governor rather than traveling for political purposes: "Floridians want him focused on Florida, which is the job they elected him to do."
DeSantis losing the race for endorsements from his own home state congressional delegation is a troubling sign for his rumored presidential bid.
So far, Trump has received at least 41 endorsements from members of the House and Senate, according to the Hill newspaper. DeSantis, meanwhile, has been endorsed by just three members of Congress, according to FiveThirtyEight's endorsement tracker: Reps. Chip Roy (R-TX), Thomas Massie (R-KY), and Laurel Lee (R-FL).
FiveThirtyEight reported that candidates who lead the endorsement race are often the ones who win the presidential primary.
A spate of polling also found Trump with wide leads over DeSantis both nationally and in individual states such as Iowa, New Hampshire, and South Carolina, which are critical to winning the primary.
Trump maintained that polling lead despite being indicted on March 31 by a grand jury in Manhattan on charges connected with hush money payments his attorney Michael Cohen made to porn actor Stormy Daniels during the 2016 campaign.
Trump is attacking DeSantis even before DeSantis is an official candidate.
A pro-Trump super PAC, MAGA Inc., ran an ad poking fun at DeSantis for reportedly eating pudding with his fingers instead of a spoon.
The Hill reported that Trump slammed DeSantis for feuding with Walt Disney World in Orlando, one of Florida's biggest employers and drivers of tourism to the state. DeSantis on Tuesday announced he may build a prison near Disney World, part of his ongoing campaign against the Walt Disney Company after it came out against his state's so-called "Don't Say Gay" law.
"Disney's next move will be the announcement that no more money will be invested in Florida because of the Governor," Trump wrote in a post on his Truth Social network. "In fact, they could even announce a slow withdrawal or sale of certain properties, or the whole thing. Watch! That would be a killer."
Reprinted with permission from American Independent.