Poor Pitiful Ron DeSantis Isn't Much Competition For Trump Now
@FromaHarrop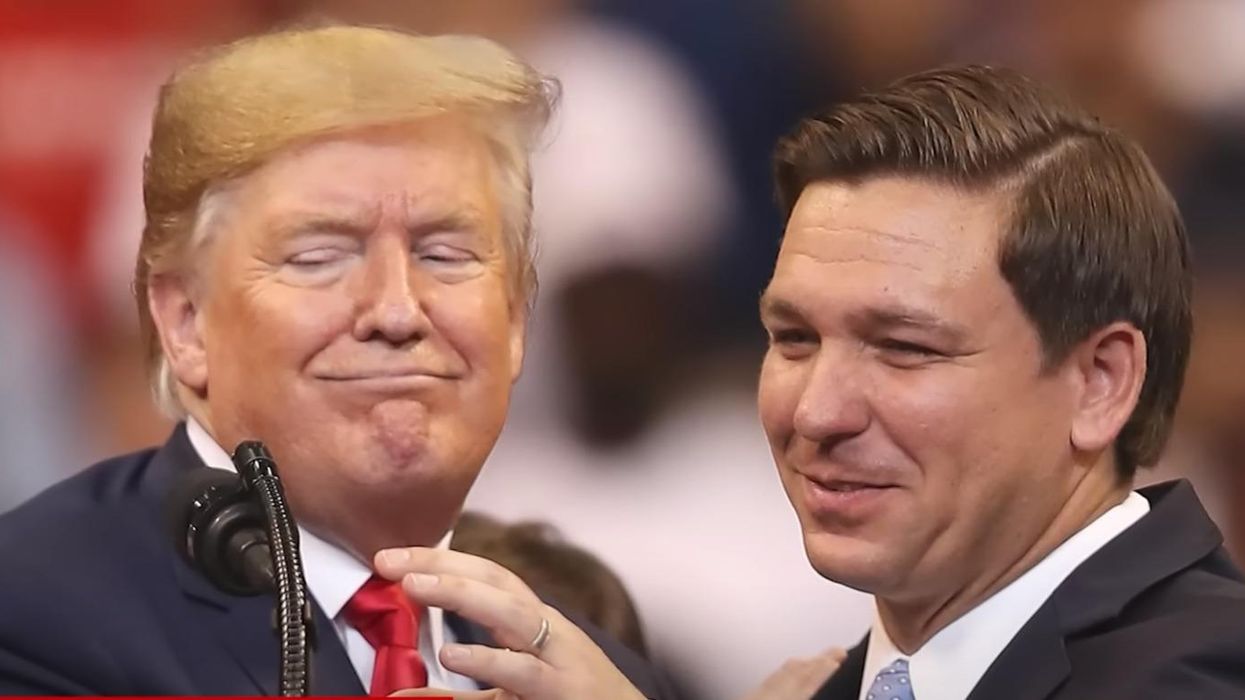 Ron DeSantis seems to be fading under the technicolor lunacy of Donald Trump. That's a hard act to compete with, especially when the Florida governor's act is a watercolor version. The assault on his state's biggest private taxpayer and employer, meanwhile, is incomprehensive. The Walt Disney Co. isn't a school librarian you can bully.
This is too bad. DeSantis would have a better shot at defeating Joe Biden in the next general election than would Donald Trump, as sophisticated conservatives know. The possibility that Trump might win another term, however dim, remains too much a threat.
This didn't have to be a terrible month for DeSantis. That Disney did a legal end-run around his foolhardy attempt to punish it — and through a public process — was not a good look for a would-be strongman. Disney CEO took him down a couple more notches by calling him "anti-business" and "anti-Florida."
That's a shame for DeSantis, who occasionally does good things, like helping reform Florida's lawsuit-crazy tort system. Sure, he won't win over most of Trump's base. Unlike Trump, DeSantis has no reserve of humor or charisma to draw from.
The smarter thing would be to serve some political red meat surrounded by multicolor vegetables of real-world governing. That could be enough, especially if the powerful conservative media gives him backup, as it is trying to do.
And there are Trump voters, probably millions of them, who if push came to shove, wouldn't want to lose the health coverage won under the Affordable Care Act. Recall that in 2017, Trump tried to repeal the ACA, with only three Republicans, notably the late Sen. John McCain, stopping it.
"As I said from the beginning," Trump tweeted after the defeat, "let ObamaCare implode, then deal." But there was not a deal, only repeal.
The atmospherics following Trump's arraignment were something a Republican attempting a bank shot against the showman would step back from. It wasn't just Trump's post-arraignment primal scream spinning in a whirlpool of crackpot lies. It was Sen. Lindsey Graham crying on Fox News as he begged the little people to send money to Trump.
"If you can't afford a dollar, fine, just pray," he wailed. "If you've got any money to give, give it!" And send it to ... LindseyGraham.com. Would some of that money go to acting lessons?
There was an election on arraignment day, with real voters voting. They replaced a Republican-backed majority on the Wisconsin Supreme Court with a Democratic-backed one. This is the state that helped Trump win a thin Electoral College victory in 2016 but swung over to Biden in 2020.
The Republican loser responded with a tantrum. "I do not have a worthy opponent to which I can concede," Dan Kelly said, drowning in self-pity. "This was the most deeply deceitful, dishonorable, despicable campaign I have ever seen run for the courts."
It was a tough campaign on all sides, Dan Kelly, but man up.
Same for you, DeSantis. Trump supporters seem to want a "fighter" more than anything else. Stop picking on drag queens, Goofy and school librarians. Go after the big Republican game. He's going after you, and if you wither under his assaults, you may disappear.
Coming across as scared and a weak-tea version of the guy who lost the 2020 election by 7 million votes doesn't seem a wise strategy. Said guy also caused Republican losses in both the 2018 and 2022 midterms. Oh, yes, he also lost the popular vote to Hillary Clinton in 2016 by a not inconsiderable 3 million.
C'mon Ron. Get off the floor. The last stop in a losing campaign is coming off as pitiful, and you're dangerously close.
Follow Froma Harrop on Twitter @FromaHarrop. She can be reached at fharrop@gmail.com. To find out more about Froma Harrop and read features by other Creators writers and cartoonists, visit the Creators webpage at www.creators.com.
Reprinted with permission from Creators.