Timid DeSantis Refuses To Say That Trump Lost The 2020 Election
@next2godwin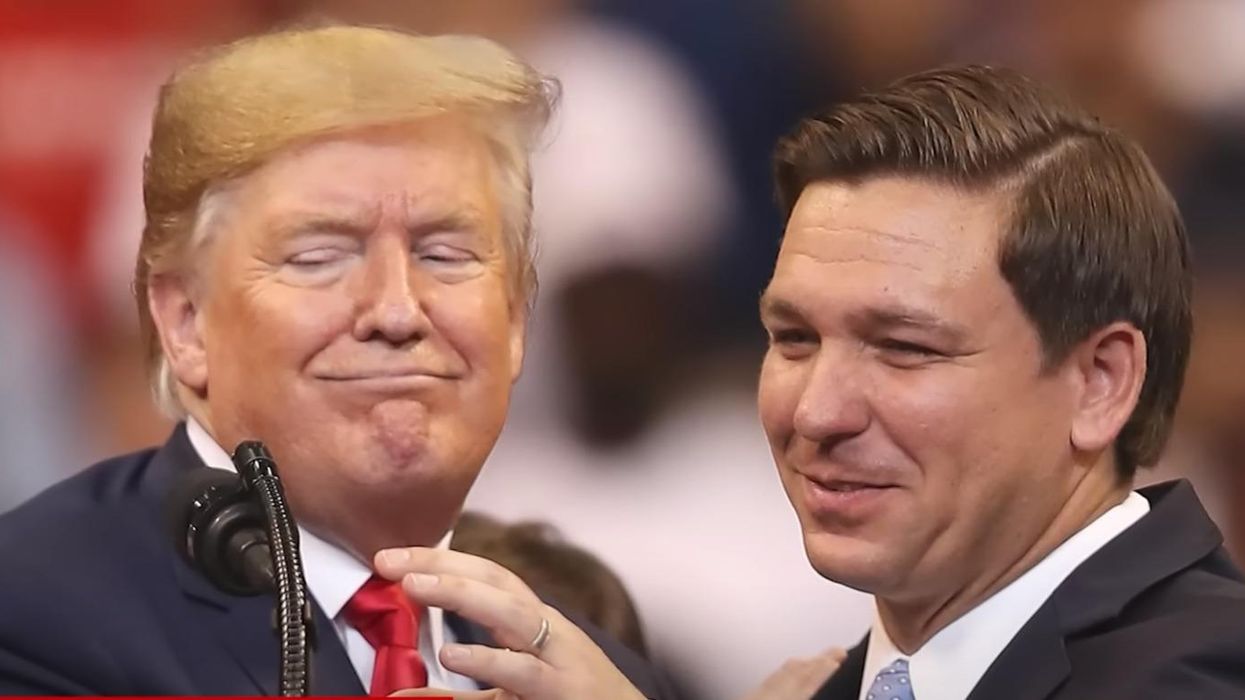 Florida Governor Ron DeSantis is enduring almost-daily attacks on Truth Social in his quest to convince conservatives that he is more electable in 2024 than former President Donald Trump. But when asked directly on Monday to acknowledge that Trump lost the 2020 election -- a chance to hit his chief rival where it would hurt -- DeSantis evaded the question.
"You said during an event in Iowa over the weekend that the GOP needs to reject a culture of losing. Do you acknowledge that Trump lost and there wasn't all this fraud he talks about?" a reporter asked DeSantis at a press conference on Monday.
"When I look at the last however many election cycles, 2018 we lost the House ... We lost the Senate in 2020, Biden becomes president, and it's done a huge amount of damage, very unpopular in 2022," DeSantis said, criticizing President Joe Biden without mentioning Trump.
"We were supposed to have this big red wave, and other than in Florida and Iowa, I didn't see a red wave across this country. And so I think the party has developed a culture of losing. I think there's no accountability," he added.
\u201cREPORTER: Do you acknowledge that Trump lost and there wasn't all this fraud he talks about? \n\nDESANTIS: I think the party has developed a culture of losing.\u201d

— Aaron Rupar (@Aaron Rupar) 1684165773
Former President Donald Trump has refused to concede the 2020 election, falsely insisting as recently as last Wednesday that he won. With most Republican voters convinced that the 2020 election was rigged, DeSantis' non-answer Monday underscored his latest efforts to sidestep the delicate issue in his bid to win over some of the MAGA faithful while scooping up the never-Trump votes.
It remained unclear if DeSantis, who called on the GOP to reject the "culture of losing," could posit himself as a winner and Trump as a loser without angering Trump voters, whom he had since courted with his "anti-woke" policies.
Although DeSantis has struggled to directly and concisely say that Trump was second best in the 2020 presidential election, a super PAC supporting him, Never Back Down, has in messages to supporters.
Alex Conant, a conservative consultant who worked in Florida Republican Sen. Marco Rubio's 2016 presidential campaign, told Politico that DeSantis would come face-to-face with that question again on a grander and less friendly stage than a presser.
"First question at first debate: Raise your hand if you think Trump won the 2020 election," Conant said, painting a hypothetical situation at the upcoming 2024 Republican presidential primary debates. "If a candidate can't dispose of a fake issue like who won the election, how can voters expect them to handle the real issues?"
Then, Conant added, "You need to respect Trump's voters, but that doesn't mean lying to them."
Sarah Longwell, a Republican political strategist and publisher at The Bulwark, a Never-Trump news and opinion website, also painted a grim outlook to Politico of DeSantis' chances if he continues to dodge the topic of the former president's fixation on an election he lost.
"He's going to be boxed in by the fact that he's basically making an electability pitch," Longwell said. "And the trouble with the electability pitch is you've got to say, 'Donald Trump lost, and I can win.'"
Trump derided DeSantis as politically inept in an interview with The Messenger on Monday, saying, "He's got no personality. And I don't think he's got a lot of political skill."
Shortly after that, Trump took to Truth Social to blast DeSantis and the Rupert Murdoch-owned outlets Fox News and New York Post, labeling both tools that his RINO critics are wielding to obstruct a second Trump presidency.
"Just watching FoxNews. They are sooo bad, just like the Globalist Wall Street Journal and the now, way down, New York Post. They are desperately pushing DeSanctimonious who, regardless, is dropping like a rock. He's even down 20 points in Florida, which was third worst in Covid, & where I got 1.2 million more votes than he did. RINO Mark Thiessen, a Bush flunky, is constantly on pushing DeSanctus, giving bad info. Even said I "lost Iowa last time around," I won BIG. He sucks, & so does FoxNews!" he wrote.