Spinning Trump Attacks DeSantis But Claims Credit For Abortion Bans
@next2godwin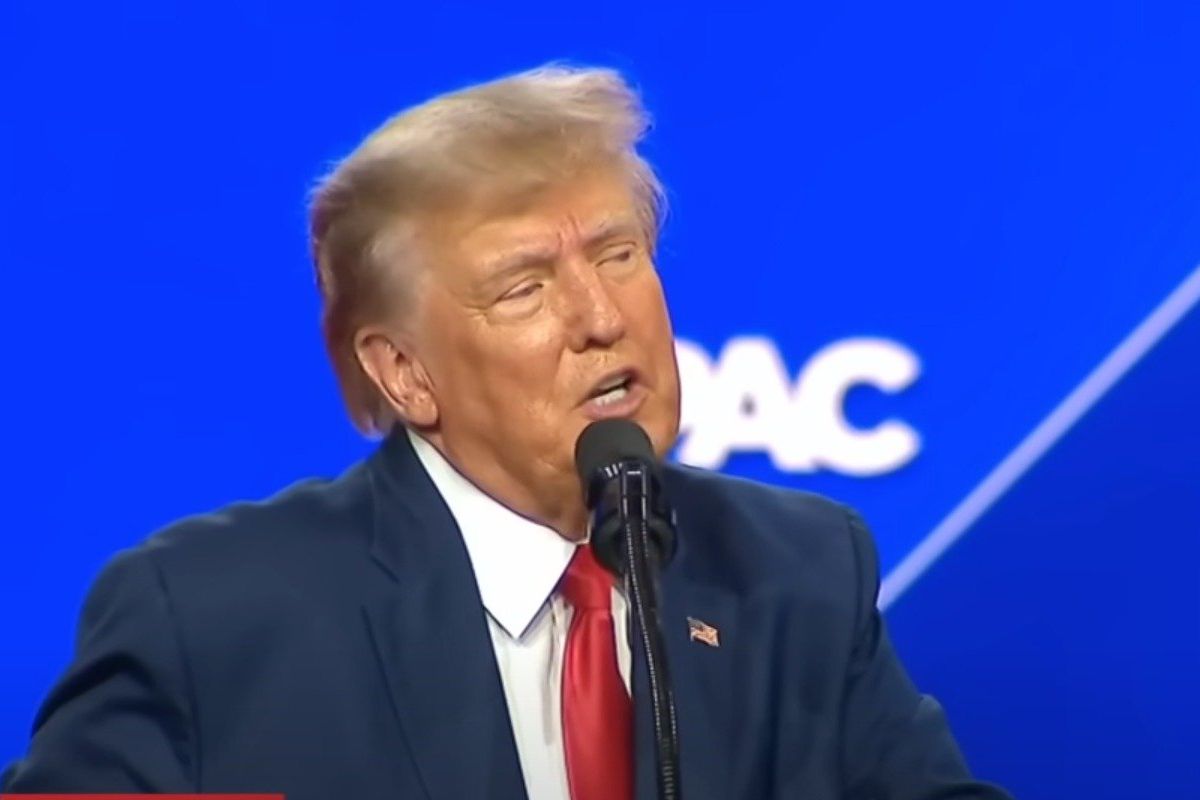 Barely 48 hours after criticizing Florida Governor Ron DeSantis' new six-week abortion ban, former President Donald Trump took credit for it and other hardline Republican abortion bans across the country. The GOP presidential frontrunner also took a victory lap for being "able to kill Roe v. Wade."
"After 50 years of failure, with nobody coming even close, I was able to kill Roe v. Wade, much to the 'shock' of everyone, and for the first time put the pro-life movement in a strong negotiating position over the radicals that are willing to kill babies even into their 9th month, and beyond," Trump wrote on his Truth Social platform on Wednesday morning.
"Without me there would be no 6 weeks, 10 weeks, 15 weeks, or whatever is finally agreed to," he added. "Without me the pro Life movement would have just kept losing. Thank you President TRUMP!!!" he added.
These utterly-unhinged remarks starkly contrasted with those he made in the immediate aftermath of the GOP's historic faceplant in the November 2022 midterms, blaming pro-life Republicans — although not specifically the far-right candidates he endorsed — for the party's loss.
The ex-president remained vague about the hot-button issue as poll after poll showed overwhelming support for abortion access, but recent criticism from leading pro-life groups seeking federal abortion bans evidently has driven Trump to shift his tone again.
For the former president, it's a highwire act: Total abortion bans might have widespread support during the upcoming Republican 2024 primaries, but cause problems in the general election for whoever becomes the party's nominee, as exit polls showed it did for Republicans in 2022.
At the controversial May 10 town hall with CNN, Trump dodged questions about whether he would sign a federal abortion ban if elected president in 2024 and how many weeks after pregnancy a woman should have access to abortion.
However, in an interview with The Messenger, published last Monday, Trump knocked DeSantis, who is widely expected to announce his 2024 presidential campaign soon, for his "harsh" new abortion restriction.
"If you look at what DeSantis did, a lot of people don't even know if he knew what he was doing. But he signed six weeks, and many people within the pro-life movement feel that that was too harsh," he said.
Asked whether strict abortion restrictions would cost the GOP dearly in 2024, when he called into the far-right cable network Newsmax's Rob Schmitt Tonight on Tuesday, Trump praised his own appointment of three conservative Supreme Court justices, whose Dobbs ruling he said gave the pro-life groups the "power of negotiation."
"First of all, I'm the one that got rid of Roe v. Wade, and everybody said that was an impossible thing to do," Trump said. "It's been now brought back to the states, and what I've done is I've given the pro-life people — who are wonderful people and loving people — I've given them the power of negotiation, because now they're able to negotiate something that's going to be very important, and I put them in a position now."
"DeSantis, or Ron DeSanctimonious as I call him, he came out with the six weeks 'Florida abortion ban]. Other people agree with it, and a lot of people don't, Trump continued, characteristically invoking his contingent of phantom yes-people.
The former president also claimed without evidence that he could map out an abortion proposition that everyone would be happy with: "We're in a position now, and I'm going to be leading the charge…where we can get something that the whole country can agree with."
DeSantis fired back on Tuesday at a news conference after inking legislation to combat human trafficking.
"Protecting an unborn child when there's a detectable heartbeat is something that almost 99 percent of pro-lifers support," DeSantis told reporters. "As a Florida resident, you know, he didn't give an answer about, 'Would you have signed the heartbeat bill that Florida did, that had all the exceptions that people talk about?'"
The Florida governor laid into Trump at an event in Iowa over the weekend, urging Republican voters to reject Trump's "culture of losing that has impacted our party in recent years," as well as his penchant to "focus the election on the past or on other side issues" or else "the Democrats are going to beat us again."
Approached by reporters for comments on Trump's criticism of DeSantis' nascent abortion law, former Vice President Mike Pence, a vocal advocate of federal abortion bans, broke with his former boss, according to the Associated Press.
"For my part, I disagree with President Trump about the heartbeat bill," Pence said. "I truly do believe that we ought to advance the cause of life at the state level, but I also want to say, I also believe there is a role at the federal level to advance the sanctity of life."