Trump 'Couldn't Care Less' About  DeSantis Challenge -- But Attacks Again
@next2godwin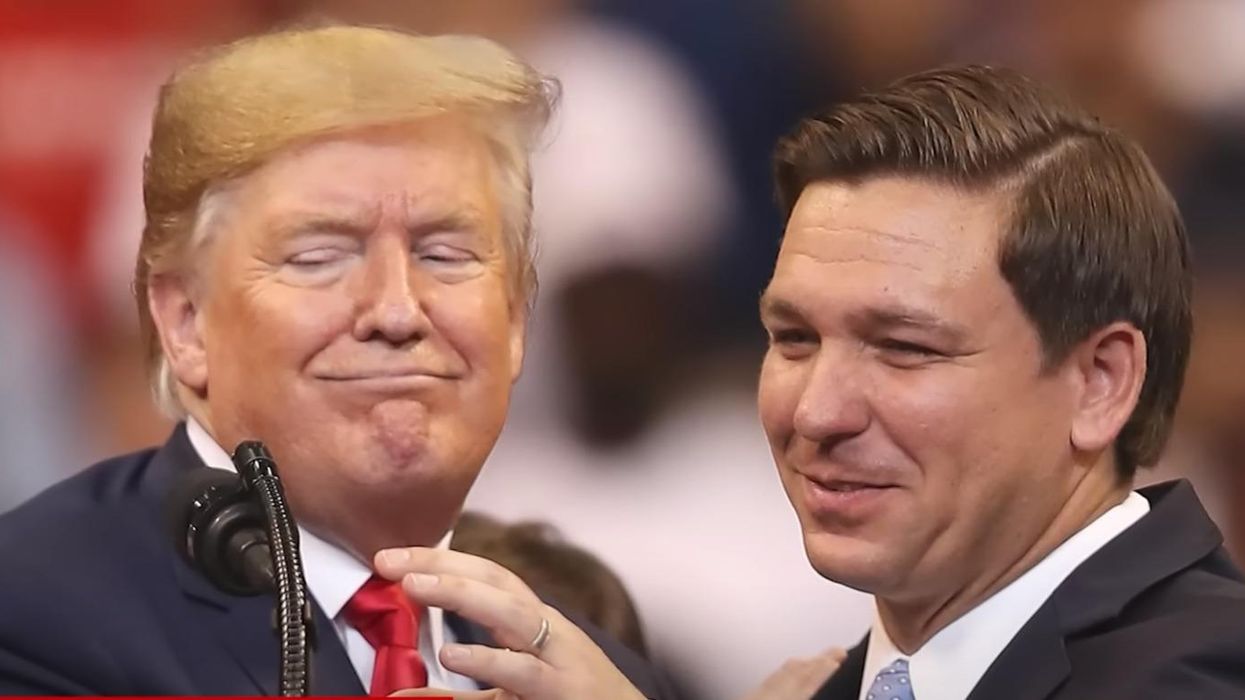 Former President Donald Trump has blasted Florida's Republican-controlled Legislature for passing an election reform bill that would permit Governor Ron DeSantis (R) to run for president in 2024 without vacating his current position.
The bill, S.B. 7050, changed a Florida law called "Resign-to-Run" that bars elected officials from running for another office if the terms of both offices overlap. Approved Friday, the bill exempts "any person seeking the office of President or Vice President of the United States" from resign-to-run.
In a Sunday morning tirade on his Truth Social site, Trump suggested the bill did little else than allow DeSantis to run for president in 2024. In the same breath, though, Trump insisted that he "couldn't care less" if the governor, whom he'd been attacking since November, challenges him for the GOP 2024 presidential nomination.
"I couldn't care less if Ron DeSanctus runs, but the problem is the Bill he is about to sign, which allows him to run without resigning from being Governor, totally weakens Election Integrity in Florida," Trump wrote, using one of several nicknames he has coined for his potential 2024 opponent.
"Instead of getting tough, and doing what the people want (same day voting, Voter ID, proof of Citizenship, paper ballots, hand count, etc.) this Bill guts everything. It will allow dirty Voter rolls to get dirtier, weakens transparency, and is a total mess. It's simple, all we want is a Free and Fair Election, and an honest count," he added.
\u201cDonald Trump cares more than any human on planet earth whether Desantis runs for president, as evidenced by his hourly obsession with the topic.\u201d

— Ron Filipkowski (@Ron Filipkowski) 1682868185
Despite his claim of indifference, Trump has repeatedly assailed DeSantis for the Republican-orchestrated resign-to-run loophole, indicating that he may not be entirely unconcerned about the prospect of facing the governor in the 2024 presidential primaries.
\u201cThis is like, Trump\u2019s 147th post about Desantis in the last 24 hours. But, like he said this morning, he \u201ccouldn\u2019t care less\u201d if Ron runs or not.\u201d

— Ron Filipkowski (@Ron Filipkowski) 1682898711
In an early April email from his campaign, Trump accused DeSantis of squandering taxpayer dollars to barnstorm the country as though on the campaign trail when, in reality, he hadn't formally declared a 2024 run.
"Florida Governor Ron DeSantis is currently on a month-long, taxpayer-funded presidential campaign schedule paid for by Florida taxpayers, and new questions are emerging as to whether this will force DeSantis to resign from office," the campaign's email stated, per Business Insider.
The email didn't provide substantial evidence to back its claim that taxpayers funded DeSantis' domestic and foreign trips.
The Trump campaign also accused DeSantis of globetrotting to "score some last-minute foreign policy credentials for his 2024 presidential campaign."
In the email, Trump spokesperson Steven Cheung wrote, "Gov. Ron DeSantis wants to campaign full-time for president, during the Florida legislative session, while collecting a salary and having the taxpayers pick up the costs for his travel and security. It's a massive flip-flop from his position in 2018."
On March 14, a pro-Trump super PAC, MAGA Inc., filed a 15-page ethics complaint accusing DeSantis of taking "millions of dollars worth of illegal gifts in violation of Florida State ethics laws and the Florida Constitution."
The Florida Commission on Ethics threw out the complaint last week, citing a lack of "legal sufficiency" for the dismissal.
"We are not surprised by the decision for dismissal of these ridiculous claims against Governor DeSantis," said Erin Perrine, a top official of pro-DeSantis super PAC Never Back Down.
"We have seen attempts before to weaponize government institutions against Republicans, and it's deeply disappointing to see another Republican would attempt to use that Democrat playbook against Governor DeSantis, whose ethics remain unimpeachable," Perrine added.
Despite widening his lead in polls in a 2024 GOP field that includes DeSantis, Trump has not decreased the frequency or intensity of his attacks on DeSantis. A new Emerson College poll showed Republican voters' support for Trump widened to 62 percent from 55 percent just two months ago.
When reporters broached DeSantis' falling poll numbers with the governor during his trip to Japan, DeSantis feigned indifference, saying he didn't care because he wasn't officially running yet.
"I'm not a candidate, so we'll see if and when that changes," DeSantis said.