With Ukraine Remarks, DeSantis Makes Pitch For Putin Endorsement
@LucianKTruscott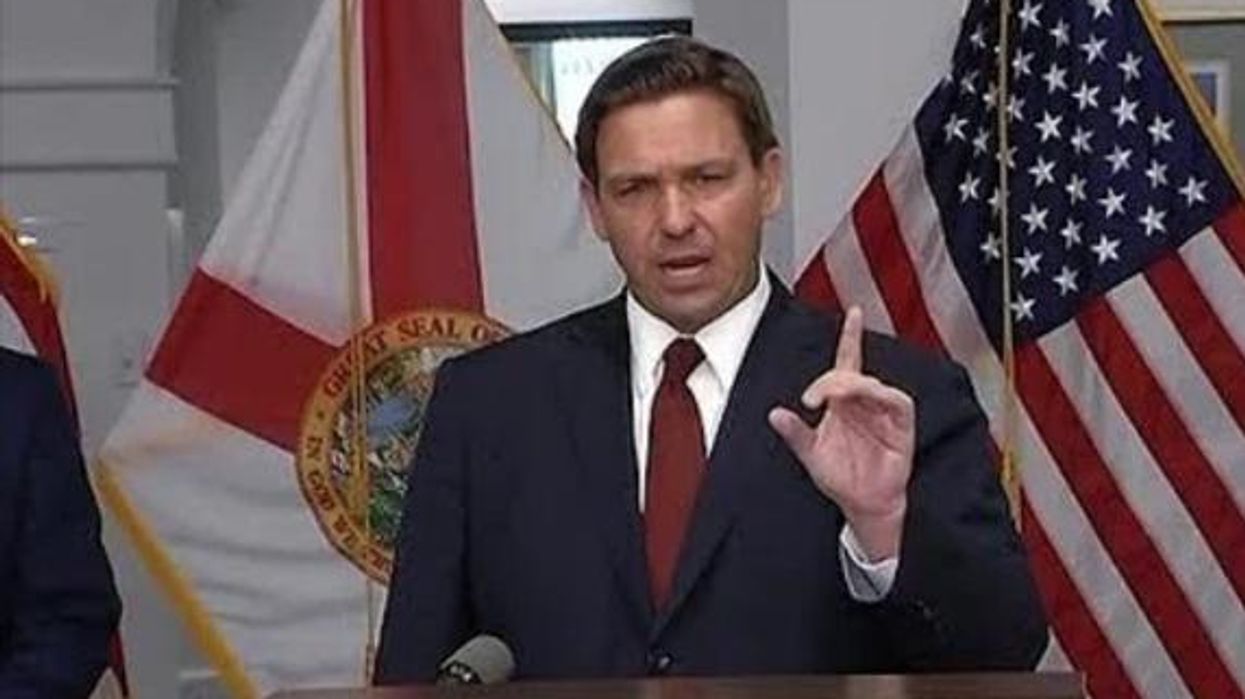 I'm going to continue to cover the intersection of politics and war in this column. To support me, please consider becoming a paid subscriber.
The Florida governor went where you would expect him to go when he wanted to send a message to Vladimir Putin: He tapped Tucker Carlson to do the job for him.
Carlson had apparently sent a questionnaire to the current and potential Republican candidates for president, and one of the questions concerned Carlson's long-time obsession with Vladimir Putin and his "special military operation" against Ukraine. As far back as 2014, Carlson had asked rhetorically on his show, "Why do I care about what's going on in the conflict between Ukraine and Russia? I'm serious. Why shouldn't I root for Russia? Which, by the way, I am." More recently, Carlson has called Ukrainian President Volodymyr Zelenskyy "corrupt" and described him as dressing "like the manager of a strip club." This, at a time when Ukraine is suffering continual rocket and drone strikes against civilian targets in its major cities and losing hundreds of soldiers a week in its war against Russian forces along its eastern and southern borders.
DeSantis was ready for both Tucker and Putin: He dismissed Russia's brutal war against Ukraine – all of Ukraine – as "a territorial dispute between Ukraine and Russia." He stated that supporting Ukraine was not "one of our vital interests," and attacked the Biden administration's support for Ukraine as "a blank check policy…without any defined objectives or accountability." Then he jumped straight into the arms of Putin by declaring that "Without question, peace should be the objective," echoing recent statements by the Russian president in which he appeared to blame the war on Ukraine. Then he came out and bluntly criticized the U.S. use of sanctions against Russia, saying "The Biden administration's policies have driven Russia into a de facto alliance with China." And of course he tied his criticism of our support for Ukraine to an attack on the Biden administration's border policy, saying "We cannot prioritize intervention in an escalating foreign war over the defense of our own homeland, especially as tens of thousands of Americans are dying every year from narcotics smuggled across our open border." He's referring here to fentanyl, much of which is manufactured and prescribed right here in the U.S.A.
Carlson read DeSantis' statements on the air last night in what amounted to a big, fat, wet kiss to Putin. DeSantis and Trump, whom Carlson says he "hates passionately," are now firmly in the Putin caucus of the Republican Party, along with such worthies as Marjorie Taylor Green, Lauren Boebert, J.D. Vance, and Matt Gaetz.
This is what a "territorial dispute" looks like in Ukraine. Pictured here are mass graves of murdered civilians in Izyum after the Russian army was forced out of the town by the Ukrainian offensive last September.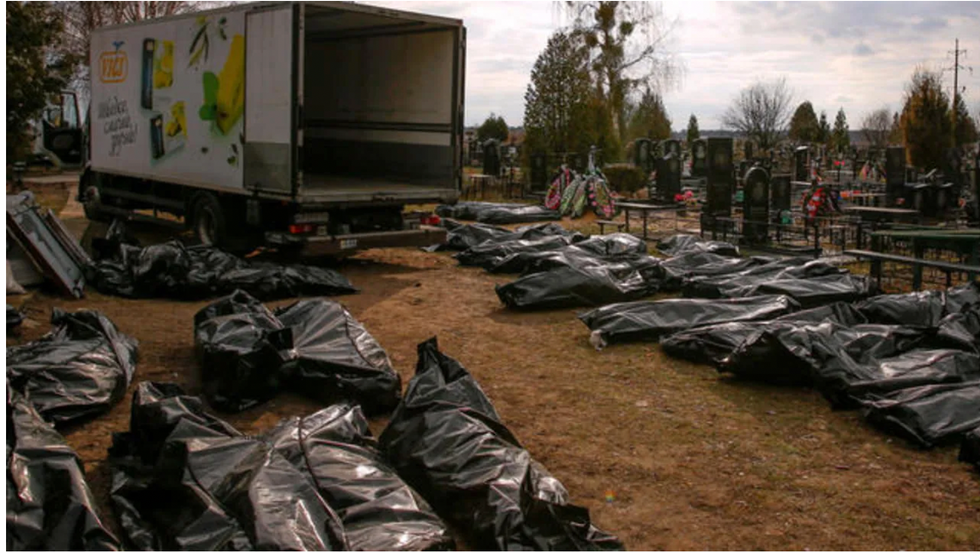 It matters not whether Ukraine is a member of NATO or an ally of the United States by another treaty. Vladimir Putin and his military are daily committing war crimes against the Ukrainian people by shelling and rocketing civilians and killing Ukrainian soldiers in contravention of the Geneva Accords. Putin will be charged with crimes against humanity in the Hague by the time this war is over. Ron DeSantis has now told the world he's on Putin's side, along with Donald Trump and the likes of Tucker Carlson. If providing support to a mass-murderer were a war crime, all three of them would belong behind bars with him.
Lucian K. Truscott IV, a graduate of West Point, has had a 50-year career as a journalist, novelist, and screenwriter. He has covered Watergate, the Stonewall riots, and wars in Lebanon, Iraq, and Afghanistan. He is also the author of five bestselling novels. You can subscribe to his daily columns at luciantruscott.substack.com and follow him on Twitter @LucianKTruscott and on Facebook at Lucian K. Truscott IV.