With Knowing Lies, Greene Provokes CPAC Crowd To Boo Zelensky
@next2godwin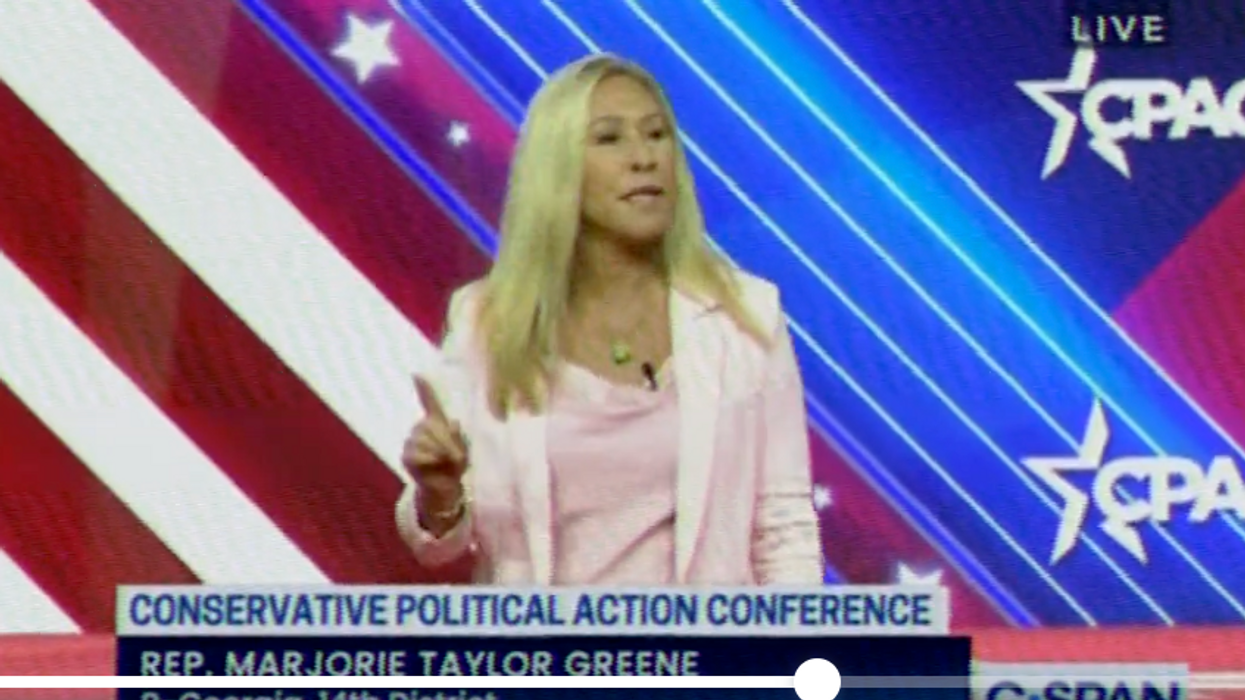 Rep. Marjorie Taylor Greene (R-GA) assailed Ukrainian President Volodymyr Zelensky in her speech at the Conservative Political Action Conference (CPAC) on Friday, calling for an end to U.S aid to Ukraine and pushing the debunked claim that Zelensky had called for Americans to fight in Ukraine.
Greene, a propaganda-peddling gadfly on the ultraconservative Right, told CPAC attendees at National Harbor in Maryland that the U.S. should cease funding Ukraine immediately as the country is not a NATO member and that the American people disagree with U.S. support for Ukraine.
The sparse CPAC crowd booed when Greene claimed that Zelensky "wants our sons and daughters to go die in Ukraine," doubling down on a widely debunked allegation she knew was false.
Zelensky's actual remarks, made late last month shortly before the first anniversary of the war, was that Russia could invade NATO countries that were once Soviet states if it defeated Ukraine, causing the U.S. to draft its soldiers there — a reference to article five of the NATO treaty: "an armed attack against one or more of them in Europe or North America shall be considered an attack against them all."
"If it happens so that Ukraine, due to various opinions and weakening [and] depleting of assistance, loses, Russia is going to enter Baltic states — NATO-member states — and then the U.S. will have to send their sons and daughters exactly the same way as we are sending their sons and daughters to war and they will have to fight because it's NATO that we're talking about and they will be dying. God forbid, because it's a horrible thing," Zelensky said back then, per The Hill.
Greene distorted his comment in a tweet on Wednesday, saying, "Zelenskyy [sic] wants our sons and daughters to die defending Ukraine's border." Twitter users added context to the misleading tweet soon after.
Days later, Greene pushed the lie again, telling the CPAC attendees, "And while I will look at a camera and directly tell Zelensky, you'd better leave your hands off of our sons and daughters because they're not dying over there."
Greene, a notorious pro-Putin and anti-Ukraine voice, also claimed that President Joe Biden had placed the world on the verge of "world war three" by supporting Ukraine, a view widely shared by the far-right.
"I think the US should be pushing for peace in Ukraine instead of funding and continuing a war that seems to be escalating and putting the entire world at risk of world war three," Greene said at CPAC.
In a transphobic rant at the event, Greene touted her plan to reintroduce legislation to make providing gender-affirming care to minors a felony and accused Democrats of "coming for our children."
Greene's newest pantload of extremist remarks has incurred backlash from the left and right, including her controversial demand for a "national divorce."
Late Thursday, Michael Steele, a former chairman of the Republican National Committee (RNC), branded the Georgian congresswoman a "crazy fool" for her secession call and demanded that she "just shut the hell up."
"She has no clue what the hell she's talking about," Steele said on MSNBC's The 11th Hour. "Why do we listen to this crazy fool? Marjorie Taylor Greene, please just shut the hell up. Do us all a favor. You are an embarrassment to the Republican Party and to the country as a congresswoman."