Greene Threw 'Screaming And Cursing' Tantrum In China Balloon Briefing
@next2godwin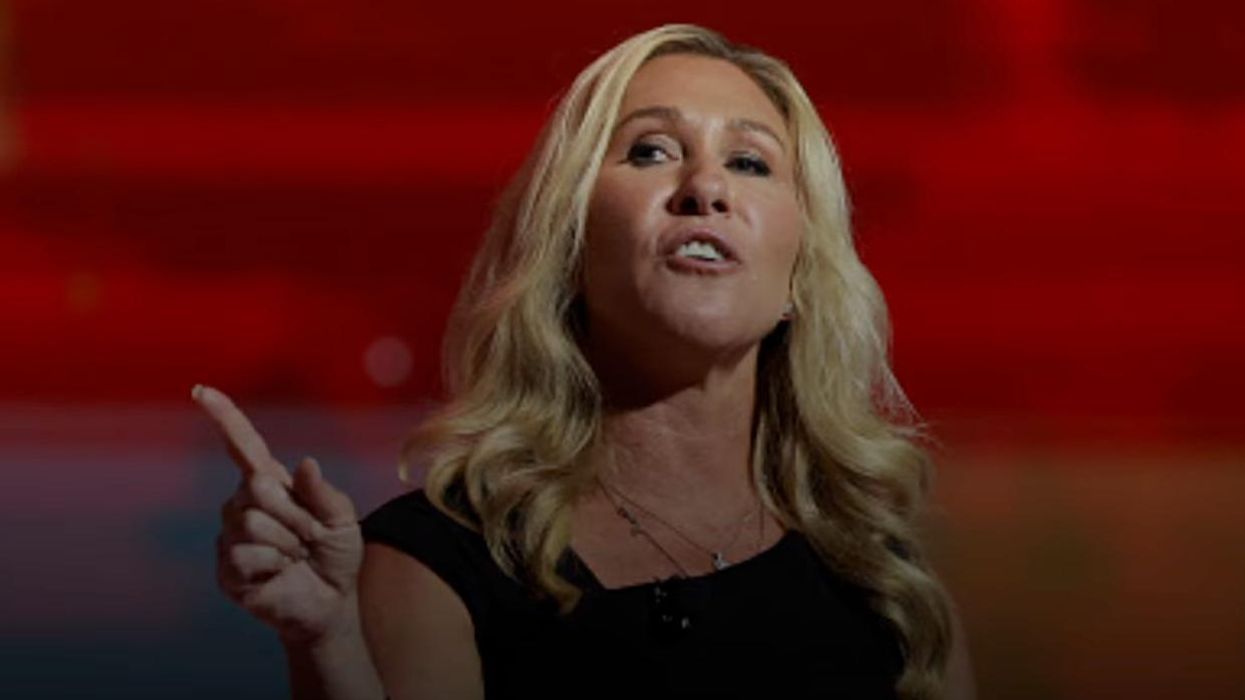 White House Mocks Margie Greene's Hypocrisy Over Student Loan Relief
Two days after heckling President Biden at the 2023 State of the Union address, Rep. Marjorie Taylor Greene (R-GA) yelled profanities and sounded "irrational" in heated exchanges with administration officials during a classified House intelligence briefing on the China spy balloon incident.
The meeting — held Thursday morning behind closed doors at the U.S. Capitol — was intended to fully inform House lawmakers on the Biden administration's downing of the high-altitude balloon above the Atlantic Ocean over the weekend.
A member who attended the briefing told The Hill that when it came Greene's turn to ask questions, she yelled expletives at the officials without provocation and questioned the intelligence lawmakers were being provided.
"When she got to ask questions," the lawmaker said, "she was yelling out, saying 'bullshit,' and, you know, 'I don't believe you.' Just screaming and yelling, irrational in my estimation."
Approached by The Hill for an explanation of her outburst, Greene — one of the loudest voices on the right blasting the Biden White House for shooting down the invading balloon when they did — gleefully implied the average American would've done the same.
"I had to wait in line the whole time. I was, I think, the second to last person, and I chewed them out just like the American people would've," Greene told the outlet. "I tore 'em to pieces."
Biden wanted the U.S. military to shoot down the balloon, which was the size of three buses and cruising at an altitude of 60,000 to 65,000 feet, upon discovery, but top Pentagon officials had warned its debris could crash down on the people and infrastructure below.
The top officials determined it would be best to wait until the balloon "got over water" before taking it out, which they did last Saturday with a Sidewinder air-to-air missile from one of two F-22 fighter jets scrambled from the Langley Air Force Base in Hampton, Virginia.
Greene dismissed the White House's decision to err on the side of caution, saying it made Biden look "weak" and "like a fool."
"I said the president may be a Democrat, but he's still the president of the United States, and they made him look like a fool and made him look weak the week before the State of the Union — I've said that publicly, too — by not shooting it down," Greene told The Hill.
"And I said there was nothing I heard there today that gave me any confidence in what they did," she added. "They tried to give me some more excuses, and I said, 'I don't want to hear more of your excuses.'"
She continued, "He [an administration official] said, 'Well, it's a matter of opinion.' I said, 'no, you're nothing but excuses, and it's wrong, and I'm just telling you: this is how the American people see it, and it's a serious problem.'"
Rep. Gregory Meeks (D-NY) told the publication that Greene's tirade had caused "tension in the room" during the briefing.
"There's some members who just don't want to believe what they said. They [the detractors] said, 'Oh, I don't believe you,' you know, that kind of thing, 'I don't trust you.' So that's the kind of tension, just the fight back," he said.
Greene offered a bizarre explanation for her behavior Friday after the outlet published its piece on her tantrum.
"I refused to accept excuses in today's briefing about the Chinese Spy Balloon. They could have safely shot it down over the Pacific or rural AK or MT. Jet liners have crashed & not killed people on the ground. Americans are outraged they did nothing," she tweeted.
\u201cI refused to accept excuses in today\u2019s briefing about the Chinese Spy Balloon.\n\nThey could have safely shot it down over the Pacific or rural AK or MT.\n\nJet liners have crashed & not killed people on the ground.\n\nAmericans are outraged they did nothing.\n\nhttps://t.co/nlBgPsoiCu\u201d

— Rep. Marjorie Taylor Greene\ud83c\uddfa\ud83c\uddf8 (@Rep. Marjorie Taylor Greene\ud83c\uddfa\ud83c\uddf8) 1675994536
The intelligence briefing flare-up wasn't Greene's only reported outburst in recent weeks. In mid-January, The Daily Beast reported the Georgian and fellow Freedom Caucus firebrand Rep. Lauren Boebert (R-CO) had screamed at each other in a Capitol ladies' bathroom.
"The gentlewoman from Georgia came up and started, you know, being kind of nasty about [Lauren's opposition to Rep. Kevin McCarthy (R-CA)'s speakership bid]," Boebert told a radio show, recounting the altercation.
"I looked at her and said, "Don't be ugly," Boebert added. However, that wasn't the last of Greene's "ugly" public and vocal reactions to positions she disagreed with.
When Biden was midway through his roughly 7218-word state of the union speech, Greene — who attended the address in a furry outfit critics said was reminiscent of Cruella De Vil — shouted, "liar," heckling the president along with a contingent of Republican lawmakers.
Greene said Biden deserved the disruption for "act[ing] like he's terrified of China and unwilling to talk about the fact that they spied on us last night, yeah," according to Newsweek.