Led By Greene, House Republicans Will Visit Jailed January 6 Defendants
@next2godwin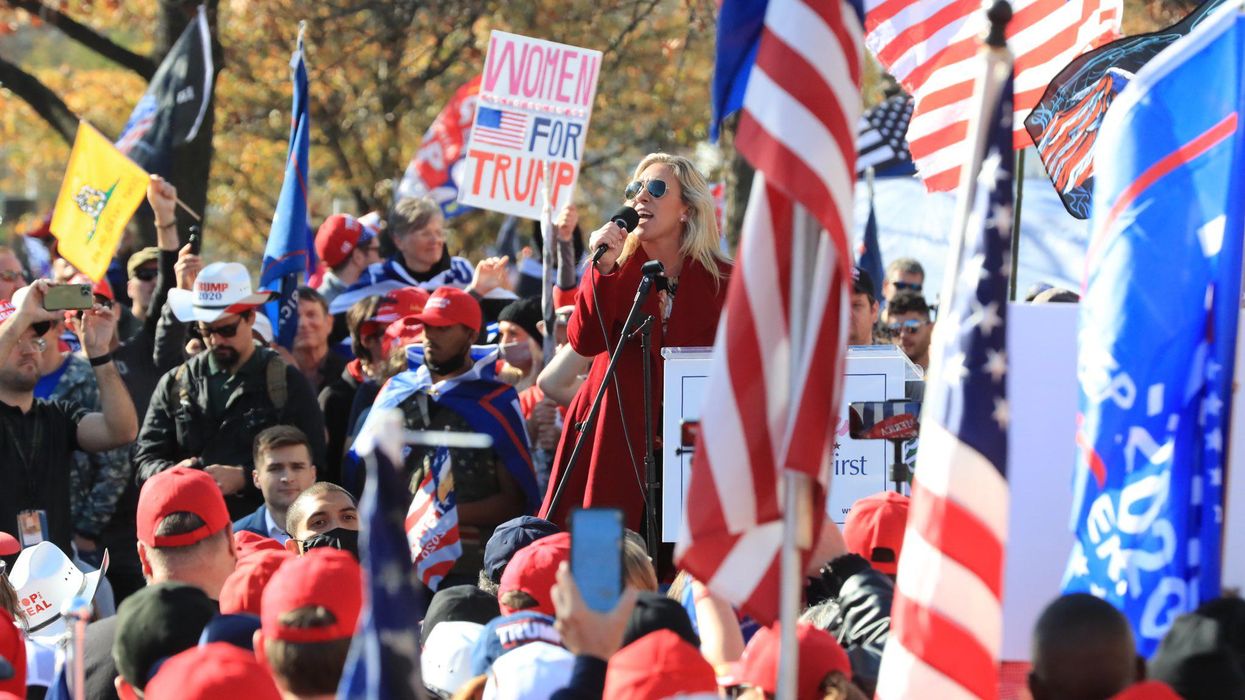 Republicans on the House Oversight and Accountability Committee have announced their intention to visit the Washington, D.C., jail as part of an investigation into what they allege is the "inhuman treatment" of the January 6 defendants incarcerated there.
The investigation — led by Rep. Marjorie Taylor Greene (R-GA), who toured the jail in late 2021 — is part of a broader, years-long Republican effort to distort the truth of the January 6 insurrection by exculpating those charged in connection with the violent breach as victims of political persecution.
In a letter Thursday to Mayor Muriel E. Bowser, Greene alleged that January 6 detainees had been subjected to abuse and neglect and demanded "full access" to the southeastern Washington facility for a visiting delegation of lawmakers, as well as access to inmates and staff for interviews.
"Eyewitness accounts of conditions at the D.C. jail facilities — particularly regarding the treatment of Jan. 6 detainees — paint a picture of despair, hopelessness, and a severe abuse of justice," read Greene's letter, co-signed by House Oversight Committee Chair Rep. James Comer (R-KY) and Rep. Clay Higgins (R-LA).
According to the letter, after Greene's previous visit to the jail, she claimed that January 6 detainees weren't given medical care, were forced to live in unsanitary conditions, and were made to choose between "taking a shower, speaking with their families, or speaking with [their lawyers]."
Greene also stated that January 6 detainees were "denied access to a Bible or denied access to Communion based on their vaccination status" and barred from "receiving instruction from law school students about how to handle their pending matters in court."
The Georgia congresswoman further complained that detained rioters aren't permitted to participate in D.C.'s Young Men Emerging Unit, a mentorship and intervention program for incarcerated men aged 18 to 25.
However, the program's intended beneficiaries are young male inmates of color with lengthy prison terms, according to the Justice Policy Institute, which runs the program. The January 6 defendants are predominantly white and are serving very short sentences: an average of 48 days, according to a Washington Post analysis.
Such "a unique form of mistreatment," Greene suggested in the letter, was meted on the January 6 detainees because of their "politics and beliefs, representing potential severe human rights abuses."
Oversight Republicans requested all documents and communications pertaining to the January 6 detainees' cases, the detainees' complaints regarding living conditions behind bars, and documents about the jail's "COVID-19 policies since January 7, 2021."
The Republicans — who once branded an arm of the 116th Congress' Oversight Committee a "redundant, partisan platform [instituted by Democrats] to further their political agenda" — noted in the letter's final paragraph that the committee had "broad authority to investigate 'any matter' at 'anytime' under House Rule X."
Bowser's office acknowledged receipt of the Republicans' letter on Friday, writing, "We received the letter. We will review and respond accordingly."
Criminal justice advocates — who have since decried the conditions within D.C.'s jail and their alleged maltreatment of the mainly black population — blasted Republicans for giving attention to the issue only after the January 6 Capitol attack, per reporting by the U.K's Independent.
In a tweet on Friday, anti-violence activist Ronald Moten wondered why Greene "came to DC to pray and care for people who killed police in pursuit of committing treason but had no concerns about the Black prisoners in DC jail and housed around the country."
"The treatment of detained individuals in facilities across the country is an important subject for Congressional oversight," Rep. Jamie Raskin (D-MD), ranking Democrat on the House Oversight Committee, wrote.

"That's why last Congress Oversight Democrats pressed for answers on the deteriorating conditions at Rikers Island in New York, for example," Raskin continued.
"Our GOP colleagues' sudden and selective sympathy for January 6 insurrectionists reflects their continuing effort to lionize the violent attempt to overthrow the 2020 presidential election," he added.
Indeed, the issue received renewed attention after becoming a hot-button topic for the right, following Fox News host Tucker Carlson's selective airing of January 6 footage last week and his false allegation afterward that the rioters were so peaceful that they could have been mere "sightseers."
Greene — who often seeks to insert herself into far-right culture war issues — echoed Carlson's newfound January 6 lies in a tirade on Twitter, arguing that "most [January 6 rioters] protested outside peacefully, and some went inside open doors peacefully, and [only] a few were violent & fought police."
"Yet, the federal government has/is hunting them all down and keeping them locked away and are treated worse than any criminal in America," she falsely alleged.