Raskin: Oversight Chair Worked With Trump Lawyers To Kill Tax Probe
@LauraClawson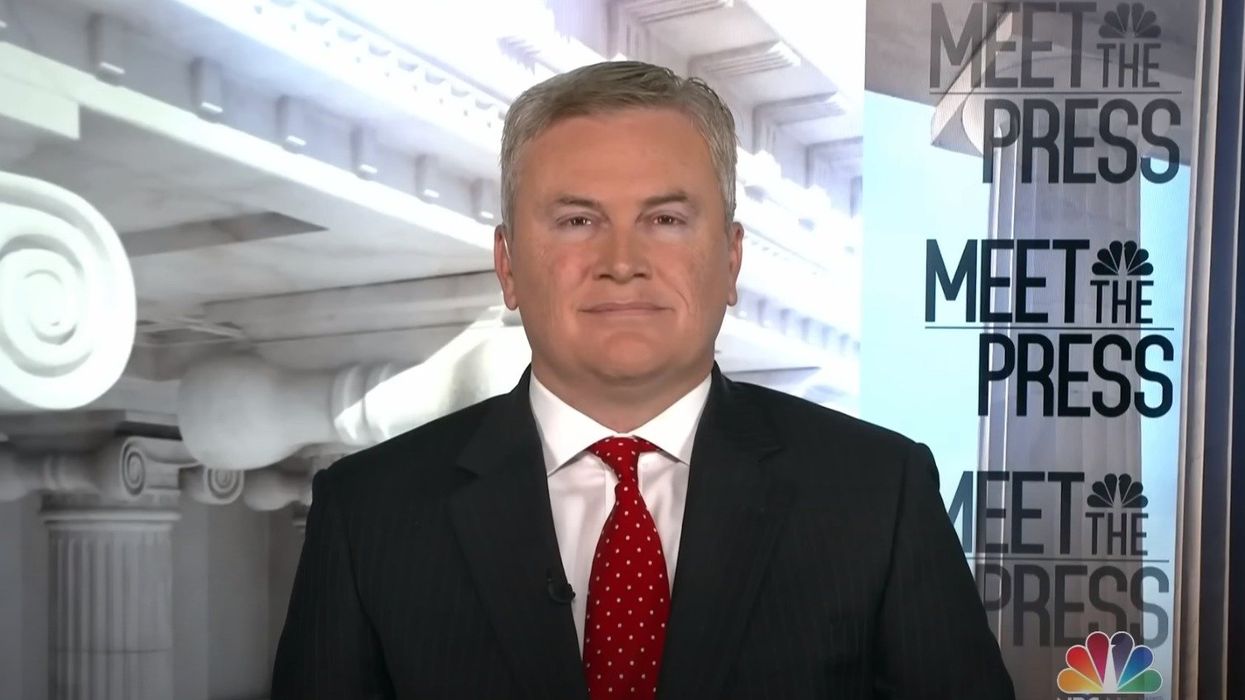 House Oversight and Accountability Committee Chair James Comer is putting up a perfect display of Republican priorities, and Rep. Jamie Raskin, the ranking Democrat on the committee, is on the case.
On the one hand, Comer is not only dropping an agreement with Mazars, the longtime accounting firm for Donald Trump, to produce documents relating to foreign government spending at Trump properties during Trump's time in the White House—he's coordinating with Trump's lawyers about the move. And at the same time, Comer is broadening his investigation into Hunter Biden, the son of President Joe Biden and someone with no government role whatsoever, to demand banking records for three of Hunter Biden's business associates.
Pointing out that documents Mazars already turned over to the committee show hundreds of thousands of dollars in payments from governments including Saudi Arabia, Turkey, and China to Trump's businesses, Raskin wrote, in a letter to Comer, "On January 19, 2023, Patrick Strawbridge, counsel for Donald Trump, wrote to counsel for Mazars, stating 'I do not know the status of Mazars [sic] production, but my understanding is that the Committee has no interest in forcing Mazars to complete it and is willing to release it from further obligations under the settlement agreement.'"
Raskin continued, "When counsel for Mazars sought clarification, Mr. Strawbridge confirmed this direction had been provided to him, twice, by the Acting General Counsel of the House of Representatives, in his capacity as counsel to the Committee." This is, Raskin wrote, "an astonishing delegation of the legislative power of the Chair to a twice-impeached former President whose Executive Branch actions are still actively under Committee investigation."
At the same time, Comer subpoenaed Bank of America seeking 14 years of financial records for three of Hunter Biden's business associates. This isn't just records of a specific business. It was a demand for "all financial records" from the moment Joe Biden became vice president until now.
"These documents go well beyond any business deal with Hunter Biden or CEFC," Raskin wrote. "They intrude into private details of Mr. Walker's and his family's finances: how much he pays for his child's dance lessons, when he has been to the hospital, how many parking tickets he has paid, how often he eats at Papa John's or has coffee at Starbucks, and how much he spends on groceries at Safeway."
To House Republicans, Walker's participation with Hunter Biden in a failed business venture makes this information a more legitimate target for investigation than evidence of foreign governments spending hundreds of thousands of dollars at Trump properties. As Raskin accurately summed up, "I fear this wildly overbroad subpoena suggests that your interest in this investigation is not in pursuing defined facts or informing public legislation but conducting a dragnet of political opposition research on behalf of former President Trump."
So: Information on how a former president and would-be future president profited, while in office, from foreign government spending is not of interest to the Republicans in control of the House Oversight Committee.
But: Detailed personal financial records of the business associates of a person who is not in the government are at the center of what these Republicans are doing.
It's obviously partisan—Republicans want to investigate Democrats and end investigations of Republicans—but it's more than that. The difference in the closeness to power of what and who is under investigation is telling. It's the guy who was in the White House vs. people who did business with the son of the guy in the White House, with no reason, despite multiple investigations, to believe that the president has had any involvement in his son's business dealings, let alone steered U.S. policy in directions favorable to his son.
Comer and his Republican buddies would like voters to believe that, wow, if they're demanding financial records of people who just did business with Hunter Biden, there must be a there there. But the reality is that what it shows is that they have nothing on the president. If they even thought they did, they'd be investigating him.
Reprinted with permission from Daily Kos.