Why McCarthy Gave January 6 Capitol Riot Footage To Tucker Carlson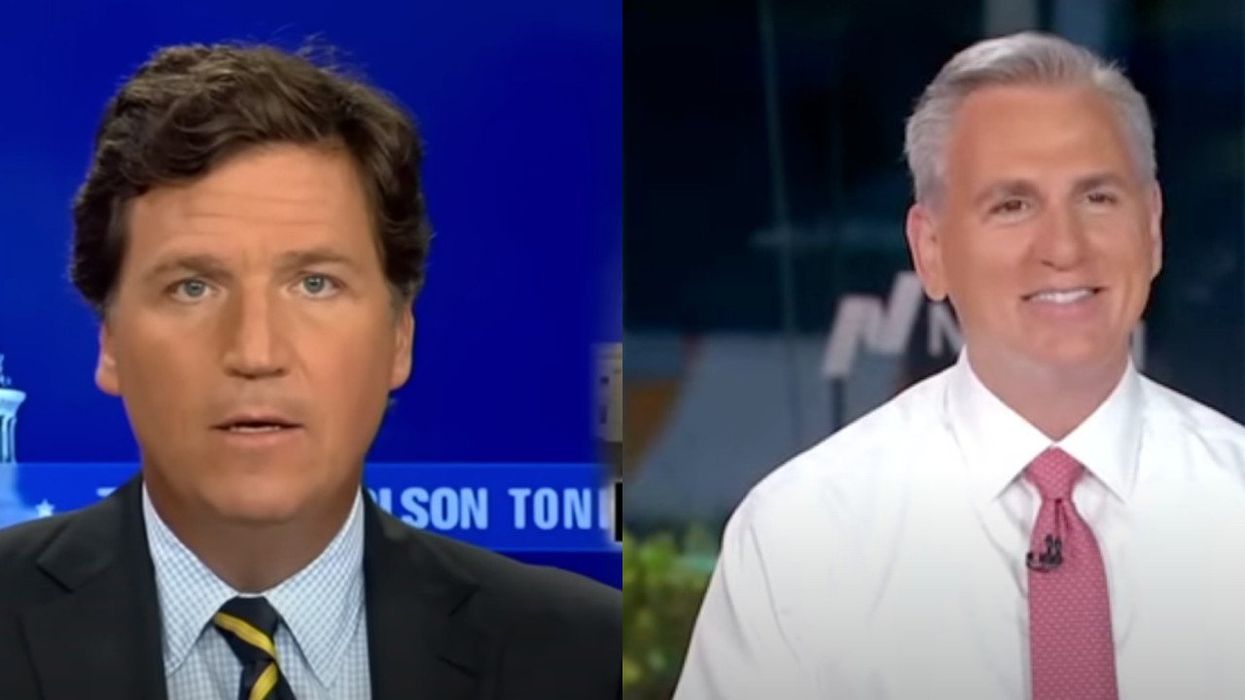 If House Speaker Kevin McCarthy's (R-CA) interest in the more than 40,000 hours of security footage from the January 6 insurrection at the U.S. Capitol was primarily transparency, he would have made it available to the press or the public. If he believed the House select committee that investigated the storming of the U.S. Capitol by violent Trumpists bent on overturning the 2020 election had engaged in malfeasance, he'd have turned the footage over to a Republican-controlled House committee for review.
But rather than taking either of those routes, last month McCarthy instead gave Fox News star Tucker Carlson and his staff exclusive access to the footage. He's done that because he wants what Carlson is among the best at creating: propaganda.
Carlson has spent the last two years spinning up a sinister, fraudulent alternative to the standard narrative about January 6, which he describes as a "wholly created myth." His story conveniently excuses former President Donald Trump, other Republican officials like McCarthy, and Fox hosts like himself for promoting the lies about election fraud that brought the mob to the Capitol.
On Carlson's show, federal "agents provocateurs" generated the attack as a pretext to purge righteous conservative patriots like his own viewers from public life. In his telling, the Trumpists who took over the Capitol were simply "a mob of older people from unfashionable zip codes" who "wandered freely through the Capitol like it was their building or something"; the law enforcement officers who risked their lives and were injured during the assault deserve mockery; and Ashli Babbit, who was shot and killed during the riot while trying to breach the Speaker's Lobby, is a martyr.
With McCarthy's help, Carlson is promising more of the same to come. On Thursday, the Fox host alleged that previously, "a tiny group of people gets to make up stories about what happened that day and change the country on the basis of those stories." But now that his team has gotten access to the footage, he claimed, all that will change.
"They are lying. And we know that because we've been looking at the tape," he claimed. "We're going to bring you information on the tape and some of it next week and we think it's going to be really, really interesting."
McCarthy's gift is in part a fulfillment of Carlson's own demand. In early January, as McCarthy scrapped and clawed for the support necessary to gain the speakership, Carlson cited releasing all files and video related to January 6 online as something he could offer to win over House Republicans. Carlson's team will get to cherry-pick what they want from the footage instead of it being released to the public, but the request is pretty close to what McCarthy eventually did. (McCarthy also carried out Carlson's other suggestion, establishing a House select subcommittee on "the weaponization of the federal government.")
It wasn't difficult to predict what Carlson was going to do with it. The Fox host's history of deceptively editing and recontextualizing video to serve his false narratives is so robust that it is unwise to believe anything he says about a particular clip. And now he has more than 40,000 hours of footage to play with that no honest journalist can currently access.
Carlson will find some snippets from the footage, take them out of context, lie about what they show, and argue that this proves that everyone else has been lying about January 6. It doesn't really matter what he seizes on to do this — the "myth" he claims to be debunking is that violent Trumpists stormed the Capitol and assaulted scores of law enforcement, so perhaps he'll dig up some clips he will claim show calmer moments between the rioters and the police, or law enforcement using excessive force during the melee, or rioters he says looks suspiciously like feds.
More credible journalists, hamstrung in any effort to debunk his claims in a timely fashion because they won't have access to the video until later, if ever, will be pressured by the right to promote his stories as bombshells and denounced if they show skepticism. The result will bolster Carlson's influence at Fox and within the GOP, while sending his viewers and other Republicans deeper into the conspiratorial fever swamps.
That is apparently what McCarthy wants. It is ludicrous for the speaker to argue that January 6 was a "very serious attack" but that it is important to get "sunshine" on the situation by giving the footage to Carlson. The Fox host's noxious conspiracy theories about January 6 are not a secret — several of his former colleagues very publicly broke with the network over them. And just days before news of the speaker's arrangement with Carlson broke, Dominion Voting Systems released a filing in its $1.6 billion defamation lawsuit against Fox which revealed that Carlson and the network's other stars and its top executives had been fully aware that Trump's election fraud claims had been false, but promoted them anyway to keep their viewers happy.
There was never any plausible chance that Carlson's team would look at the footage and decide to tell their audience that it proved they had been wrong all along. He's not an impartial finder of fact — he's a propagandist who is in the business of telling his viewers what they want to hear. In this case, they want to believe that they and their political fellow travelers were the victims, so that's what they are going to hear.
Reprinted with permission from Media Matters.