McCarthy's Sleazy Deal With Hard Right Working Out Brilliantly -- For Democrats
@BarbinMd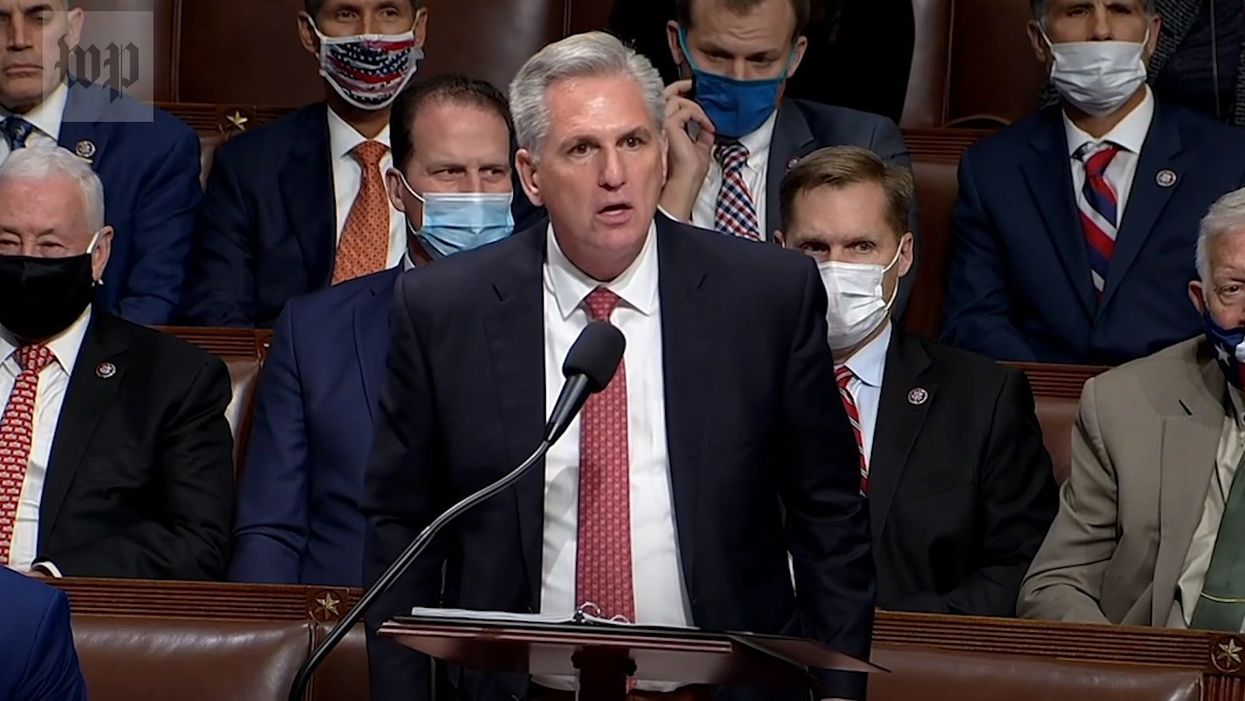 Kevin McCarthy had long dreamed of being Speaker of the House, and in January he finally held the gavel in his hand. Granted, it took 15 humiliating votes (and a near fistfight), making secret deals with Freedom Caucus holdouts, and sucking up to Rep. Marjorie Taylor Greene (R-GA), not to mention handing over most of the power of the speakership to the most extreme elements of his party … but he did get a really nice chair. And the gavel.
So, what is the result of that very public self-abasement? A gift to Democrats that just keeps giving and giving. Let's recap some highlights from the first two months with McCarthy at the helm.
Normally when grading a speaker's leadership, one would start with legislative accomplishments. But we are talking about McCarthy here, so let's instead begin with the hearings being held by the maniacs he handed plum committee assignments to.
For example, a vital oversight hearing to finally learn why a social media company kept Republicans from seeing pictures of Hunter Biden's penis, prompting a group of former Twitter executives to be hauled in and accused of pedophilia, all while getting yelled at for having community moderation, not to mention being threatened with prison time for unspecified crimes. Sadly for Republicans, the most memorable moment was when we learned that Donald Trump was really mad about a celebrity being mean to him on Twitter, with this memorable exchange being officially entered into the Congressional Record:
NAVAROLI: Would you like me to give the direct quote?
FROST: Yeah.
NAVAROLI: Please excuse my language. This is a direct quote, but Chrissy Teigen referred to Donald Trump as a "pussy ass bitch."

A moment in congressional hearing history unmatched since Watergate, when Alexander Butterfield admitted that Richard Nixon had a recording system in the Oval Office.
Republicans promise that there are plenty more hearings coming down the pike. We can only hope.
More recently, perhaps upset that his House colleagues were grabbing all the headlines, McCarthy decided to step into the spotlight … by giving Tucker Carlson "exclusive" access to 41,000 hours of security footage from the January 6 insurrection, never mind the security concerns. When Carlson aired cherry-picked clips and described the rioters as persecuted tourists, the blowback was immediate. And while McCarthy has tried to defend his decision in the name of "transparency," the only thing he accomplished was putting the violent attack back into front-page news. As an added bonus, his new best friend Greene is promising to lead a congressional delegation to a Washington, D.C., jail to visit January 6 defendants to expose the "human rights abuses" being perpetuated against those poor, innocent victims. So well played, Mr. Speaker.
In all fairness to McCarthy, there have been legislative victories. Granted, they'll never see the light of day in the Senate, but an A+ for effort. For example, right out of the gate the Republican-controlled House passed a bill to roll back $72 billion in funding from the IRS—a cut the Congressional Budget Office determined would cost more than $114 billion.
They followed that up with the passage of the "Born-Alive Abortion Survivors Protection Act"—a bill so extreme that voters in Montana rejected a similar measure last November—as their first step toward the ultimate goal of a national abortion ban. Way to read the room. And coming soon are their plans to burn down the economy, burn down the planet, and if we're really lucky, a vote to burn us all with a 23% national sales tax. Good times.
When the "red wave" never materialized in the 2022 midterms, McCarthy made a decision to relinquish whatever ethics and morals he had left, preferring to cave to the extremists in his party, all in pursuit of the speaker's gavel. What he really handed over was a gift to Democrats.
As we approach the 2024 elections, attacks on abortion, human rights, the economy, and the planet (along with endless hearings for the airing of grievances) are the only accomplishments that McCarthy will be able to point to as "accomplishments." And Democrats will be right there, pointing out those very same things.
Reprinted with permission from Daily Kos.