There's No Pretending That Kevin McCarthy Is 'Mainstream' Or 'Moderate'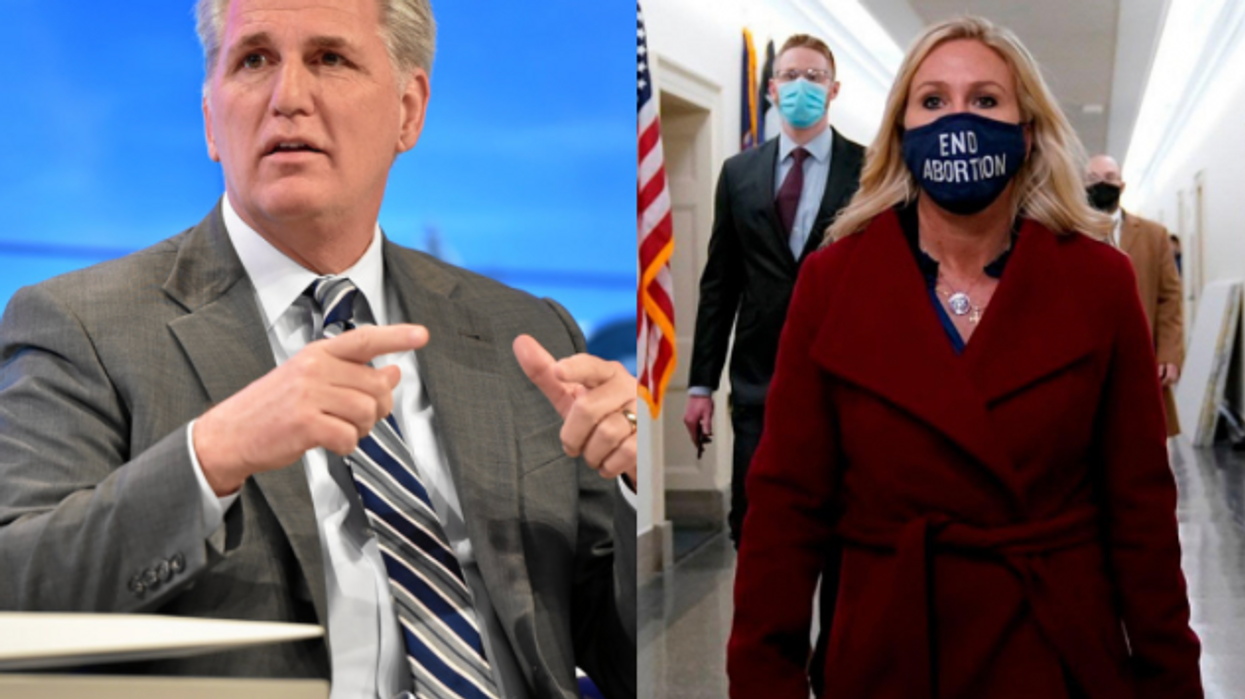 With Rep. Kevin McCarthy finally winning a ballot for House speaker, after so many humiliating delays, it is important to understand why his "victory" no longer matters much and probably never did. The Beltway narrative that positions him as a symbol of "governing" and his erstwhile opponents as isolated agents of chaos is badly mistaken.
The Republican Party, at least as constituted in the House of Representatives, is today a vector of nihilism. Its stated objectives, articulated by both supporters and opponents of its current leadership, are hostile to democratic values and pose an ongoing threat to American security. Election deniers and coup supporters predominate, including "my Kevin," as Trump dubbed him.
No significant GOP faction can be described accurately as "moderate" or "mainstream" or even "conservative," although media outlets persist in using those familiar terms to frame them.
They're nearly all crazies now.
Even if real distinctions could once be drawn between those who steadfastly backed McCarthy and those who resisted him, they've been erased by his wholesale submission to his adversaries' demands. By awarding them unprecedented power over rules, votes, appropriations and even his own tenure, he has elevated a gang of hard-right yahoos into the ultimate congressional authority.
McCarthy's reign as speaker may be comically brief, but the chaos and peril that ensue will be just as damaging as if he had stepped aside for the likes of Jim Jordan or Andy Biggs. His weakness has emboldened the GOP's most deranged figures, who veer erratically between anarchy and authoritarianism — and who will continue to seek the spotlight they've enjoyed lately by any means available.
None of this is mitigated by the fact that McCarthy, once a slavish acolyte of former Speaker John Boehner, lacks any discernible beliefs, let alone firm convictions. His rise epitomizes the Republican abandonment of principle during the Trump era. The premise of his career has nothing to do with policy commitments or leadership qualities, resting solely on his skills as a smiling fundraiser and recruiter.
Unlike Boehner, who was booted from office for trying to control the far Right, McCarthy has rarely gotten in their way. That's why Mick Mulvaney, a founder of the House Freedom Caucus who played a major role in Boehner's ouster, has urged his former colleagues to stop fighting and accept the victory that a McCarthy speakership represents.

As Mulvaney noted in a recent op-ed endorsing McCarthy, this supposed "moderate" supports the loony Freedom Caucus agenda. He will eagerly emcee their clown show, replete with "investigations" of Hunter Biden, harassment of Dr. Anthony Fauci, attacks on federal law enforcement, attempts to justify the Jan. 6 insurrection, and an ongoing zeal to protect former President Donald Trump and his coup plotters from accountability.
What they will not do in any meaningful sense is govern.
Indeed, their principal objective is to make governing impossible. For years now, the sole aim of congressional Republicans under a Democratic presidency has been to win the next election — not to achieve legislative compromises for the good of the nation or even to ensure fiscal and administrative continuity, like a modern political party in any other country. Beginning with the Gingrich-led takeover of the House, the Republican attitude toward governance has been insurrectionary, meaning that they shun all cooperation, regardless of the destructive consequences.
That attitude was on display last month when the House considered legislation to avert a potentially ruinous railway strike. Even with many heartland Republicans warning that a strike would wreck the economy and harm their constituents severely, nearly two-thirds of the GOP caucus voted no — including Kevin McCarthy.
Now the House Republicans are poised to strike a historic blow against the United States by preventing an increase in the national debt ceiling — unless they are allowed to dictate destructive budget cuts. They are prepared to wreck the "full faith and credit" of the republic unless they can impose horrendous cuts in Medicare, Social Security and other vital programs that will also cause irreparable harm to the economy and the public.
McCarthy has signed up for that fanatical assault on the national interest. He is no more "mainstream" than his sidekick, Rep. Marjorie Taylor Greene. It's time to stop pretending he is.
To find out more about Joe Conason and read features by other Creators Syndicate writers and cartoonists, visit the Creators Syndicate website at www.creators.com.