McCarthy And Allies Deny Secret Deal Memo Exists (They're Lying)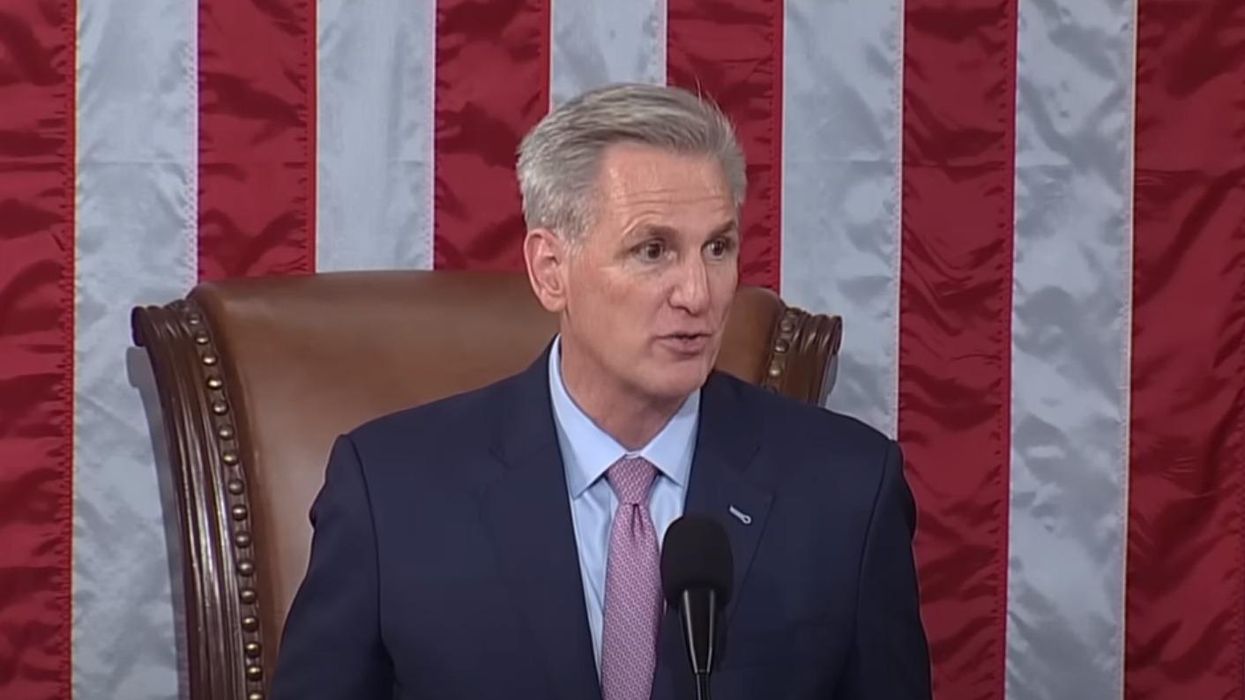 Youtube Screenshot
Exactly what Kevin McCarthy promised to whom during his quest to be elected House speaker—and whether he did it in writing—remains the big intrigue for Congress watchers, not to mention all the House Republicans seemingly cut out of the deals. There's only one thing for sure in all of it: Everyone involved in the deal-making is lying about it one way or another.
First liar: Kevin McCarthy. If he's not lying about this, he's lied about enough lately to call him that anyway. He told his conference that "there is no official document or 3-page addendum to the House Rules package detailing the additional concessions he made to his critics." That's according to people who were in the room. Is that McCarthy trying to be tricky? There might not be any three-page "official" anything, but there's definitely paper.
We know that because there are Republicans saying they saw it in writing. Axios, following up on reporting from Punchbowl News, confirmed with "multiple GOP aides and members" that the addendum with "the most controversial concessions" made by McCarthy exists. National Republican Congressional Committee chair Richard Hudson (R-NC) is one of the members who said he's seen it. He told Axios that it doesn't contain promises of committee chairmanships to specific members: "No names, just representation [on panels]." That's to say, it does divvy up committee seats among the wack jobs, just not by name.
And it exists. In fact, CNN reports that there's a "document flying around K Street listing out all the alleged McCarthy concessions even as House GOP Whip Tom Emmer of Minnesota asserted that the document is not completely accurate." So again, it does exist (even though McCarthy says it doesn't) but what's on it might not be what he actually agreed to, because that was all based on 'handshakes.'
"Everything in life is about—how do you come to terms and agree?" That's Rep. Chip Roy (R-TX), one of the key negotiators for the Freedom Caucus in the speaker vote debacle. "You look somebody in the eye and you shake their hands and you move forward, and that's precisely what happened." He's protesting way too much. "There's no back room deals … there's no three-page addendum … there's no official list," Roy said. "Do you ever write down notes? Do you ever sit down and talk through like, say, 'Hey, what are we going to do to agree on spending?'"
Let's rewind the tape to last Thursday and one of the holdouts in the debacle.
\u201cNorman told reporters leadership is "putting things in writing" but the devils in the details. Specifically, he's concerned with budget. "You can't have a balanced budget unless you have cuts. The speaker has got to be able to use whatever tools he has to influence that."\u201d

— Kadia Goba (@Kadia Goba) 1672957962
Hmmmm … putting things in writing. Now, the balanced budget and cuts stuff, that ended up in writing. If that ended up in writing, the other stuff must have as well. That's what the holdouts were demanding, and that's what they got.
What they got is exactly what some other Republicans, the ones not included in the horse trading, want to know about. "Operating in a vacuum doesn't feel good," one GOP member told CNN. "We've been loyal and it's a slap in the face." Yes, well, that's what you get for being loyal to someone as ambitious and craven as Kevin McCarthy.
Rep. Nancy Mace, a swing district Republican from South Carolina, has been one of the most vocal complainers about this whole mess. She said "it is essential" that not only she and other members of the conference learn what McCarthy promised to whom, but that the public hear it, too.
"We know that there were certain members of that faction that were trying to get committee chairmanships or special committee assignments. We won't know how that shakes out until (the House GOP Steering Committee) does its thing," Mace said. That's the committee that doles out assignments. "There's still some questions that I think many of us have about what side deals may or may not have been made, what promises are made, what handshakes are made."
Again, that's what the whole of the not-Freedom Caucus group of Republicans signed up for when they backed McCarthy through 15 votes. The good news for them and the rest of us is that it's all going to come out because these people leak like sieves. Like Rep. Andy Ogles (R-TN) talking about the pressure campaign launched by McCarthy's monied supporters on the hold-outs:
\u201cWhen asked about this conversation with @SpeakerMcCarthy, @AndyOgles told me, "part of it too was I had received a text the night before where I had been threatened by a very wealthy donor...someone I had never met." \nMore of my interview with Ogles and coming up tonight on @WKRN\u201d

— Adam Mintzer (@Adam Mintzer) 1673370066
Or this member (maybe also Ogles?), sharing a threatening text they got from GOP donor Thomas Peterffy.
\u201cAt least two Republicans among McCarthy's 20 holdouts got direct threats from GOP donor Thomas Peterffy last week, per GOP sources I spoke with.\n\nHere is a screenshot shared with me...\u201d

— Olivia Beavers (@Olivia Beavers) 1673377333
So we're definitely going to find out all about the promises—and threats—McCarthy made to get his hands on the gavel. The only real question is whether the rest of the Republicans who let this happen are going to continue to go along with all of it.
Reprinted with permission from Daily Kos.