Gaetz Threatens McCarthy With 'Straitjacket' As Speaker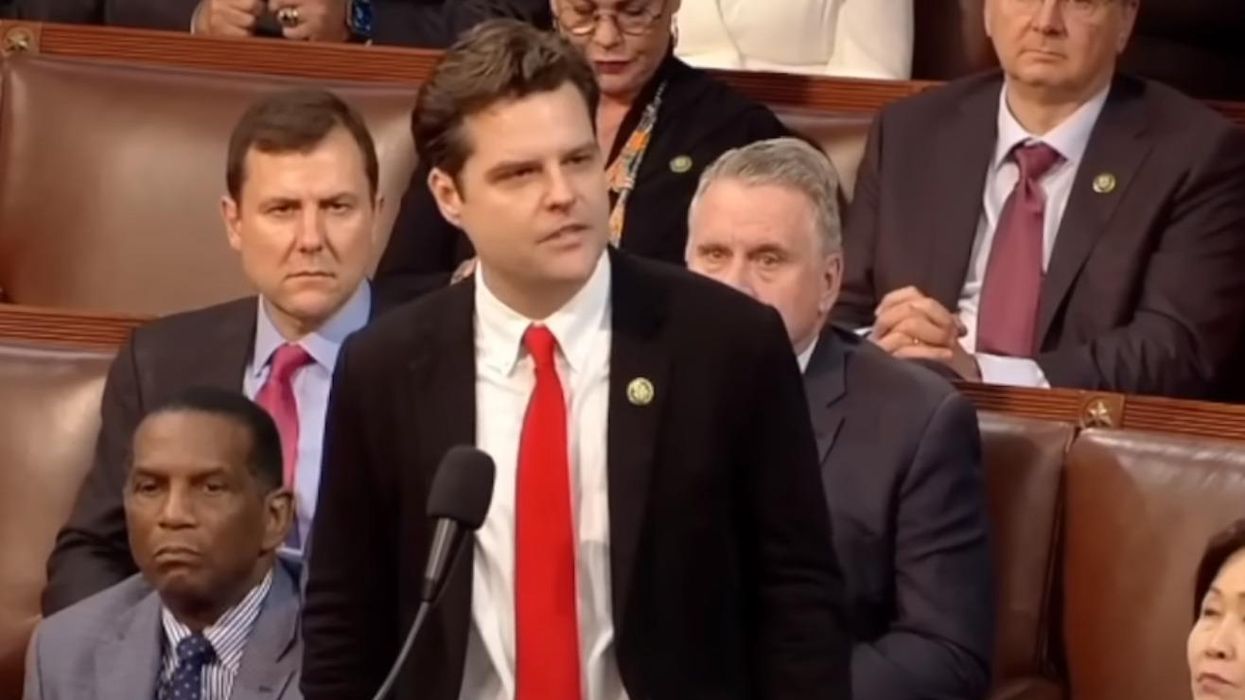 Youtube Screenshot
Rep. Matt Gaetz (R-FL), the ringleader behind the "Never Kevin" McCarthy movement that has shut down half the legislative branch for days, is vowing he will continue his attack on the GOP House Majority Leader and derail his attempt to become Speaker.
Right now the House is in the middle of its eighth vote for Speaker, which some of the major networks are no longer airing in full. Rep. Brian Mast (R-FL) this time nominated McCarthy, as Rep. Katherine Clark (D-MA) reminded Republicans that for every previous vote Democrats were united one-hundred percent behind Congressman Hakeem Jeffries (D-NY) for Speaker. In every one of the previous seven votes all 212 Democrats voted unanimously for the New York Democrat. (McCarthy would lose four more votes before the House adjourned on Thursday evening.)
Rep. Clark nominated Democratic Minority Leader for Speaker of the House once again.
Meanwhile, CBS News' chief election and campaign correspondent Robert Costa reported Gaetz "tells reporters just now that this all ends either with McCarthy deciding to 'withdraw from the race' or agrees to a 'straitjacket' agreement that fully constrains him as speaker."
Pointing to still more fracturing among the GOP caucus, Rep. Lauren Boebert (R-CO), one of the 20 opposing McCarthy, did not vote for their alternative candidate, Rep. Byron Donalds (R-FL), but threw a new wrench into the works.
She voted for Rep. Kevin Hern (R-OK).
This was apparently not entirely unexpected.
\u201c#OK01 @repkevinhern was just nominated for Speaker of the House by Lauren Boebert. \n\nI talked to him earlier and asked if he would accept the position: \n\n\u201cIf I hear my name, it\u2019s something I\u2019ll have to think and pray about before deciding if it\u2019s a job I\u2019ll run for.\u201d\n\nFull quote:\u201d

— Reese Gorman (@Reese Gorman) 1672945701
As for who Congressman Gaetz voted for?
"Donald John Trump."
Twice.
\u201cRep. Matt Gaetz (R-FL) votes for Donald Trump for Speaker of the House.\u201d

— The Recount (@The Recount) 1672941158
That move comes just one day after Gaetz appeared to mock Trump publicly, defying the ex-president and declaring, "Supporting McCarthy is the worst Human Resources decision President Trump has ever made," then adding, "Sad!"
Reprinted with permission from Alternet.