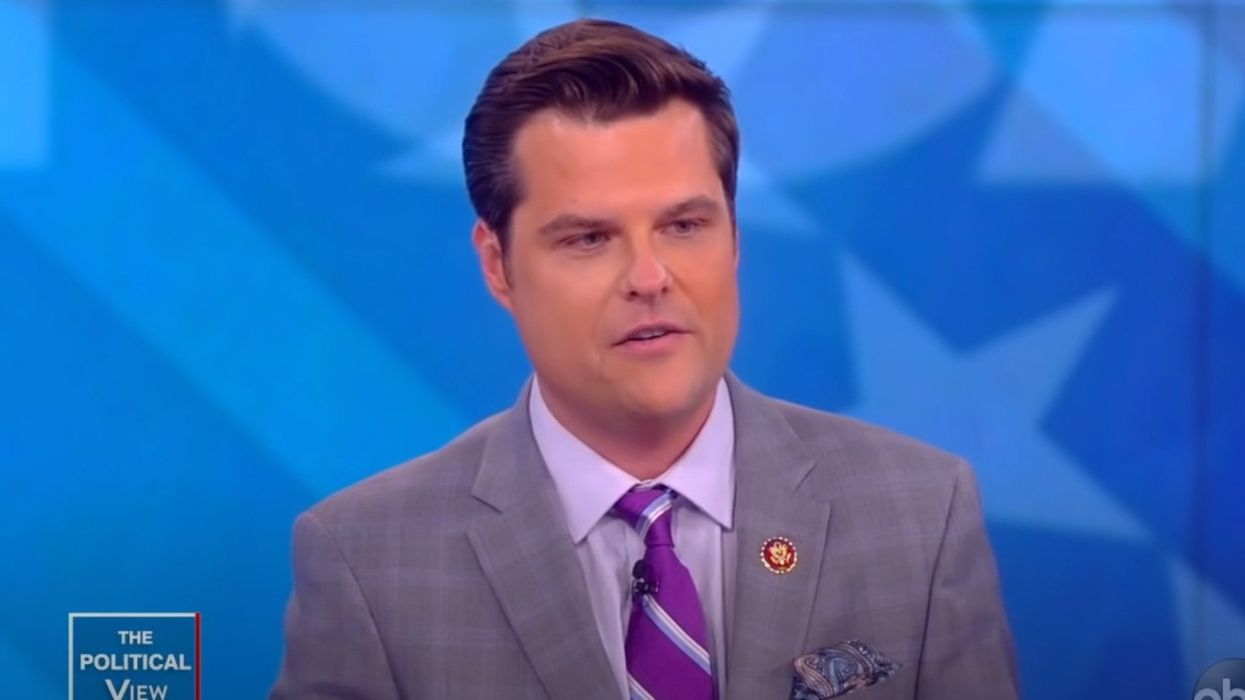 Florida man Rep. Matt Gaetz is feeling his oats these days, seemingly having evaded legal ramifications in connection to his former best buddy, convicted sex trafficker of a minor and corrupt official, Joel Greenberg. Now that he is apparently in the clear, Gaetz assures us he will be devoting himself full-time to what he knows best: political theater.
Gaetz was interviewed Wednesday morning on NewsNation, where he gave his ha'penny on the potential indictment of Donald Trump. Trump is Gaetz's king, and Gov. Ron DeSantis is in Trump's crosshairs, as it were. During the interview, Gaetz angled the avalanche of potential charges against Trump as being the same as "despots in other parts of the globe who want to jail their political enemies who want to arrest the prior administration who want to ensure that their upcoming rivals don't have the opportunity to stand for election."
But stumping for the world's most corrupt American leader is only worthwhile if you can wet your beak, as they say. Gaetz, above all, is an opportunist, so it was only a mild surprise that he began one of his answers with, "If I were governor of Florida..."
What exactly would Mr. Gaetz do if he were governor? Well, he says, for starters:
"I would not allow any Floridian to be hauled before some Soros-backed prosecutor, in some blue city, over politics, and I wouldn't make an exception to not protect the president of the United States."
That's sweet of him. It's also not how prosecutors or governors or states or courts work, but okay, Matt.
Trump's decision in 2020 to become a Florida resident—and the strange tax issues it creates, especially for a man with a globally recognized dubious tax history—aside, this is a very strange argument to make concerning states' rights. But Gaetz isn't concerned about any of this, really; he's only making the argument that he wants to run for governor—and that he wants Donald Trump's support when he does.
"Ron DeSantis should be standing in the breach to stop any sort of extradition of President Trump from Florida. And the fact that he's not doing so puts every Floridian at risk—who could be the subject of a false allegation," he said.
There is clearly a mountain of evidence pointing to the fact that the charges against Trump aren't "false," and saying that Gaetz cares about justice is like saying he cares about Floridians.
Reprinted with permission from Daily Kos.