Wut? Kevin McCarthy Says He'd Prefer Santos As President Over Biden
@next2godwin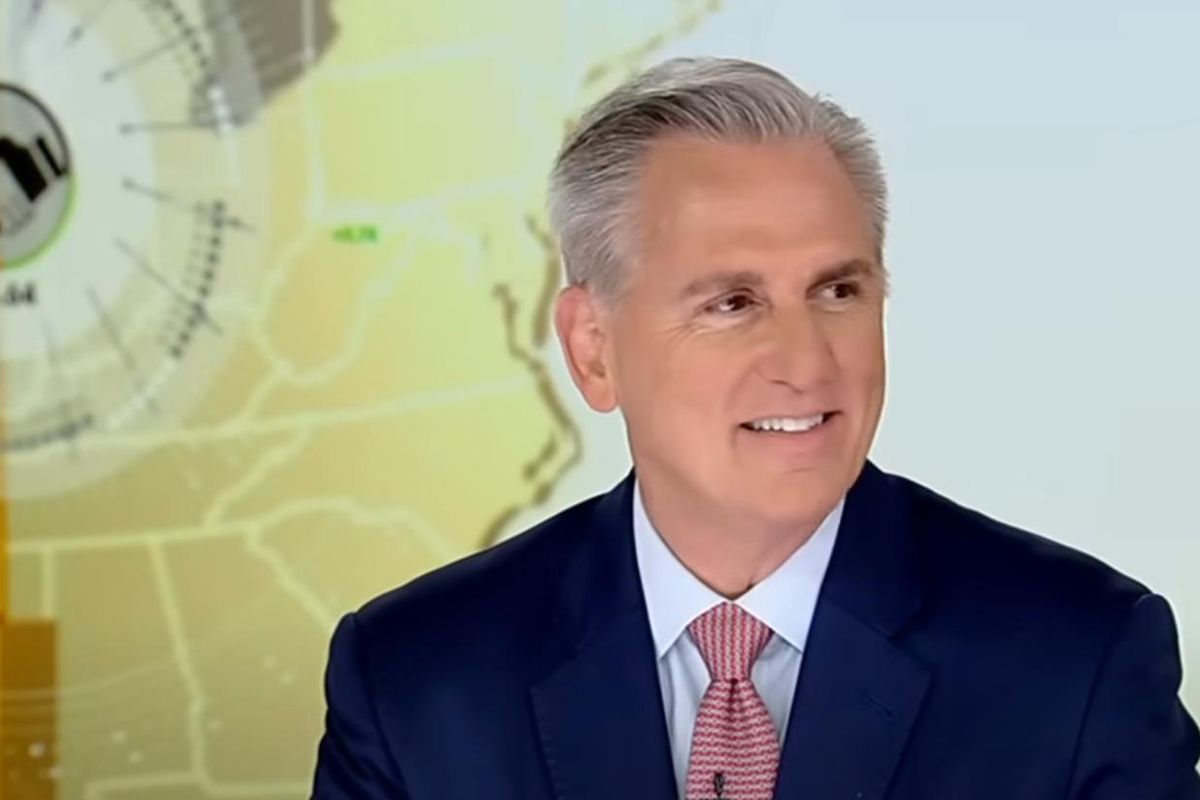 Youtube Screenshot
House Speaker Kevin McCarthy (R-CA) suggested in a weekend interview that it is "unfortunate" that lying Republican lawmaker Rep. George Santos (R-NY) has less power than President Joe Biden.
McCarthy made the bizarre claim on Fox News' Life, Liberty & Levin in response to a rhetorical question tabled by longtime far-rightist and Biden critic Mark Levin in a segment awash with groundless assertions and right-wing conspiracy theories.
Levin kick-started the show with a populist tirade about the radicalization of school boards in the last 15 years — a period that encapsulates the tenure of two Republican presidents, including ex-President Donald Trump.
During that time, Levin alleged, "Academia, the radical left, and the American Marxists" have sought to "control what you think, but even more… what your kids think" via "advanced placement courses."
After the outlandish tangent, Levin brought on McCarthy and opened the interview with a rhetorical question to pander to the base: "Who has more power, Joe Biden or Rep. George Santos [R-NY)?"
The softball drew a gleeful chuckle from McCarthy, who responded, "Well, right now, I think it is the president, Joe Biden, unfortunately."
Then, Levin — an avid supporter of Trump, who publicly made over 30,000 false claims in his time at the White House alone — launched into a rant baselessly claiming that Biden had misled Americans on myriad issues, which Levin claimed mattered more to him than Santos' fibs.

"[Santos] has nothing to do with me. That guy, [Biden], is President of the United States; every decision he makes affects me," Levin cried at high volume, labeling the president as dishonest as Santos.
News outlets across the political spectrum have covered Santos' many lies, from his name, education, heritage, career, marriage, and fundraising to the circumstances surrounding his mother's death.
Despite Santos' entanglement deep within a self-spun web of lies, spurring multiple investigations and calls from his Republican colleagues for his resignation, McCarthy put the freshman lawmaker on two House committees and deflected questions on the appointment.
The speaker has come under fire for caving into the fringe demands of the extreme-right wing of his conference in exchange for the U.S. House speakership, which he clinched only after 15 rounds of voting over four grueling days.
Levin, on the other hand, was one of the Fox News personalities who used their platforms to push, unfiltered, the false narrative that widespread voter fraud orchestrated by Democrats had cost Trump a resounding victory in the 2020 presidential election.
"Our Declaration of Independence and Constitution are being destroyed by the Democratic Party and the media, and they want to destroy what is left of it," Levin told his viewers three days before a Trump mob stormed the Capitol on January 6, 2021, according to the New York Times.
Levin had also lambasted Republican senators who were steering clear of Trump's Big Lie and called on the Supreme Court to intervene in the Republican Party's fight to keep then-President Trump, who had lost his re-election bid, in power after his defeat.
In early December, Rep. Andy Biggs (R-AZ), himself an election denier, blasted Levin for calling out the ultraconservative bloc of House Republicans barring McCarthy's path to becoming House Speaker.
"Levin is the biggest fraud in politics right now. For years, this guy castigated McCarthy publicly (with no shame). Now, he is all in for him and wants his audience to turn a blind eye. Total fraud," Biggs tweeted.
Twitter users also ripped into Levin and McCarthy for their insidious allegations that Biden had misled the public just as much as — or, perhaps, even more than — Santos had, and that the latter deserved presidential power more than Biden.