McCarthy Blasted For Handing 40,000 Hours Of January 6 Video To Tucker Carlson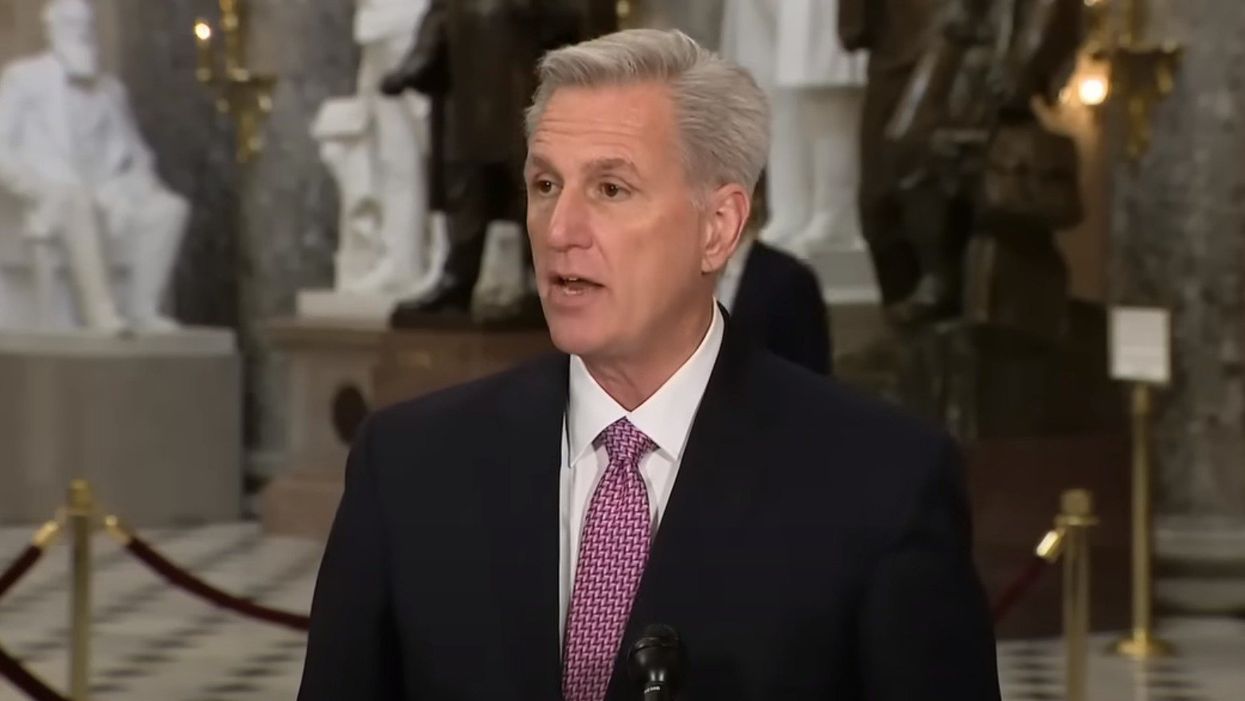 Speaker of the House Kevin McCarthy is being blasted for reportedly handing over 41,000 hours of video from the January 6 insurrection to a single source, Fox News' Tucker Carlson, who is seen by many as a right-wing propagandist who has denied the events that day were an insurrection. The release was made last week – the same week as a court filing from Dominion Voting Systems' $1.6 billion lawsuit against Fox News revealed top brass and talent, from Rupert Murdoch to Carlson, knew Trump's "Big Lie" was false yet promoted the false clams that led to the attack on the U.S. Capitol.
"These tapes are the property of the American people. McCarthy has stolen them from us and given them to the mouthpiece for the Jan 6 attack," says attorney, journalist, and SiriusXM host Dean Obeidallah.
"We need lawsuits by every other media outlet seeking a copy of these records! These are the public's records- not Kevin McCarthy's personal video files!!!" Obeidallah adds.
Last month Rep. Matt Gaetz said one of the secret deals McCarthy made with far-right Republicans to become Speaker was that he would release the video to the public – releasing it to Fox News is very different.

"Gaetz hinted in a tweet," CNN's Melanie Zanona reported January 12, "that was part of their hand shake deal, and confirmed to CNN that was what he was referring to. It shows how the full extent of McCarthy's concessions are still not fully known."
"Earlier today," Zanona continued, "when asked at a press conference about how some Republicans had called on former-Speaker Nancy Pelosi to release all the security footage from January 6, McCarthy said, 'Yeah, I think the public should see what happened.'"
Victor Shi, the youngest elected delegate for Joe Biden in 2020, and a writer, speaker, organizer, and activist, calls the move "the definition of state-run media," and "a betrayal to our nation."
Former Chicago Tribune and Sun-Times editor Mark Jacob called it "outrageous," and said the "January 6 footage is the people's property, not Kevin McCarthy's. And Tucker Carlson is a proven liar who will no doubt abuse this material to lie further. The coup to overthrow our democracy is ongoing."
Jacob also notes that Congress is not subject to the Freedom of Information Act, meaning they cannot demand the footage for themselves through that venue. But he adds, "I hope some news outlet goes into court and tries" to intervene.
Popular Information founder Judd Legum: "The only reason to give the footage exclusively to Tucker is McCarthy knows the footage will only reinforce the GOP's preferred narrative if it is selectively released by an unrepentant manipulator and liar."
And Rolling Stone politics reporter Nikki Mccann Ramírez says, "This comes on the heels of court revelations that Fox anchors, including Tucker, knew they were misleading the public about the 2020 election. Fox is the propaganda arm of the GOP and McCarthy knows it."
Reprinted with permission from Alternet.