SNL Cold Open: An Oily Christmas With Trump, Putin, And Tillerson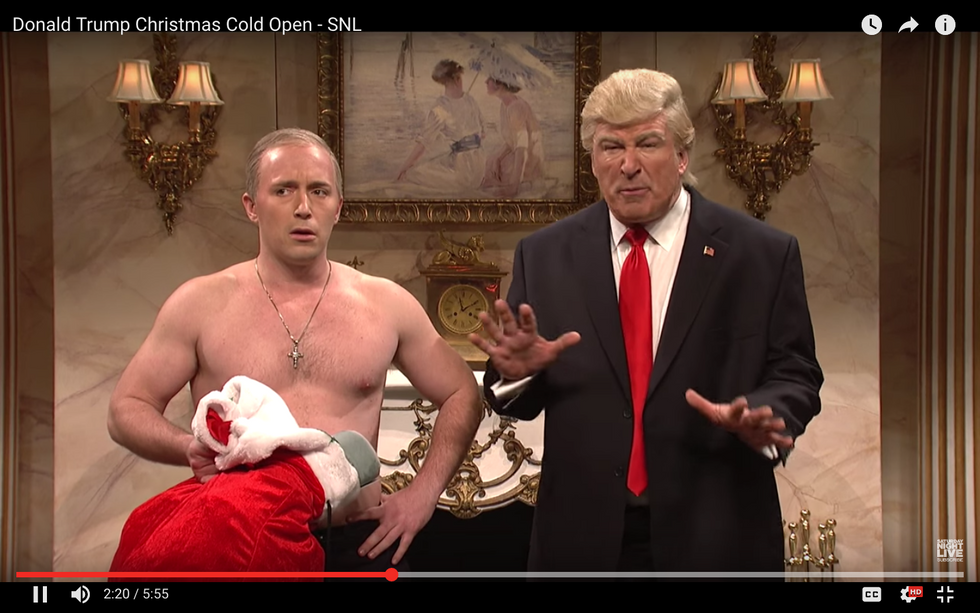 In Saturday Night Live's final episode this year, Alec Baldwin returns to the "cold open" to lampoon the president-elect in his merciless style, flanked by dutiful Kellyanne Conway (Kate McKinnon) — who observes grimly, "I'm handcuffed to you for all of history."
Exhausted by his presidential preparations and post-election campaign tour — "I felt an obligation to thank all my supporters by standing in front of them while they cheer for me" — SNL's Trump is ready to relax and celebrate Christmas. Appointing Rick Perry has completed his cabinet, and he reveals that he realized the man has "so much energy, he's just unpresidented" while watching the former Texas governor on Dancing with the Stars.
Suddenly Trump hears a sound from the chimney. "Is it a ghost? I'm being Scrooged!" he cries. But down comes a special friend, without a shirt but bearing a Santa-style bag of presents: It's Vladimir Putin (Beck Bennett). He gives Trump an "Elf on the Shelf" that sports a strange glowing red eye and makes a whining electronic sound, explaining that this "fun" gift belongs "next to your Internet router."
Trump is embarrassed to have nothing for his unexpected guest, but the Russian reassures him with copious flattery. "You are the gift, Mr. Trump!"
And a few moments later, who shows up at the door but Rex Tillerson — played with gusto by the great John Goodman: "You didn't tell me Putie was going to be here!"
Putin and Tillerson proceed to conspire over Arctic oil, as clueless Donald tries to interject random comments about Vanity Fair, Kanye West and all the other mindless trivia that preoccupies him.
At once broad and subtle, SNL writers manage to satirize people who often seem beyond parody. You'll feel like crying as you laugh.