MAGA Extremists Who Rejected McCarthy Now Embrace Him
@lawton_sophie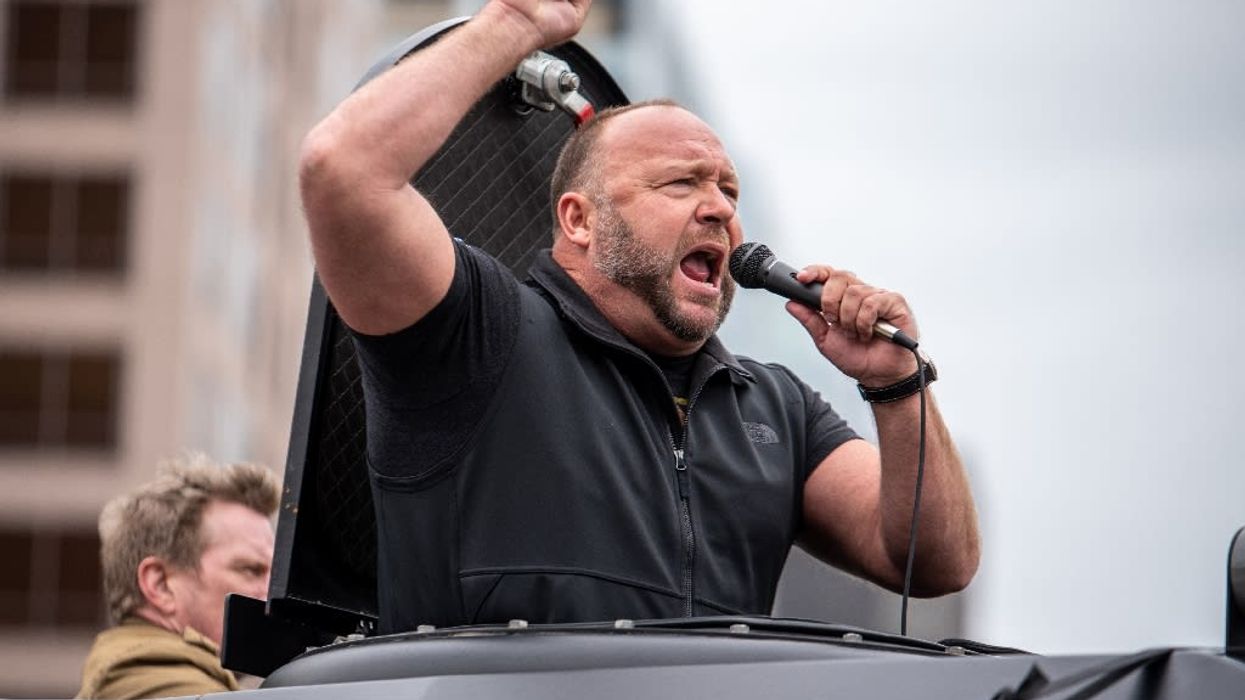 Two of the loudest voices in the far-right media fever swamps have begun to back Rep. Kevin McCarthy's (R-CA) leadership in the House of Representatives after previously opposing his bid for speaker. Steve Bannon and Alex Jones are now cheering McCarthy following his moves to initiate hearings, remove Democrats from committee assignments, and signal allegiance to Jones ally Rep. Marjorie Taylor Greene (R-GA). January 6 organizer Ali Alexander has also showered the new GOP speaker with praise, emphasizing that far-right media figures increasingly view McCarthy as supporting — or even outright sharing — the same agenda they push on their extremist shows.

The day after the final speaker vote on January 7, Jones defended Greene's support of McCarthy and said "I feel good" about McCarthy's win. Jones later hosted Greene on his January 12 show where she defended her decision, claiming "the reason why I didn't oppose Kevin McCarthy's speakership [was] because I knew there was no plan against him" and that McCarthy had "listened to us for the past two years." Jones told his audience that "we're going to wait and see what happens now" but "we're already seeing some really good bills getting voted on."
In a February 6 Infowars segment with longtime GOP "dirty trickster" and Trump ally Roger Stone, Jones said he was "hopefully optimistic with some of the first moves I've seen out of McCarthy." Jones also praised Republicans for refusing Democratic Reps. Eric Swalwell and Adam Schiff committee placements, saying that McCarthy was "starting to do some of the right things."
On January 30, Jones' fellow Infowars host Owen Shroyer commended McCarthy for not "playing these games" in denying Rep. Ilhan Omar (D-MN) her position on the House Foreign Affairs Committee. Shroyer called the move "a good thing coming from Kevin McCarthy" and even "a win" because it shows "the Democrats aren't running him."
For his part, Bannon has become one of McCarthy's biggest cheerleaders. In the midst of the congressional battle over the nation's debt limit, Bannon lauded the new House speaker's remarks on refusing to raise the debt ceiling after meeting with President Joe Biden, calling it "brilliant" and "the best I've ever seen McCarthy," later adding, "I think he did well today."
After McCarthy booted Swalwell and Schiff from the House Intelligence Committee, Bannon asserted,"That is a different Kevin McCarthy." And while still claiming that "McCarthy's head of the cartel" — a common phrase Bannon uses to describe the political establishment — he added that the speaker's committee change was "massive — these are huge developments, not small developments."
"He's also peopled — or populated these committees with strong MAGA voices," Bannon added. "He's got real fighters on there who basically know how to grab a microphone and get the nation's attention in these hearings."
Praise for the new speaker has come from other far-right media figures as well. While adding the caveat that he's "been an opponent of McCarthy since 2009," Stop the Steal organizer Ali Alexander recently suggested that "these, ironically, are Kevin McCarthy's best days" because of the new committee appointments, and said he's "doing a great job."
Alexander — the far-right activist, conspiracy theorist, and election denier — even added that "I'm very happy with Kevin McCarthy, and I never imagined myself saying those words."
This praise is a stark transition from less than a month prior, when Bannon and Jones both actively campaigned against McCarthy's candidacy for speaker and other far-right media figures joined them in attacking McCarthy.
A Heel Turn On Kevin McCarthy
Both Jones and Bannon opposed McCarthy's bid for the speakership when it was up for debate at the beginning of the year.
During the fight for the speakership, Infowars hosts Jones, Shroyer, and Stone all attacked McCarthy's candidacy. Jones threw his support behind Rep. Byron Donalds (R-FL) and claimed, "I don't think, at the end of the day, McCarthy can be trusted" to execute the hearings and impeachments the far right is hoping for.
On January 5, Stone outright claimed, "It's over for this guy, stick a fork in him. He's done."
Shroyer called Rep. Matt Gaetz's (R-FL) plan to "sabotage" McCarthy "brilliant" and "political genius." In the same segment, Shroyer attacked McCarthy for not having conservative values and not being pro-America, calling him "an empty suit." Shroyer also claimed a McCarthy speakership "does nothing for the Republican Party. It does nothing to drain the swamp. It's completely pointless," later adding that "nothing good happens if Kevin McCarthy is the speaker."
Bannon also had a different idea of who should be nominated for the position when this saga first began. In a January 5 conversation with former Trump adviser Sebastian Gorka during the many votes for House speaker, Bannon said that former President Donald Trump was "uniquely skilled" to unite the Republican Party and kick start the GOP's House investigations into the Biden administration. Bannon later agreed when Gorka added, "It would be The Apprentice but with real stakes."
On the same day, Bannon claimed: "Kevin McCarthy is not deserving of the speakership for the simple reason he can't be trusted in a tough fight to represent and to have the titanium spine you're going to need to stand up to the elites that run this country and have led to the managed decline of the greatest nation on Earth."
After Rep. Lauren Boebert (R-CO) appeared on Fox News' Hannity to defend her refusal to give McCarthy her vote for speaker, Bannon took aim at Fox and claimed that the network was "out to crush" and "destroy" members of Congress who did not support McCarthy's bid for speaker. War Room guest and right-wing radio host John Fredericks joined in to accuse Fox News of being a "24/7 shill for Kevin McCarthy. That's all they are. They're not even reporting the news."
Reprinted with permission from Media Matters.