For Kevin McCarthy, It's Back To The Worst Days Of Ninth Grade
@LucianKTruscott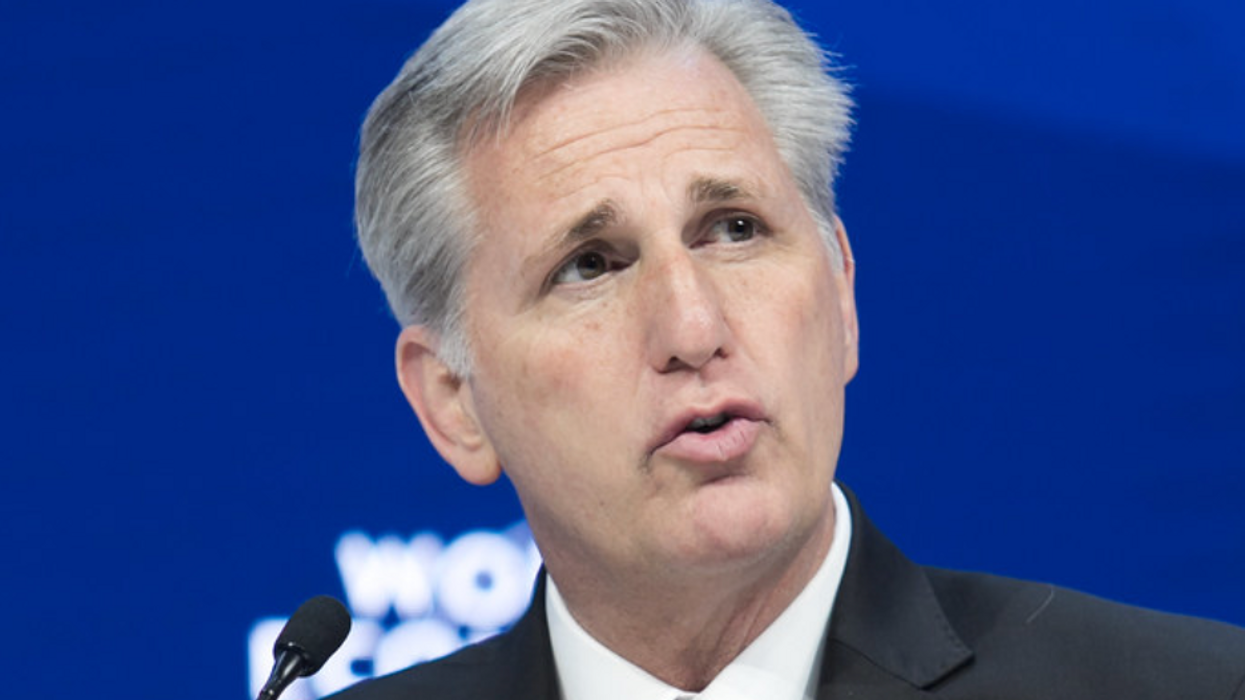 This is kind of fun should be illegal. For more of my screeds on politics, plus forays into the 60's and 70's and war coverage, you can subscribe to my Substack right here.
It's in the early weeks of your last year in junior high. You've probably run for a seat on the student council in seventh and eighth grades and won, but now you're in a contest for president of the student council. You've put in your grunt time as a mere vote for two years, which didn't mean much anyway, because the Big Kids told you how to vote on stuff like a request to fix the sticking hot water faucet in the A Hallway boy's restroom, or whether to give some kind of greeting card to the 8th grade English teacher everyone hates who's retiring.
This is the big one. This is the office that will set you up to run for the positions that count when you get to high school – class president or one of the offices on the student council there, the stuff you'll be able to put on your applications for college. As a kid-politician, you're still in training, so to speak, but this is your first chance to attain a position where they will come to you.
I'm talking about the kids in your class, and the rest of the kids in school. They'll walk up to you in the hallways and ask you stuff, like, are we going to get an extra day of spring break this year, because last year the student council voted to ask for Wednesday to Monday, rather than Thursday to Monday, but the administration shot them down. Is this the year the student council will get it for us?
We're talking here, in large measure, of the other kids in school. You'll be in a position you've never been in before. You'll be able to pick and choose who you listen to. Soon enough, you'll gain a skill you will make use of for the rest of your life. You'll learn to look like you're listening to someone who is talking to you while you look over their shoulder at someone else.
You're going to learn that's what it's all about – you haven't got enough time for all of them, but you've got to look like you do. They all think they're important enough to deserve your attention, and you'd better act like they are if you want their vote when you get to high school and you're running for class president sophomore year.
In short, you've got to get good at pretending people matter to you when they don't. Some of it is glad-handing, learning to look like you remember who someone is when you have idea whatsoever. Another part is faking sincerity, faking energy and enthusiasm for someone or something when you when you couldn't give a shit if you tried.
If you're one of those kids who thinks becoming class or student council president will someday lead to higher office, like becoming president or, say, speaker of the house, you're going to have to massage those talents and keep them in shape for decades. It's not fun, and you'll get so tired of the game you'll want to stand in the middle of a crowd of constituents or fellow politicians and scream, but if you want it bad enough, you'll get so good, it will never look like you're trying.
But for Kevin McCarthy, it looked like his talents were fraying today. Did you see him after the first ballot when he lost? At first, he was wandering around the floor of the House greeting other Republican members like this was just another day of politicking. But after the second ballot, you could see the sincerity leak from him like a dripping faucet. By the third vote, he was sitting there on the aisle in one of the Power Seats on the Republican side as if somebody had cuffed him to the seat. If another one of these fuckers came up to him after the vote was called, he was going to strangle them. Apparently, one of the Republicans who supported him on the first and second ballots had had enough of McCarthy looking over his shoulder while he talked to him, because the third time, he lost another vote, going from 19 against him to 20.
It's never a good sign in politics when the direction you're headed is downhill. Even the likes of George Santos, or whatever his name is, knew that much as he sat alone on one of the back benches with his head down looking at his phone, talking to no one at all.
He was one of McCarthy's votes. Did you catch McCarthy glad-handing the lying sack of shit, making certain he would have him on votes two and three? Nope. I didn't even see McCarthy doing anything more than shake Jim Jordan's hand to thank him for his fake obsequious nomination speech the second time around. He knew he was going to lose again.
McCarthy's finished, folks. When you've lost the handle talents you've exercised since the ninth grade, you should just sit down and let some other poor sucker take the reins. Anyway, Kev, do you really want the likes of Boebert and Greene and Gosar and the other droolers coming up and pecking at you like ducks for the next two years?
Take off the cuffs and start making plans to pull down the megabucks after you retire in '24. On the plus side, you'll never have to grovel at the feet of the Thief of Mar-a-Lago ever again.
This is kind of fun should be illegal. For more of my screeds on politics, plus forays into the 60's and 70's and war coverage, you can subscribe to my Substack right here.
Lucian K. Truscott IV, a graduate of West Point, has had a 50-year career as a journalist, novelist, and screenwriter. He has covered Watergate, the Stonewall riots, and wars in Lebanon, Iraq, and Afghanistan. He is also the author of five bestselling novels. You can subscribe to his daily columns at luciantruscott.substack.com and follow him on Twitter @LucianKTruscott and on Facebook at Lucian K. Truscott IV.
Please consider subscribing to Lucian Truscott Newsletter, from which this is reprinted with permission.