Mortified Mitch And Cowering Kevin, GOP 'Leaders,' Are Paralyzed By Trump
@LucianKTruscott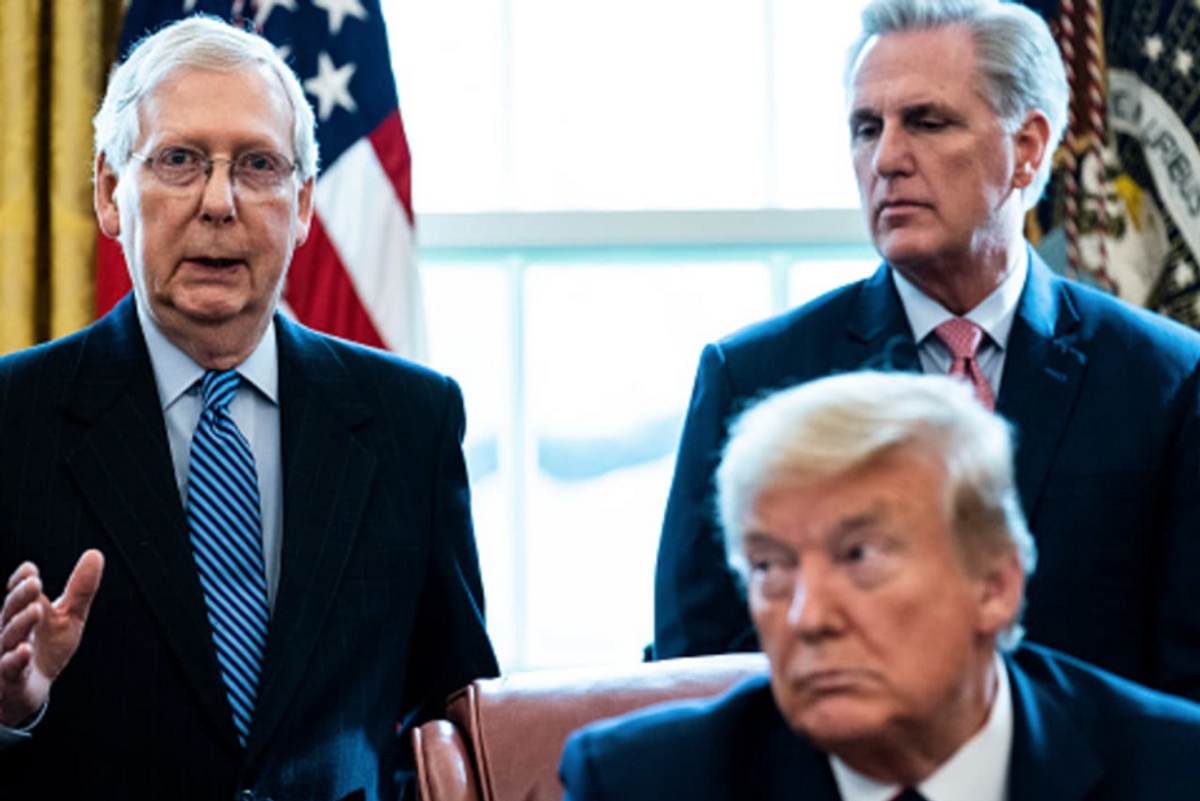 The day after the victory in Nevada by Sen. Catherine Cortez Masto, securing the Senate for Democrats, is one of those days you don't even have to read the stories. The headlines spewing the panic on the Right are more than enough:
The Washington Post: "Republican rivals start plotting a post-Trump future -- The GOP's disappointing midterm results spur some donors and party leaders to consider other 2024 candidates."
The Washington Post: Election deniers lose races for key state offices in every 2020 battleground -- The candidates could have gained power over election administration. Voters rejected them in the six most pivotal states.
The New York Times: Trump Angst Grips Republicans (Again) as 2024 Announcement Looms -- While Republicans pick up the pieces from the midterm elections, former President Donald J. Trump is already forcing them to take sides in the next election.
The Washington Post: In election 2022, the party of Trump pays for being the party of Trump
The Washington Post: Congressional Republicans panic as they watch their lead dwindle -- Private consternation reached a public boiling point Friday as lawmakers in both chambers confronted the fallout from Tuesday's elections
The Washington Post: Democrats surged to flip state legislatures, defying past GOP gains
If you're a Republican "leader," as Sen. Mitch McConnell (R-KY) and Rep. Kevin McCarthy (R-CA) pretend to be, you have to be looking at the headlines and asking yourself what the fuck happened, don't you? Well, you would if you were a sane person occupying a leadership position in an actual political party. The situation for Kev and Mitch, however, is somewhat different. If they open their traps and a natural reaction comes out, something along the lines of "Oh, my God!", it will be read by the MAGA faithful as a betrayal of the real leader of the Republican Party, Donald Trump. If they even twitch in the direction of criticizing the Great One, they'll be politically drawn and quartered within the hour.
Quite a dilemma for the boys, huh? Well, just as a reminder, their party has been here before – specifically, when Richard Nixon was clinging to the White House by his fingernails after the Judiciary Committee had voted on three articles of impeachment and plans were being made to schedule a vote in the House and a trial in the Senate way back in 1974. Republican Senators Hugh Scott and Barry Goldwater, accompanied by Minority Leader Jacob Rhodes, got in a car and drove from the Capitol to the White House and met with Nixon and told him his support in both the House and Senate was thin and he would not survive an impeachment and trial. Nixon resigned as president the next day.
I'd be willing to bet my next paycheck that ol' Mitch is ruing the day he didn't rally his Republican troops and push through a conviction of Trump at his second impeachment trial in the Senate in February of last year. The Constitution's ban on running again for president would have parked Trump permanently on the sidelines of American politics and left an open field to Republicans in the midterms this year. Instead, Trump hung like a black cloud over the elections in the House and the Senate, not to mention down in the state houses the Republicans lost. So many of Trump's hand-picked candidates lost, they practically threw a coronation when the odious J.D. Vance was able to win Ohio's Senate race.
The option of getting some Republican billionaire to loan them a plane to fly down to Palm Beach for a sit-down with The Man Himself is still open to Tremblin' Mitch and Shiverin' Kev. The chances of either one of them overcoming the shakes long enough to Do What Must Be Done for the Republican Party, however, are either close to zero or zero itself, their fear of Trump's MAGA masses is so great.
It's amazing, isn't it, to watch an entire political party full of professional politicians be aware of what must be done to save themselves and their party from a crushing defeat across the board in Washington and further erosion of their grip on legislatures down in the states in 2024, and still they just sit there petrified for their own political lives if they even move a muscle in that direction.
But that's where they are, with Kev biting his nails as he watches the last few results come in that will determine whether Republicans regain the majority in the House of Representatives. Piece of advice, Kev: Don't bother worrying yourself into sleepless nights. You're finished as a "leader" of the loons who will take charge if the Republicans squeak-out enough victories to carry the day for the party in the House. You'll have plenty of time to gaze at your pin-striped navel and wonder What Went Wrong.
Alternatively, you could pay another groveling visit to Mar-a-Lago and ask Mr. Indictment Himself for help corralling his MAGA minions in the House. That would make you look weak and him look strong, but if that's the way you want to play it with 2024 looming on the horizon, more power to you. I know a few Democrats who hope you do just that.
Lucian K. Truscott IV, a graduate of West Point, has had a 50-year career as a journalist, novelist, and screenwriter. He has covered Watergate, the Stonewall riots, and wars in Lebanon, Iraq, and Afghanistan. He is also the author of five bestselling novels. You can subscribe to his daily columns at luciantruscott.substack.com and follow him on Twitter @LucianKTruscott and on Facebook at Lucian K. Truscott IV.
Reprinted with permission from Lucian Truscott Newsletter