Senate GOP's Last-Minute Spending Indicates No 'Red Wave'
@kerryeleveld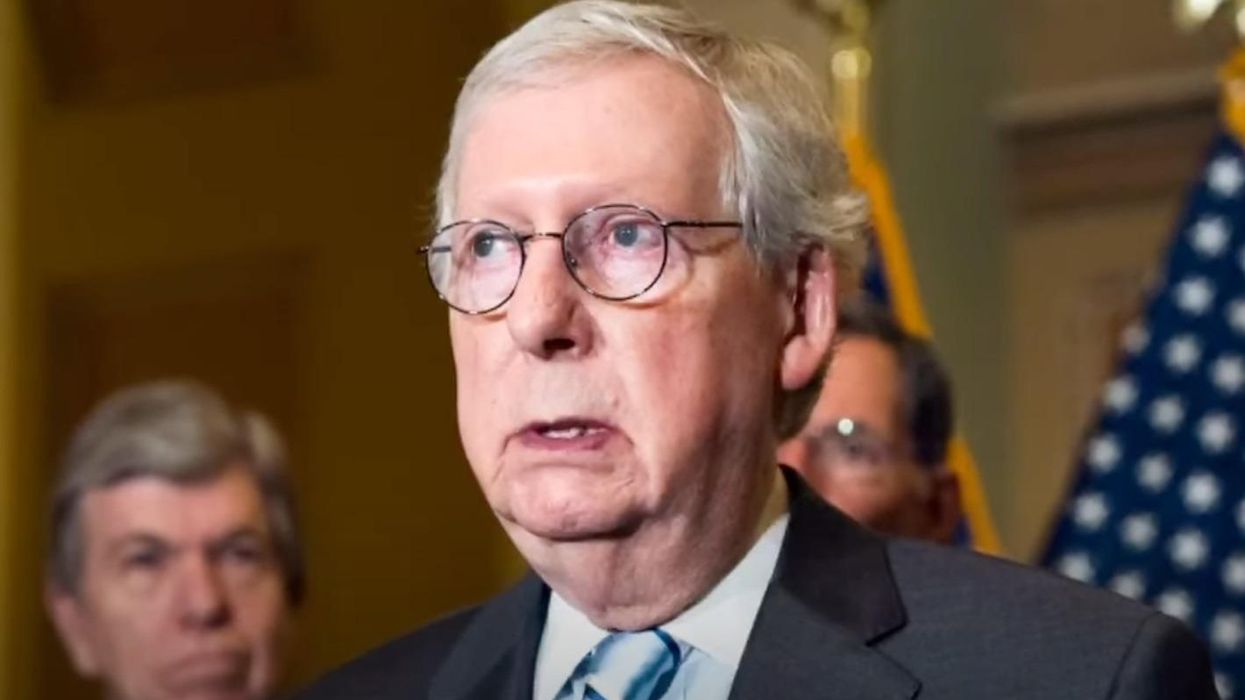 Youtube Screenshot
If a red wave is coming in the Senate, you wouldn't know it by the final ad buys of the McConnell-aligned Senate Leadership Fund (SLF) PAC.
Of the six states where SLF directed its money, four are states where Republicans are defending GOP seats and two are states where Republicans are hoping for pickups. Here's the breakdown:
Georgia (GOP pick up): $5,320,149
Pennsylvania: $4,272,270
North Carolina: $4,005,732
Ohio: $3,741,404
Nevada (GOP pick up): $3,424,539
Wisconsin: $1,909,894
Other GOP-aligned groups are playing in other states, but those six states are where McConnell and his allies think the action is. Instead of including a slightly lower-profile Democratically held seat like New Hampshire, it devotes money to defending two open seats in Ohio, which is a GOP stronghold, and North Carolina, where Republicans win more often than not. The fund also directs a sizable chunk to defend a GOP incumbent senator in what is arguably a red-leaning swing state: Wisconsin.
This isn't a desperation buy, but it's also not a red-wave buy. Senate Republicans have their eyes on two potential flips while shoring up at least three seats that would likely be safe in a GOP-sweep year. North Carolina appears to be much closer than the national press has given it credit for. A recent Civiqs poll, conducted Oct. 29-Nov. 2, found it dead even at 49%.
Republicans also appear very worried about Pennsylvania, which would be a pickup for Democrats. In fact, the most desperate play Republicans are making in the state is sending Donald Trump to it to hopefully give GOP nominee Mehmet Oz a last-minute boost. Trump has huge downsides with a wide swath of the electorate, particularly in a legitimate swing state with more registered Democrats than Republicans. It's one thing to send Trump to Iowa; it's quite another thing to send him to Pennsylvania. But Oz appears to be giving the final days of his campaign the kitchen sink treatment. On Friday, his campaign announced that Sen. Susan Collins of Maine would be campaigning with him Sunday in suburban Bucks County.
But outside of those rather sober ad buys, Republicans have worked overtime to convince the media and voters alike that a red wave is building and their midterm victory is inevitable.
The flood of cheap GOP polls swamping the aggregators has turned into a gusher, resulting in a slew of trend lines in critical contests suggesting the election is breaking toward Republicans in the final weeks. That is certainly true in Pennsylvania and Georgia (as I wrote earlier this week). But New Democrat Network President Simon Rosenberg went to the trouble of tallying up all the GOP R+3/+4 polls dropped in tight contests in recent days. It's staggering:
AZ, 10
GA, 9
PA, 8
NV, 6
WA, 6
NH, 5
NC, 4
OH, 3
Meanwhile, real polls from real pollsters are often giving Democrats a slight edge in many of this year's most hotly contested Senate and even some House races.
At midnight on Thursday night/Friday morning, Marist College released its final round of polls from Arizona, Georgia, and Pennsylvania. Among registered voters, Democrats led in every state.
PA Senate
Fetterman (D) 50 percent (+6)
Oz (R) 44 percent
AZ Senate
Kelly (D-inc) 49 percent (+4)
Masters (R) 45 percent
GA Senate
Warnock (D-inc) 49 percent (+4)
Walker (R) 45 percent
However, taking into account voters who said they would "definitely" vote, the Georgia race was definitively tighter at 48 percnt all, Arizona was slightly tighter with Democratic Sen. Mark Kelly leading by three points, 50 percent -- 47 percent, and Pennsylvania was basically a wash with Democrat John Fetterman still leading by six points, 51 percent -- 45 percent.
Interestingly, every Democrat is also significantly outperforming the generic ballot in each state: AZ R+4; GA R+8; PA D+2 (thanks @taniel for the footnote).
So what does this all tell us? It's a very competitive environment with a ton of cross factors. That is particularly true in the Senate races, where candidates and state-level dynamics on issues like abortion could prove more important than the national climate on the economy. Frankly, no one really knows, but Republicans are working overtime to game the system, get good press, and demoralize Democrats.
If you follow the money, however, Republicans are playing slightly more defense than offense. That's not predictive, it just isn't the posture of a party that sees things overwhelmingly breaking their way in the final weeks of a cycle they originally believed they would dominate.
Reprinted with permission from Daily Kos.