Boebert Roasts Greene Over 'Nasty' Altercation In Capitol Hill Ladies Room
@next2godwin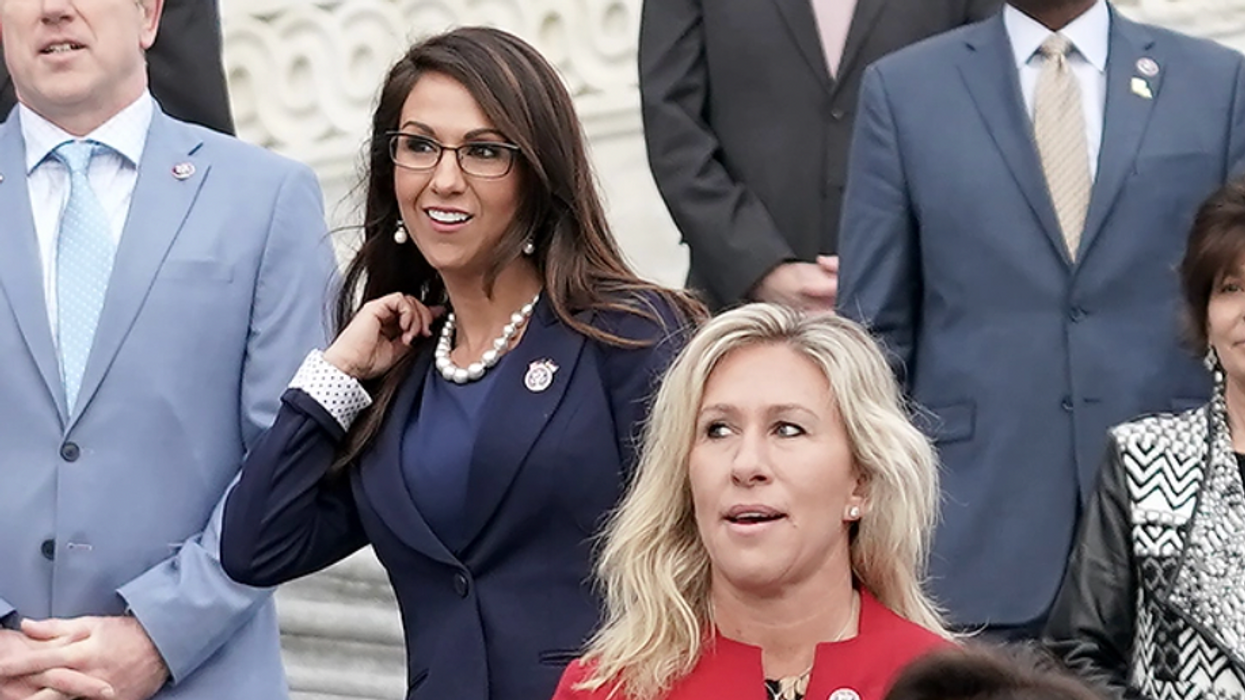 GOP firebrand Rep. Lauren Boebert (R-CO) has opened up about her "nasty" altercation with fellow House Freedom Caucus member Rep. Marjorie Taylor Greene (R-GA) in a ladies' restroom on Capitol Hill over the former's aversion to Kevin McCarthy's speakership bid.
According to The Daily Beast, the pair — both loud MAGA mouths, renowned for their extremist rhetoric, often offered solely to 'own the libs' — got into a heated exchange on January 3, as their fellow Republicans devolved into chaos on day one of their new majority, culminating in the House failing to elect a speaker on the first ballot for the first time in a century.
According to the publication's anonymous sources, Greene confronted Boebert upon exiting a stall for "taking millions of dollars from McCarthy" but "refus[ing] to vote for him for Speaker."
Vicereported that Boebert wasn't among the anti-McCarthy House lawmakers who benefited from the over $1 million McCarthy-affiliated PACs spent on the GOP leaders' colleagues, and hence, the grounds for Greene's allegation are unclear.
The abrupt and loud accusation jolted the Coloradan into a rage, the Beast's Ursula Perano and Zachary Petrizzo wrote, and Boebert "ran out [of the restroom] like a little schoolgirl" after lambasting Greene for "be[ing] ugly."
Boebert confirmed the "ugly" warning part to far-right radio host Dana Loesch in an interview posted to Twitter on Wednesday.
"We were talking in the congressional ladies' bathroom. I'm there with [Rep.] Anna Paulina Luna [R-FL], and you know… people are upset about what's going on in the speaker's race. It had been a couple of days; we were not electing Kevin McCarthy," Boebert recounted on Loesch's radio show, The Dana Show.
"We hadn't received the concessions that we wanted, and my colleague from Georgia, the gentlewoman from Georgia, came up and started, you know, being kind of nasty about it, and no one else had been nasty about it. Everyone had been very professional," Boebert explained.
"And when she started going after me, I looked at her and said, "Don't be ugly," Boebert added. "I looked at her and said, "I don't have time for this." Shortly after, in a vicious dig at Greene, Boebert explained to Loesch that "Don't be ugly" was "something Granny used to say to me when I was being a brat."
\u201c"Don't be ugly..."\n\nNEW: @laurenboebert REVEALS to @DLoesch what actually went down in the Congressional women's bathroom during the Speaker vote fight. #DanaRadio\u201d

— The Dana Show (@The Dana Show) 1674065907
By then Greene, a McCarthy supporter, had repeatedly criticized the ultra-conservative bloc vocally opposing his campaign for the Speaker's gavel — a group that adopted "Never Kevin" as a slogan. Most were Greene's hard-right Freedom Caucus cronies, including Boebert and Rep. Matt Gaetz (R-FL).

Greene accused the hardline group of "lying to the base" and "blow[ing] things up," and Boebert hit back by publicly disassociating herself from Greene's infamous "Jewish space lasers" conspiracy theory, causing the Georgian to melt down and disparage Boebert publicly — an exchange several media outlets gleefully covered.
Despite heckling President Biden together in his 2022 State of the Union address and instigating culture war debates to appease the MAGA right, Greene and Boebert didn't see eye-to-eye in private, per the Beast.
The right-wing provocateurs almost traded blows last March during a Freedom Caucus gathering, reported Politico, and were seated in different rows on the Republican side of the House chamber on the first day of the 118th Congress as McCarthy failed three times to secure the gavel.
"There was nothing against her," Boebert told Loesch of her relationship with Greene. "We travel in the same circles [and] have the same policy views on a lot of things, [but] not everything" — the latter remark throwing shade on Greene for her support of outlandish hoaxes, including QAnon.
But true to Boebert's concession, both agitators have thrived in the same extremist cell of the House Republican conference, which is now riddled with right-wing nihilists..
Furthermore, Greene, a conspiracy theorist, gave a speech at a conference organized by renowned antisemite and white supremacist Nick Fuentes, while Ana Paulina Luna, the Florida congresswoman who Boebert said she had talked with in the bathroom, once graced a QAnon program and has been accused, by her far-right primary opponent, of being "a witch."
In a podcast interview last week, Greene said she and Boebert "haven't really" addressed their feud and admitted that "it is something that we need to work out," per Newsweek.
"It's just that she attacked me personally — in a Democrat, leftist political attack, that's what she used against me. I don't appreciate that," Greene told the host, still smarting from Boebert's embarrassing disavowal.
Where things go from there is anyone's guess, but on Wednesday, Boebert seemingly went on the offensive with a not-too-subtle rebuke, tweeting, "Be kind. Don't be ugly."