Bannon: 'Ambitious' Margie Greene Wants To Be Trump's Vice President
@next2godwin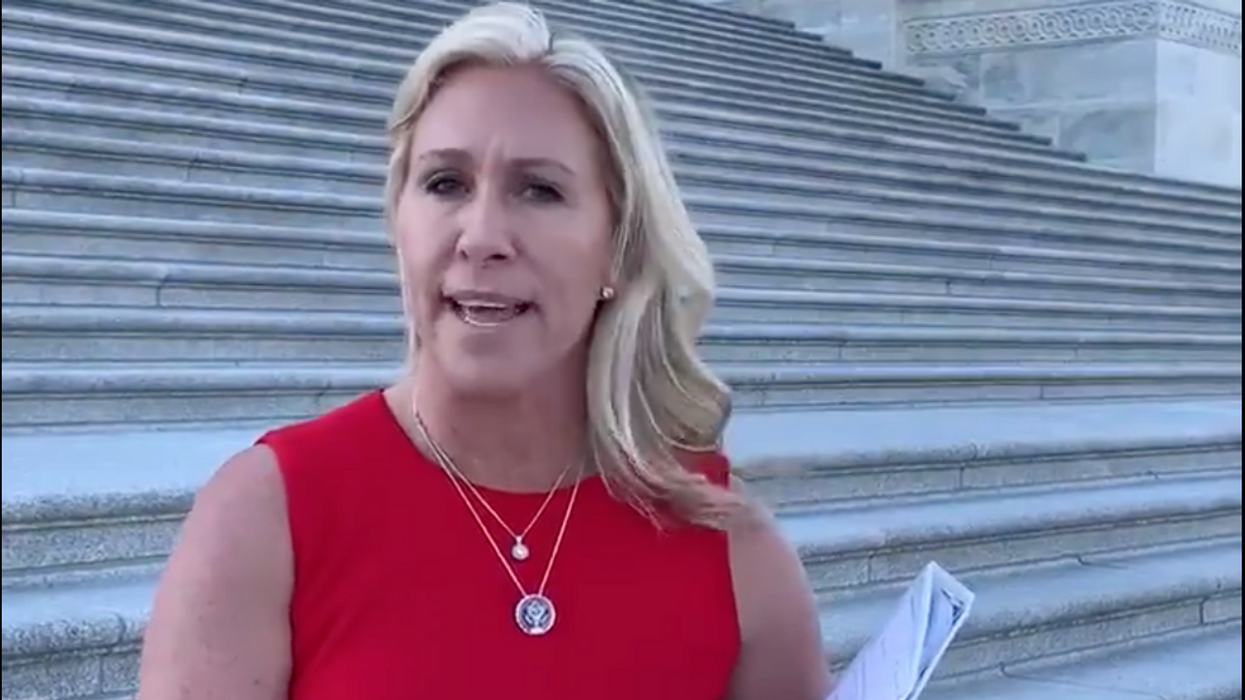 Having secured coveted committee posts and the servitude of House Speaker Kevin McCarthy (R-CA) far-right extremist Rep. Marjorie Taylor Greene (R-GA) has set her eyes on an even bigger prize: to become former President Trump's 2024 running mate.
Two of Greene's confidants told NBC News that the conspiracy theory-spreading rabble-rouser is dead set on becoming Trump's choice for vice president and, hopefully — if the twice-impeached, oft-explosive ex-president wins — the number two in the White House in 2024.
One of those confidants is Trump ally and ex-White House strategist Steve Bannon, who was recently charged with money laundering and conspiracy to defraud and sentenced to prison for flouting a congressional summons.
"This is no shrinking violet. She's ambitious — she's not shy about that, nor should she be," Bannon told NBC News of Greene's ambitions. "She sees herself on the shortlist for Trump's VP."
Bannon's rousing endorsement of Greene, a regular guest on his War Room podcast, didn't surprise critics, given the congresswoman's suggestion last month that the Trump mob of January 6, 2021, would have "been armed" and "won" on that day if "Steve Bannon and I had organized" the march.
A second confidant, a former Greene adviser with close ties to Trump, told NBC News that Greene's "whole vision is to be vice president," an ambition the source was confident would come to fruition.
Bannon described Greene's squabbles with fellow ultraconservatives in the House Freedom Caucus over McCarthy's aspirations — a humiliating display by Republicans that left the U.S. House without a speaker for over four days — a "power move" borne of strategy and discipline.
Greene denied discussing her goals with Bannon, but the 48-year-old conspiracy theorist and seditionist told the New York Times's Robert Draper months prior that she and Trump had discussed the prospect of her becoming his running mate in 2024.
Greene, Draper said, conceded that she "would be honored" to accept the VP role if Trump, who has since fallen out with his former right-hand man, ex-Vice President Mike Pence, offered it.
"I think the last person that the R.N.C. or the national party wants is me as his running mate," Greene told Draper, per the New York Times, a point echoed by stalwart Republican former Rep. Joe Walsh (R-IL), who derided the prospect of Greene in power in a sit-down with MSNBC in November, referencing her support for McCarthy's bid for the gavel.
"Look, McCarthy will probably be Speaker, but let's be real — Marjorie Taylor Greene these next two years will be Speaker of the House," Walsh said. "[The American people] know who Marjorie Taylor Greene is."
[Tweet]
Even fellow firebrand Rep. Lauren Boebert (R-CO), who reportedly got into a shouting match with Greene in a women's bathroom on Capitol Hill of the former's "Never Kevin" stance, has sought safe distance from Greene's brand of conspiracy theories and extremist rhetoric.
In an interview with the Daily Beast, Draper confirmed that Greene's "unflagging loyalty" to Trump and the MAGA movement had fueled Trump's yearning to have her as his running mate.
"[Trump knows that if he needs someone to fight for him to overturn a presidential election. He has every reason to expect that Greene would be by his side and would be his proximate warrior," Draper said.
A prospective Trump number two, Greene has yet to tamp down on her divisive rhetoric, given her assignments on House committees, which Republicans have declared would be performative rather than productive.
Instead, in recent days, the Georgian has taken to immigrant fear-mongering, covid vaccine misinformation peddling, and spreading outlandish claims about Ukraine and Democrats on Twitter, the right's new echo chamber, courtesy of Elon Musk.
[Tweet]